40 Surprising Rules 'Bachelor in Paradise' Contestants Have to Follow
Plus, a few truly wild secrets about the "boom boom room."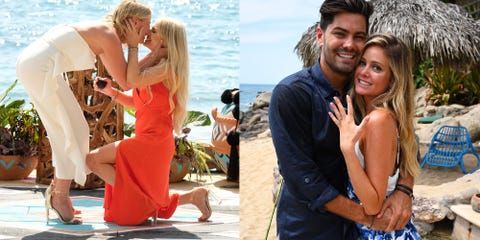 With any luck, Bachelor in Paradise will be back in production this summer—by which I mean ABC will trap a bunch of rejected contestants from The Bachelor and The Bachelorette in a resort together and basically just...see what happens. While the vibe on the beaches of Paradise are definitely more chill than Bachelor Mansion, there are still a ton of rules the cast has to follow—especially when it comes to drinking limits, privacy (what's that? this show's never heard of it), and sex in the "boom boom room." And truly don't even get me started on the contract everyone has to sign before they step foot on the sandy beaches of Sayulita, Mexico.
Ahead, we've rounded up a bunch of rules these poor souls are contractually obligated to deal with (though that doesn't stop them from speaking out once their NDAs are up (hi @ Blake Horstmann and Dylan Barbour!), not to mention some truly juicy BTS dirt straight from the set. Please sit back, relax, pretend you're on a beach somewhere even though you're definitely hiding under a blanket in bed, and feel free to enjoy with a large cup of "happy juice," a.k.a. white wine and red bull—a favorite in Paradise.
This content is created and maintained by a third party, and imported onto this page to help users provide their email addresses. You may be able to find more information about this and similar content at piano.io