The 12 Best Movies of 2021 (So Far)
You can stream most of them right now.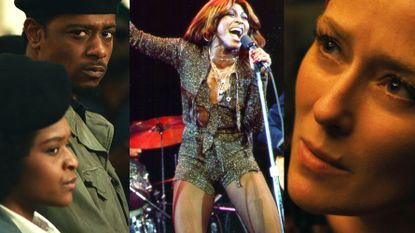 (Image credit: Warner Bros/Getty Images/A24)
It's hard to know if the world will ever feel "normal" again, but we all keep puttering along, including the troubled movie industry. Although many major theatrical releases have gone straight to streaming or VOD, the new movies released in the first half of this year consider intriguing questions. From the efficacy of collective action to the role of political education, the impact of the media and suffocating families or jobs, the best movies of 2021 can hold our hands through the rest of this hellish time and may even help us reexamine the world, just in time for us to emerge in it.
'Barb and Star Go to Vista Del Mar'
Finally, something fun! Stress free! For the girls! This Kristen Wiig and Annie Murphy-led romp–the duo famously behind Bridesmaids–tells the story of Midwesterners Barb (Murphy) and Star (Wiig) who go to Vista Del Mar after losing their jobs at a place called Jennifer's Convertibles. There's Jamie Dornan musical numbers. There's ridiculous costumes. It reminded an LA Times film critic of Austin Powers movies. It made my brain smooth.
'Saint Maud'
Maud (Morfydd Clark) is possessed by the Holy Spirit. She's a recent Catholic convert who just took up a caretaking job for terminally ill Amanda (Jennifer Ehle), an indulgent dancer and choreographer who's determined to live her final days to the fullest. Maud takes up Amanda's salvation as a personal project to atone for the sins of her past–before she took the name Maud, she was known as Katie, a nurse who accidentally caused the death of a patient. But Maud's selfish and fanatical efforts to save the dancer are complicated by the fact that Amanda prefers hedonism, and, although they share a charged moment where they claim to feel God's presence, Amanda simply doesn't share Maud's fervor. After a conflict involving the dancer's hired lover, Maud gets kicked out and decides to go on a hedonistic streak of her own. The horror film is as much about a crisis of faith as it is about unacknowledged desires, which threaten to eat anyone alive.
'In the Heights'
In the Heights brought 143 continuous minutes of much-needed joy to 2021. Based on the Broadway musical written by Lin-Manuel Miranda, the musical drama balances themes of identity, dreams, and the friendships that become family with singalong-good tunes and foot-tapping dance numbers. The film is set in Washington Heights, a neighborhood (or, el barrio) in the uppermost part of Manhattan that is home to many Dominican Americans. Though the film boasts many complex leads, but the main character in the film is Washington Heights itself, brimming with possibility, hope, and community. In the Heights was praised by critics but it did receive criticism for its notable lack of Afro–Latin Americans in leading roles. Despite its shortcomings, it's worthy of a watch.
'Shiva Baby'
Twitter likened Emma Seligman's directorial debut Shiva Baby to the film Uncut Gems, a thriller known for its ability to cause even the most hardened of us to experience dangerously acute anxiety. And they aren't wrong. Told from the perspective of the aimless twenty-something Danielle (a wholly empathetic Rachel Sennott), the story follows her through a tense shiva that could upend how her family sees her. Although Danielle receives an allowance from her parents to cover her expenses, the remainder of her supplemental income comes from a collection of sugar daddies–or men who pay for company and sexual favors (for obvious reasons, she has told her parents that she's making her extra cash babysitting). Unfortunately for Danielle, one of her main clients (Danny Deferarri) shows up at the shiva with his wife (Dianna Agron) and kid, which threatens the fragile peace that she had made between her personal life and the image she presents to her family. Further complicating things are an appearance by her ex-girlfriend, plus everyone asking her what she's doing with her life.
'Tina'
The Tina Turner documentary didn't launch a thousand think pieces like its cousin, Framing Britney Spears, did. There's many reasons for its standard coverage–Turner isn't the subject of a spirited battle over conservatorship rights, for one thing–but that doesn't make the film any less revelatory in its recontextualization of the media coverage surrounding the megastar. If you're not familiar with Turner's story, then you should know that she rose to international fame after Ike Turner heard her sing and invited her to join his band. The couple went on to build a successful career together, all the while Ike subjected her to physical and verbal abuse in marriage. His assaults were so appalling and nightmarish that Turner attempted suicide. After two decades, she successfully ran away from her husband and began an extraordinary solo career, dogged by racist, idiotic executives who questioned a middle aged woman's ability to find an audience for her rock music. Meanwhile, she faced the media, which was determined to retraumatize the star by asking her to give an account of the abuse she faced–or using her story as fodder for books and movies–effectively monetizing her pain. At the end of the documentary, an 81-year-old Turner considers making this film her last public appearance, as is her right. She's already given us far more than we deserve.
'Zola'
Stunningly surreal, Zola is just as much a visual, masterful mindfuck as it is a fast-paced, entertaining thriller. Based on a now-immortalized viral Twitter thread from 2015, the film follows Zola, a dancer who gets caught up in a messy, chaotic, and life-threatening weekend when she joins a girl she barely knows on a "ho trip." Taylour Paige and Riley Keough give truly sublime performances, embodying the women (Aziah "Zola" Well and "Jessica") who are at the center of the Twitter thread saga.
'This Is Not a Burial, It's a Resurrection'
Each day throughout this interminable pandemic, I've been struck by the weight of a grief that I can't seem to shake. I have not personally lost a loved one, but I anxiously consume the updated tolls–deaths, but also unemployment, inequitable and racist access to healthcare and education, the blabbering of cynical and virulent politicians–which leaves me bereft. It's been an exhausting and immobilizing thirteen months, so the experience of watching This Is Not a Burial, It's a Resurrection was especially rousing. The film by Lesotho director Lemohang Jeremiah Mosese follows Mantoa (the late Mary Twala Mhlongo), a widow who just lost her son. As she prepares to succumb to her grief and old age-induced loneliness, she catches wind of a dam project that would virtually wipe her village off the map. At first she listens to the news on the radio, resigned to the inevitability of death and destruction. Upon realizing that the dam would swallow the village's burial grounds, dislocating the town's ancestors, she jumps into action. Although blocking the construction project is a nearly impossible task, the community begins to understand the urgency of her efforts and joins her in collective action. The beautifully shot film provides a vision of a worthwhile community struggle, intent on preserving the souls of our loved ones, a resurrection of the ones that we've lost.
'Judas and the Black Messiah'
Shaka King's Judas and the Black Messiah feels like a one-two punch full of dread and anxiety. We don't need the events of the past year to know that the Black Panther Party wasn't successful in their goal of political liberation and economic justice–a robust vision which included tools to tackle inequalities in housing, education, and healthcare, together with prison and police abolition. But what we did need was an assertion that the history of Black resistance is a long, storied one, and Shaka King took a stab at portraying it. In the first narrative portrayal of the rise of charismatic Black Panther Party Chairman Fred Hampton (Daniel Kaluuya) and his murder by the FBI, we see how an embedded informant (LaKeith Stanfield) helped arrange Hampton's death. While the movie eschews character development for a straightforward biographical treatment of both the informant and Hampton, the film is worth watching for the simple revelation that the United States actively targeted (and still targets) activists in the name of some white supremacist version of "freedom." Taken with the strength of Kaluuya's Golden Globe-winning and Oscar-nominated performance, it's a film that elucidates the oft-ignored history of Black liberation. Although it only just scratches the surface.
'Wojnarowicz'
Wojnarowicz: F*ck You F*ggot F*cker looks back at the life of artist David Wojnarowicz, who went from an abusive childhood to fervorously chronicling the late 70s, early 80s era East Village scene. Director Chris McKim uses Wojnarowicz's own cassette journals, home movies, voicemails, and artworks as foundational texts, which demonstrate the direct link between the artist's commitment to activism during the AIDS epidemic and his artistic production. Instead of relying on interviews, this documentary chooses to portray Wojnarowicz and his mentor–famed photographer Peter Hujar–as they were during their active periods. At the end of the film, we see Wojnarowicz's surviving peers and collaborators, including legend Fran Lebowitz, attending the Wojnarowicz retrospective exhibition at the Whitney Museum, a cosmic miracle considering the Reagan administration's failure in addressing AIDS essentially left whole communities for dead. In 1992, a 37-year-old Wojnarowicz died of the disease.
'The Inheritance'
Making movies about political education and Black liberation is no easy task. There's been a few flops as of late (Queen & Slim, I'm sorry, I'm looking at you, even though I'm still happy Black people are getting money to make movies even if they're not giving what they were supposed to), but The Inheritance imagines a fascinating dialogue about the role of intellectual exchange and Black art in revolution. Directed by Ephraim Asili, the story begins when Julian (Eric Lockley) inherits his grandma's house in West Philadelphia, where he chooses to turn the home into a collective for Black political education after his girlfriend's (Nozipho Mclean) prompting. The film is interspersed with documentary clips from Philadelphia's MOVE organization–a Black political group–that was bombed by the police in 1985, flattening 61 homes and killing 11 people, plus footage of Shirley Chisholm. The experimental feature is directly inspired by famed French new wave director Jean-Luc Godard's La Chinoise, which also asks questions about collective action and education.
'Acasa, My Home'
Set in the expansive meadows and marshes of the Bucharest exurbs, this documentary by Radu Ciorniciuc follows the Enache family who illegally take residence in a protected nature park, only to be thwarted by the Romanian government. Led by the stern–and at other turns, selfish–patriarch Gică, the family lives a subsistent existence seemingly outside of "civilization," as the father derisively puts it. Gică and his wife Niculina succeed in shielding their children from social services, living off their farm animals, and fishing the wetlands with their bare hands. Eventually, public officials get wind of the Enanche family's makeshift shelter and their children's lack of education, destroying their home and enrolling the children–fresh with haircuts and pressed clothes–in school for the first time. Filmed over the course of four years, the striking tale is one of the struggle between a family's personal convictions and the encroachment of a government that genuinely believes it's doing what's best. The tension between these opposing visions of life is palpable, and the film, to its credit, doesn't aim to pick a side. Instead, we're given all the tools to consider how a raging patriarch would subject his family to difficult, unsanitary conditions while still examining the sometimes paternalistic role of government itself.
'Framing Britney Spears'
This isn't necessarily a movie since it's a part of a larger New York Times produced television series, but I'm making the list and I don't really care about semantics. I would be shocked if any of you reading hasn't already heard about this earth shattering 75-minute special, but for those of you who are blissfully far less connected than I am, this documentary tells the story of Britney Spears' meteoric rise and devastating crash in the late '90s and early aughts. The docs begins with an introduction to all the key players: a talented young Britney, a media eager to vampirically suck all the life out of young girls and women, together with a father who may not have his daughter's best interest at heart (reader: it doesn't look good for dad Jamie Spears). We first see the '90s media machine salivating at Britney's innocence while chastising her for leaning into sexuality, followed by that same machine of the early 2000s, which vilified everything from Britney's breakup with the then-greasy-haired Justin Timberlake to her parenting skills. After her frustration boiled into bashing a paparazzi's car window, Britney was placed under a legal conservatorship controlled by her father, which gives him control over her finances and career, among other things that I don't legally understand. The documentary arose to highlight the #FreeBritney movement, which seeks to give the singer her rights back, but the real takeaway is the impossibility of being a woman in the spotlight.
Celebrity news, beauty, fashion advice, and fascinating features, delivered straight to your inbox!
Zoe Guy is the digital fellow at Marie Claire, where she covers pop culture, hot celebrity gossip, movies and TV. She's obsessed with Martin Scorsese's adaptation of The Age of Innocence, anything written by Jesmyn Ward and stan Twitter.