We Saw 'Fifty Shades of Grey,' and This Is What We Thought
It's review time.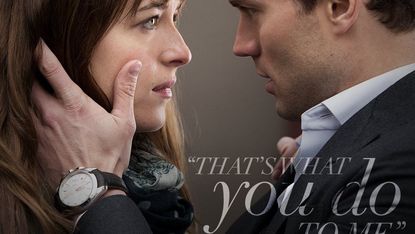 (Image credit: Universal Studios)
Spoiler alert: This has spoilers.
In the interest of full disclosure, you should know that I hadn't read Fifty Shades of Grey, the Twilight fan fic-turned-BDSM-themed blockbuster book by E.L. James, before watching the movie. Or after, for that matter. But I did feel a teensy bit bad about being out of the loop—by bad I mean just fascinated enough to ask an intern to head to Barnes & Noble and grab me a copy (sorry, girl)—so I did the same thing I did in college when I hadn't done the reading: I read the first chapter, and the last chapter. Only now, I'm an Adult Woman—so I read them after two glasses of wine.
I understood two things going in to Monday's early screening: First, the life (and "inner monologue") of this alleged 20-something Anastasia Steele was clearly written by my mom, or, you know, someone much older than the perspective it's trying to give. (I'm 28, and I've never called anything my "inner goddess.") Her name alone screams cheesy romance novel. There's way too big a disconnect between reality and the character for me to take anything she does or says seriously—sort of difficult when you're supposed to be losing yourself in some erotica experience, ya know?
Second, Christian Grey likes hitting women. Fun!
Needless to say, I was prepared to hate-watch Fifty Shades even more than, say, the vaguely racist abomination known as Sex and the City 2. And…I was kind of disappointed, you guys. It, like, wasn't that bad! Well, it was, sort of, but not as bad I thought it would be. The character development and storyline and the relationships and whatever else was pretty dumb and/or messed up but that's not the movie's fault! (James was said to have had an unprecedentedly heavy hand during the filmmaking process).
Like the book, the film felt totally out of touch. See: Anastasia has a goddamn flip phone. The only two people left in the world with a flip phone are my dad and Anna Wintour. Neither one is a girl who just graduated college. Oh, and the college apartment where Anastasia and her roommate Kate live? It's a 2015 Anthropologie catalog update to the Friends apartment: gorgeous and comically big. After their final exams, Anastasia and Kate go out to celebrate…to a fancy-looking nightclub. Again: They're in college. The nightlife options should only be bar with a sticky floor or frat [pullquote align='C']Anastasia has a goddamn flip phone. The only people in the world with a flip phone are my dad and Anna Wintour.[/pullquote]house with an even stickier floor. Or maybe the quality of living in Vancouver, Washington(?) is just really good, I don't know. Oh, and Anastasia works at a hardware store, which, sure, but it just seems like just a goofily convenient way to bump into Christian while he's buying masking tape, cable wires, and rope. Which is a thing that happens.
Something else to blame on the book: The characters are insanely under-developed. What does Christian do? What does anyone do? Why won't he let her touch him? What's this damaged childhood he keeps hinting at? And who cleans all the toys in his Red Room of Pain? I mean, I get it: This is just a case of sticking to the script that the book's inner goddess has laid out for director Sam Taylor-Johnson and screenwriter Kelly Marcel, but filling in some plot holes would've been...helpful?
That said, the performances from stars Jamie Dornan and Dakota Johnson were actually totally fine. Johnson has great comedic timing, emotions so visibly wash over her face that you know every single thing her character is feeling, and she's basically put through so much naked un-comfortableness that even if she were terrible (and she's not, at all—actually, she's the best part of the whole thing) she'd get a pass. And Dornan, just look at him.
The cinematography is beautiful too. It's all Seattle skyscapes and polished, pretty shots. (This must be noted: The body-con dresses worn by the women in Christian's office, most of his wardrobe, the sky: gray, gray, gray.) Perhaps least surprisingly of all, there are lots of phallic symbols—the movie opens with Anastasia gawking up at the building this businessperson (WHAT DOES HE DO?) Grey owns while "I Put a Spell on You" plays in the background (my scribbled notes in the movie theater: "tall dick building") and later she can't seem to stop putting a pencil engraved with his name in and around her mouth (you do the math)—but to Taylor-Johnson's credit, it somehow felt more Easter egg-y than eye roll-y. Taylor-Johnson pulls off a sultry, teasing, gorgeous-looking story with a sense of humor. (If you ignore the plot.)
Sex scenes time! There are four full-on scenes, which felt like neither too little nor too much to me, but also I didn't really care. They were pretty hot, if a little cringe-worthy, like when Anastasia reveals she's a virgin and her desirability goes up by 198% and drives Christian wild, which is such an annoying and obvious and puritanical and sexist and stupid message that I won't even bother to address it. There's a lot of man-butt, a little bit of top-dick, and lots of Dakota's ladybits throughout (though we only see her full frontal once). There's ass-slapping, and hand-tying, and lots of thrusting. At least one instance of oral sex, too (for her, not him!). And of course the "kinky" stuff: feathers, ice, a whip. It's sexy and not at all robotic and awkward like we've come to expect from overanalyzing the actors' behavior during the film's press tour—Dornan and Johnson clearly spent an uncomfortable amount of time practically naked writhing around on top of each other, doing things that you don't usually do with your co-worker. That's why they're so unnerved, I think. Or maybe they do hate each other as the internet speculates, but plenty of people feel that way about their officemates without having been humped by them, so let's move on.
The worst: The relationship moves at warp speed because, duh, it's a movie, but that coupled with the whole man-in-total-control thing seriously freaked me out. At one point, he breaks into her apartment after she seems to be avoiding him and she responds by…having sex with him. Romance! Wrong. Next time: CALL THE POLICE. Before that, he asks her to move in on their second date—which was a surprise helicopter ride to Seattle, which not OK—and she's totally not fazed by it, only curious about the terms of the move. And he begins controlling her from the start: telling her to eat during their first date at a coffee shop, chastising her for drinking too much, buying her a laptop so she can email him. It's gross, and even grosser that she's charmed by it all. And that's before talk of their dominant-submissive contract, which includes a clause that says her choice of birth control method is actually his choice. By the way, they have a "business meeting" in which they negotiate terms of said contract ("anal fisting" and "vaginal fisting" are out, sorry!) and the birth control isn't even a thing that's discussed. This isn't some hot, steamy relationship—it's abusive, no?
I guess that's why it ends the way it ends. If you read the book, you know what I'm talking about. Basically, Anastasia learns how much Christian wants to physically hurt her because he "needs it." Why? He had a rough childhood with a drug-addicted mom (my notes: "oh, mommy issues") and he was a submissive for a friend of his adopted mother's when he was 15 (hi, what?). So, in conclusion, he was neglected and abused by women and now he wants to hurt all other women in return. (How have the Men's Rights Movement not nominated this guy for King of the Assholes?) Neither character really spells this out for us, but that's why, right? He gets off on hurting women and when he hurts Anastasia in a tough-to-watch scene that rings pretty true to the final chapter of the book, she realizes this and leaves. But that's not why she leaves—she leaves because she can't give him what he wants. She leaves because she can't change The Bad Boy. Not because of all of the other reasons I've listed here for you. Pause and consider.
In sum: As the credits rolled, someone in the theater yelled "What?!" amid groans and laughs—but no one moved from their seats right away, because we were all kind of waiting for more. And that pretty much says it all.
Read all our Fifty Shades of Grey coverage here, plus:
I Tried All the Sex from 'Fifty Shades of Grey' in One Weekend
'Fifty Shades' Is Expected to Make $60 Million Its Opening Weekend
God Help Us: There Will Be Two More 'Fifty Shades of Grey' Movies
Four New 'Fifty Shades' Parodies That Are Probably Better Than the Real Thing
Celebrity news, beauty, fashion advice, and fascinating features, delivered straight to your inbox!
As deputy editor, Jen oversees Cosmopolitan's daily digital editorial operations, editing and writing features, essays, news, and other content, in addition to editing the magazine's cover stories, astrology pages, and more. Previously, Jen was a senior editor at Marie Claire. Before that, she worked at GQ.