We Have More Female Senators Than Ever Before—Here Are the 4 New Ones to Watch
What you need to know about the Senate's freshman females.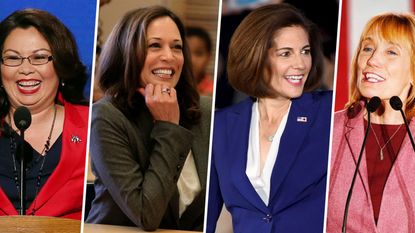 (Image credit: Getty Images)
Marie Claire Newsletter
Celebrity news, beauty, fashion advice, and fascinating features, delivered straight to your inbox!
Thank you for signing up to Marie Claire. You will receive a verification email shortly.
There was a problem. Please refresh the page and try again.
The glass ceiling atop the White House may be intact (for now), but November's elections still delivered a major win for womankind: the most female U.S. Senate ever. There are now 21 female senators (16 Democrats and five Republicans)—oh, and did we mention it's the most diverse group of boss ladies yet? The number of women of color serving in the Senate has quadrupled since 2015.
And while we're nowhere close to parity—women make up half the population but only 19 percent of Congress overall—even incremental progress is worth celebrating. Why? Because women get stuff done. Researchers have found that female lawmakers sponsor more bills, pass more laws, and are more likely to work together across party lines, and that's good news for all of us.
Here, all four women of the Senate's newly elected freshman class—Catherine Cortez Masto (D-Nevada), Tammy Duckworth (D-Illinois), Kamala Harris (D-California), and Maggie Hassan (D-New Hampshire)—tell us what it means to be a "first," how they'll defend women's rights in the Trump administration, and why women (including you!) should run for office.
Marie Claire: What was election night like for you? How did you balance your win with Hillary Clinton's loss?
Tammy Duckworth: I was euphoric. My race was called early, and I thought my win was just the first in a series of women who would be elected that night. But by the time I finished speaking and shaking hands, it was becoming evident that [Clinton] might not make it, and my mood shifted to utter disbelief and devastation. The next day, I went out to say thank you to commuters at a train station, and people, especially women, came up and shook my hand, saying, "You were a bright light last night," and then they would start weeping. Since then, almost daily, I've held someone in my arms and given them a hug as they cried on my shoulder. My job now is to not give up, to continue advocating and fighting for the issues Secretary Clinton ran her campaign on. I have to do that to show young girls in this country that they truly can grow up to be whatever they want to be—they need to know that they can grow up to be president.
MC: Many of your are "firsts"—the first Latina senator, the first Indian-American senator, the first Thai-American senator. What does that mean to you?
Catherine Cortez Masto: It was exciting to make history, but it's more important to know that Latinas now have a representative—and a voice— in the Senate. It's about time we had more diversity in government!
Kamala Harris: I've had the honor and, I will admit, the unfortunate experience of being "the first" in every elected office I've ever held. I say "unfortunate" because it is unfortunate that we're still doing "firsts." There is a lot of work to be done to make sure our leaders reflect the people they are supposed to represent. The more diverse a group of decision makers is, the more informed the decision will be. Until we achieve full representation, we all should understand we are falling short of the ideals of our country.
MC: Many women are feeling defeated now. What would you say to them?
Maggie Hassan: They may feel some hope because they will now have 21 women in the Senate, and they can look to us as the example of the difference it makes for women to run for office and how important that is. Our democracy flourishes when people stand up for themselves and engage in the political process.
KH: Don't give up—our country needs you now more than ever. This is a pivotal moment in the history of our country: Our ideals are at stake, and we all have to fight for who we are. We are all, and should be treated as, equals, but the disparity in terms of income and inequality, for women and women of color, is significant. Let's take heed of Coretta Scott King, who said: "Freedom is never really won. You earn it and win it in every generation."
CCM: It's not just about taking on the Trump administration. Be engaged with your community. Women should work with local and state leaders and be vocal about ensuring there's more diversity and more women involved.
MC: Many women are specifically worried about reproductive rights. How will you defend such rights?
MH: We have to help decision makers realize that women's reproductive health rights are civil rights and that women need to be free to make the same decisions that men are free to make with regard to health care and whether and when to have a family. It's going to be increasingly important for women to speak up not only about being able to make our own decisions, but also about the importance of being trusted to make our own decisions.
KH: No woman should be told she can't make her own decisions about her body. If women's reproductive rights come under attack, I will be there, standing up for women.
MC: Why did you run for office?
MH: I came into public service after advocating for my son, Ben, who experiences severe and pervasive disabilities—understanding that the advocates who came before me made it possible for my son to be included in our community and in our school. That reminded me that we make progress only when people are willing to speak about what their lives are like and what they care about. We make it possible for others to understand our perspective.
CCM: For most women, running for office starts with a passion for an issue you care about. For me, it's always been about human rights, domestic-violence prevention, juvenile-justice reform, sexual-assault prevention. There's a tendency for many of our vulnerable people to be taken advantage of, and I was tired of it.
MC: Do women govern differently?
TD: It's important to have women in leadership positions, because our experiences are different from those of the men we serve with and that helps us identify problems we can fix. My FAM (Friendly Airports for Mothers) Act would ensure airports have lactation rooms for nursing moms to breastfeed while traveling, instead of being told to feed our babies in a bathroom stall. That's an example of something men probably don't think about as much. Also, there's a natural tendency among women for consensus building. [The number of women in office] is smaller than it should be, but at least it makes it easier for us to get together.
MC: How can we get more women to run?
MH: The important thing for women to know is, you can be who you are and run for office. Women need to see themselves as good candidates, whose life experience matters, and understand that there are multiple ways that people enter public life.
TD: On average, women need to be asked to run seven times before they actually do. While men, who are more likely to run, usually decide to do so on their own. We should be asking more women we know to run for offices across the spectrum—at the local, state, and federal levels. It starts at home and at school. Young women are not as likely to receive the encouragement they need from role models like teachers and parents. And they should be encouraged—studies show women are just as likely as men to win when they do run.
KH: I've been a proud mentor to many women seeking public office, because I believe we need more women at all levels of government. Women have an equal stake in our future and should have an equal voice in our politics. These are challenging times, but I believe getting more women to run for office is a big part of the solution. There are going to be so many important fights over the next four years—it's up to each of us to stand up, serve as leaders, and register our point of view.
Interviews were conducted separately, and condensed and edited for clarity. This article appears in the March issue of Marie Claire, on newsstands now.
Celebrity news, beauty, fashion advice, and fascinating features, delivered straight to your inbox!
Kayla Webley Adler is the Deputy Editor of ELLE magazine. She edits cover stories, profiles, and narrative features on politics, culture, crime, and social trends. Previously, she worked as the Features Director at Marie Claire magazine and as a Staff Writer at TIME magazine.