Instagram Is Introducing Its Biggest (Most Snapchat-y) Feature Yet
Face filters are here!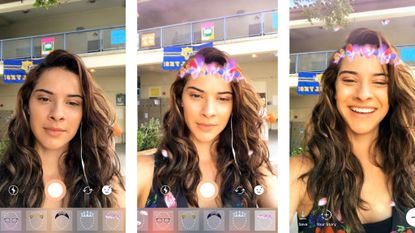 (Image credit: Instagram)
Face FiltersHashtag StickersEraser BrushRewind
Instagram is introducing a flurry of new features today, including one that you definitely are familiar with (via another app).
"Today, we're introducing face filters in the camera, an easy way to turn an ordinary selfie into something fun and entertaining," their press release reads. "Whether you're sitting on the couch at home or out and about, face filters help you express yourself and have playful conversations with friends."
Yup, that's right. Less than a year after introducing Stories, face filters are finally being added to Instagram. Here are the details:
Face Filters
Look familiar? Instagram's first set of face filters will include everything "from math equations swirling around your head to furry koala ears that move and twitch," according to the press release. It'll also include a golden goddess crown and bunny ears too.
To use this new feature swipe into the camera and tap the new icon in the bottom right corner to try on eight different face filters. You can take a photo, video, Boomerang or use Instagram's new "rewind" mode (more on that later) using the face filters.
Hashtag Stickers
You can also add hashtags to your stories now, via text or with a hashtag sticker.
[image id='9465efe4-b59e-4a23-81fb-cd3c171d2e33' mediaId='4075ec00-c80f-46eb-a466-ec94c3ffc5f7' caption='' loc='C' share='true' expand='true' size='M'][/image]
Eraser Brush
Instagram is also introducing an eraser brush that allows you to erase things you've drawn in your stories or even play around with removing color from sections of your drawings.
How does that work? First you'll want to take a photo then using a drawing tool, "tap and hold to fill the entire screen with color," according to press release. Then, go back in using the new eraser brush to "creatively reveal parts of your photo or video underneath."
Rewind
If you're obsessed with creating Boomerangs, you'll love this new camera format that allows you to record video in reverse on Instagram. To use it, you'll find "Rewind" next to "Boomerang" and "Hands-Free" in the camera tool.
Follow Marie Claire on Facebook for the latest celeb news, beauty tips, fascinating reads, livestream video, and more.
Lyndsey Matthews is the Destination News Editor for AFAR; previously she was a Lifestyle Editor across all of Hearst Digital Media's brands, and a digital editor at Martha Stewart Weddings and Travel + Leisure.