Here's Why Ed Sheeran Was in the 'Game of Thrones' Season 7 Premiere
Even though you may have rolled your eyes at him.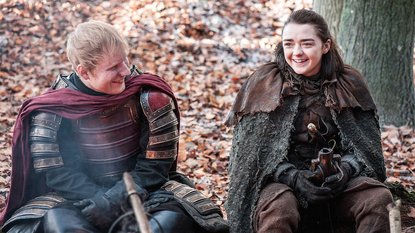 (Image credit: HBO/ courtesy of Helen Sloan)
Warning: This post contains spoilers for Game of Thrones Season 7.
In the true spirit of Game of Thrones, Sunday's finale of Season 7 of the HBO show left fans with not just one, but several cliffhangers. Don't hold your breath for any answers, though, as the premiere for Season 8 might be even further in the future than originally expected. But for anyone who still needs their weekly Thrones fix, HBO has just released the first episode of a new series of YouTube mini documentaries titled "Game Revealed," and the first episode talks about none other than the infamous Ed Sheeran scene from the beginning of the season.
In a segment called "Ed Goes Red & Gold," the cast and crew of the show reflect on Ed Sheeran's cameo and how he got cast. "Ed Sheeran has got a beautiful voice, and we knew that he was a fan of the show, and we knew that Maisie [Williams, who plays Arya Stark] was obsessed with him," showrunner David Benioff explained. "So we always thought it would be fun to try to get him into a Maisie scene at some point." In the scene, Sheeran plays a Lannister bannerman and Arya discovers him and his fellow troops after hearing him sing.
For anyone who saw the episode live, it was difficult to shake the feeling that Arya, who has spent time training under the Faceless Men, might be slashing some Lannister soldier throats in the scene. "When I first got the scene and I saw I was a Lannister soldier and it was Maisie, I just assumed we'd all get killed at the end," Sheeran explained in the documentary.
RELATED STORIES
But in a surprise twist, though, Arya ends up having a sweet moment with the soldiers, even sharing homemade blackberry wine and fire-roasted rabbit with them. "It's just a nice moment for her to really enjoy human company without lies and trickery," Williams said of her character's rare human moment with the Lannister soldiers. "She really enjoys hearing their stories and just finding a bit of normality again."
While many fans have questioned the purpose of the scene, the conclusion seems to be that it was a nice moment for Arya to step away from her role as a Faceless Man and just be human. It was also meant to showcase tha, even though Arya is a skilled mercenary, she is still not perceived as a threat because she is a young girl. This moment thus acts as the perfect counter-scene to Arya's intro scene in the first episode of Season 7, when she murdered a group of party-goers while wearing Walder Frey's mask. The scene highlights how much of a threat she really is, since no one suspects her, even when she outright tells the Lannister soldiers she's out to kill Cersei Lannister.
Even though she was headed to King's Landing with the intent to kill Cersei, she is able to step back in this moment and see that the Lannister soldiers are just people, like her, with families they want to keep safe. "I think the underlying theme is that, as in any war, the soldiers are just people and we are young boys," said Sheeran, noting that one point of the scene was to help Arya gain some perspective on the people fighting this war before joining it herself.
But, following the episode's premiere, Sheeran received a considerable amount of backlash for his appearance in the scene.
Ed Sheeran appearing on game of thrones but not being brutally disemboweled was very disappointingJuly 17, 2017
See more
nothing to do with his decision to leave the site. "I think people interrogated it too much, they're bringing so much of his [superstar] presence into the thing which is far beyond what anybody was thinking going into it," director Jeremy Podeswa said in an interview with Newsweek. "I think Ed did a lovely job—he's a lovely actor and a lovely person."
Watch the full "Game Revealed: Season 7 Episode 1" video below for more behind-the-scenes interviews and fun Game of Thrones facts.
Follow Marie Claire on Facebook for the latest celeb news, beauty tips, fascinating reads, livestream video, and more.
Celebrity news, beauty, fashion advice, and fascinating features, delivered straight to your inbox!