Are Joey and Kariselle From 'Perfect Match' Still Together?
The duo dated before the show began filming.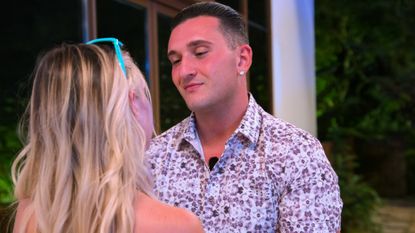 (Image credit: Netflix)
Netflix's latest dating show Perfect Match brings together several of the streamers' reality alums for a chaotic new dating competition, and, as it turns out, there are some former flames among the cast. Among the singles entering the villa on night one are Joey Sasso, the winner of The Circle's first season, and Kariselle Snow, best known as the panda from Sexy Beasts. The former bartender and pageant queen (whose first reality show was actually MTV's Are You The One? Season 8, featuring an all sexually-fluid cast) had a lot of history between them before they were cast on Perfect Match, so they quickly become one of the most interesting pairs as they try to give their connection another chance.
Read on for everything we know about what happened between Kariselle and Joey before Perfect Match season 1, their journey on the show, and whether they're dating post-filming.
Did Joey and Kariselle date before 'Perfect Match'?
The pair first interacted after Joey was revealed as a cast member of The Circle. Joey said in Episode 1 of Perfect Match that Kariselle DMed him and that he was immediately attracted to her. She then traveled to LA and they had fun together, but per Joey, he wasn't ready to be in a relationship. They didn't speak for a few months, per Kariselle, but he later reconnected with her. They tried dating, but she says that the "commitment thing" was too much for him, and they parted ways.
That second time they tried to date seems to be sometime in the first half of 2021, per Instagram. Joey included a pic of himself in Kariselle with an emotional caption from July 2021, where he thanked his friends and loved ones who supported him while he was getting sober. There's also a shot of the pair kissing in his 2021 yearly recap video. The duo had seemingly parted ways by the time Perfect Match began filming in early 2022.
What happened between Joey and Kariselle on 'Perfect Match'?
Both Kariselle and Joey were thrown for a loop when they saw each other among the first contestants entered the Perfect Match villa. (Joey maybe got twice the effect because he'd also had a history with Francesca Farago.) The pair talked over their history, with Kariselle seeming reluctant to give him another chance, but she also wondered whether their reunion on the show may have been fate. Joey admitted that he still adores her, and she agreed to be his match.
The happy reunion meets some turmoil the very next day, during the show's first "compatability challenge." During the game, Joey admits that he's still hung up on his previous ex who he'd broken up with about four years ago. In addition to being embarrassed by having water dumped on her head, Kariselle became angry and asked him why he would try to enter a relationship with her if he hadn't let go of the past. Later that night, she tells Francesca that she's "very open" to getting to know someone new if she's put on a date.
Of course, Kariselle's set up on a date with Chase DeMoor the next day, and it goes very well, with the pair even walking back into the villa hand-in-hand and kissing later that night. Even though he becomes upset and sees them kissing, Joey doesn't intrude and leaves the cards on Kariselle's table, saying that if she doesn't choose him he's going home. This upsets her, as she wonders why he would be okay seeing her with someone else, but despite the tiff, she ends up choosing to re-match with Joey. From then, they began making more positive moves in their relationship (and rated each other a perfect 10 during the anonymous kissing challenge), and they've been matched ever since.
In the second batch of episodes, which dropped February 21, Joey and Kariselle stay firmly matched throughout, with Joey ultimately asking Kariselle to be not only his match in the house, but his girlfriend. Kariselle happily accepts, and the house celebrates. There's also a tender moment where Kariselle discusses her sexuality with Joey, expressing her concerns about losing that part of her identity if she marries a man and asking if it scares him that the last person she was in love with was a woman. "No," Joey says adamantly, maintaining that he cares for and supports Kariselle for exactly who she is.
By the final drop of the season, Joey and Kariselle are firmly the longest-lasting and most stable couple in the villa, with the show focusing more on Kariselle and her show BFF Francesca as a dynamic duo (including that awkward pool kiss). They even show that they're on the same page by winning the final challenge of the show, where the matches have to guess each other's opinion on topics like marriage, sex, and relocation.
Then, on their final date, Joey surprises Kariselle (and probably everyone watching) by proposing! He says he called her dad for his blessing, and they call his mom to tell her the news and everything! They reveal the engagement to everyone else during the finale's Survivor-esque panel, and even though they lose the final prize (an all-expenses paid vacation), they couldn't be happier.
Are Joey and Kariselle still together after 'Perfect Match'?
After the final episodes of Perfect Match landed, we got some hints about Joey and Kariselle's status, and they're...not great. Kariselle posted a TikTok where she lipsyncs to an audio clip that sighs and says, "I'm sure we all know why we are all gathered here today." As she speaks, she pointedly clasps her hands, showing her ring-less fingers.
The clip also includes the caption, "POV: the final episodes of Perfect Match dropped but you still have to wait a few days until updates so everyone can catch up!"
Joey hadn't said anything about their current relationship status by the finale's airing, but he did open up about the proposal in a Newsweek (opens in new tab) interview published on the day of the finale, saying that he knew he wanted to marry Kariselle when there was about a week left of filming. He also shared how excited he was to see the footage of the big moment.
"I can't wait to see it. I thought I wasn't nervous at all but I remember nothing! I blacked out, I was [then] so nervous throughout the entire proposal! I hope it came across good!" he said.
"I think there were a lot of tears involved but it was one of the most beautiful moments of my life," he added.
A day after Joey shared his sweet memories of the proposal, he confirmed in a TODAY (opens in new tab) interview that he and Kariselle ended the relationship post-filming. He also alluded to the challenges they faced in the world outside of the show.
"We both sort of agreed right now we need to step away from each other. That's for the best, but her and I have so much love for each other," he told the outlet. "When I was there, I was like, 'This is the perfect person I want to spend the rest of my life with.' When you finish filming, you go back to reality. There's a lot of life things to deal with."
He also said that they're still in touch. "We have been such good friends for such a long time. And as of right now we're really working on repairing the friendship before anything else," he added.
On March 2, we got the official tea from both Joey and Kariselle in Netflix's "Where Are They Now?" clip for the series. Kariselle describes her and Joey's breakup, saying that their relationship was at its peak during the show and later took a downward turn, as she mimed out a rollercoaster. "It sucks, cause I wanna be here saying like, 'Oh my god, yeah, we're getting married tomorrow or we eloped in Vegas.'"
"I feel like I knew it was over when we were talking about being a power couple. Joey said we were like the next Batman and Robin, and I was like, 'Who's Batman?" she added. "Does this boy really think that I'm like a sidekick? Like what's going on?"
Joey then added his piece, saying, "If someone's going to blame someone, you can blame me. I just think, without going into details, things just weren't the way that they were supposed to be." He added in an interview with Variety: "We have so much in common, but I just think that we really tried to do everything we could to work on everything ... That chapter of my life is over."
Contributing Culture Editor
Quinci LeGardye is a Contributing Culture Editor who covers TV, movies, Korean entertainment, books, and pop culture. When she isn't writing or checking Twitter, she's probably watching the latest K-drama or giving a concert performance in her car.