When New Episodes of 'Perfect Match' Will Hit Netflix
What happens when contestants from 'Love Is Blind,' 'Too Hot to Handle,' and 'The Ultimatum' get together?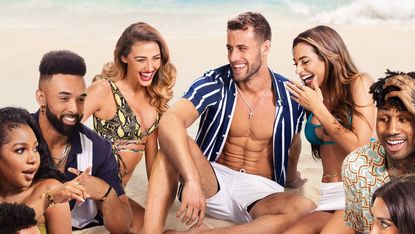 (Image credit: Netflix)
Whether you're hoping to see a genuine connection bloom or just want to follow along with the Twitter discourse, Netflix's slate of reality shows are can't-miss obsessions for millions of subscribers, including mega-hits like Love Is Blind and Too Hot to Handle, and under-the-radar series like The Mole and Twentysomethings. For its latest feat, a new show called Perfect Match, the streaming giant has gathered a roster of previous contestants from their infamous dating competitions and social experiments, dropping them all into a villa to look for love in a tropical paradise. Read on for what we know so far about the jam-packed reality show.
When will new episodes of 'Perfect Match' come out?
Netflix is following the multi-episode drop formula that has become a regular schedule with its dating shows. The 12-episode season will stream over three weeks, with four episodes each week. There also won't be a week's break ahead of the finale, so viewers can watch straight through to see who'll be chosen as the Perfect Match among the remaining couples.
Who's in the cast of 'Perfect Match'?
The success of any crossover series depends on which cast members are appearing, and Netflix has tapped a mix of fan favorites and villains over 15(!) seasons and 8 series (not to mention an international appearance from The Circle France). What happens when you throw several bachelors from Love Is Blind, a handful of Circle influencers, some Too Hot to Handle participants post-Lana and a pair of Tampa realtors together? Hopefully, a ton of reality TV drama.
Here's the full cast list:
Abbey Humphreys (Twentysomethings: Austin)
Anne-Sophie Petit-Frere (Selling Tampa)
Bartise Bowden (Love Is Blind season 3)
Calvin Crooks (The Circle season 3)
Chase DeMoor (Too Hot To Handle season 2)
Chloe Veitch (Too Hot To Handle season 1, The Circle season 2)
Colony Reeves (Selling Tampa)
Damian Powers (Love Is Blind season 1)
Diamond Jack (Love Is Blind season 1)
Dom Gabriel (The Mole)
Francesca Farago (Too Hot To Handle season 1)
Georgia Hassarati (Too Hot To Handle season 3)
Ines Tazi (The Circle France)
Izzy Fairthorne (Too Hot To Handle season 3)
Joey Sasso (The Circle season 1)
Kariselle Snow (Sexy Beasts)
Lauren "LC" Chamblin (Love Is Blind season 1)
Mitchell Eason (The Circle season 2)
Nick Uhlenhuth (The Circle season 3)
Savannah Palacio (The Circle season 2)
Shayne Jansen (Love Is Blind season 2)
Will Richardson (The Mole)
Zay Wilson (The Ultimatum)
Is there a trailer for 'Perfect Match'?
Netflix announced the show with a clip announcing its cast, highlighting pairings including Bartise and LC and Mitchell and Georgia. Each of the duos get a staged-candid moment to shine as they hang out around the tropical set.
What are the rules of 'Perfect Match'?
For anyone who remained confused after the first four episodes, or is waiting to binge the whole season at once, here's a quick breakdown of the gameplay. The show starts by dumping ten conventionally-hot singles into one villa and make them match up immediately. Each day after a matching, the pairs go through a compatibility test to determine who's the best couple at the time. The winning duo gets to go to the Control Room to choose two new people to go on dates with other contestants (or themselves). After the newcomers come into the villa following the dates, there's another matching, and anyone whose left single is immediately dumped from the villa.
The most exciting part of the show so far is that seemingly no one is safe, as both the men and women (but mostly the men) have their heads turned nearly every matching. Netflix has figured out the formula for ultimate low-stakes drama, and a pretty unpredictable show.
Ahead of the premiere, the streamer released this official description:
"As they compete to form relationships, the most compatible couples will play matchmaker, breaking up other couples and sending them on dates with brand-new singles they'll invite to the villa. Will they create better matches, or will they create chaos? In this over-the-top journey of strategy and dating hosted by Nick Lachey, only one couple will be crowned the Perfect Match."
Contributing Culture Editor
Quinci LeGardye is a Contributing Culture Editor who covers TV, movies, Korean entertainment, books, and pop culture. When she isn't writing or checking Twitter, she's probably watching the latest K-drama or giving a concert performance in her car.