Are Zack and Bliss Still Together After 'Love Is Blind'?
The couple had a strong start, and then...well, you know.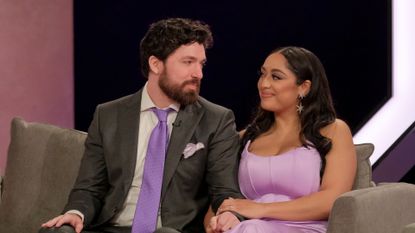 (Image credit: Netflix)
Just when you think that you've seen every relationship dynamic that could result from the Love Is Blind social experiment—including dramatic love triangles, big real-world challenges, and heartwarming meant-to-be couples—season 4 delivers the Netflix hit's first re-coupling. Zack Goytowski falls for both Bliss Poureetezadi and Irina Solomanova in the pods, but when after he chooses Irina, their Mexico getaway is not the romantic honeymoon they wanted. The pair doesn't make it past Mexico, and when Zack gets back to Seattle, he and Bliss agree to give their love a second chance.
Read on for our breakdown of what happens between Zack and Bliss as the season goes on, and whether the couple are still together past filming.
What happens between Zack and Bliss on 'Love is Blind' season 4?
Zack and Bliss quickly hit it off in the pods, and the 31-year-old criminal defense attorney and the 33-year-old senior program manager seem like a destined match. Both of their mom's favorite songs were Lee Ann Womack's "I Hope You Dance," and they both say owls are their favorite animals, so they stick out in each other's minds. There's also a sweet moment where Bliss is understanding and supportive when Zack tells her about growing up poor with his mother.
However, Zack has also connected with business owner Irina, and it gets a bit awkward in the women's living quarters when it becomes clear that both Irina and Bliss are all in on Zack. When Bliss takes over the kitchen to bake cupcakes for Zack's birthday, Irina asks to take one of her candles, before admitting to Zack that she forgot his birthday. Bliss makes it clear to Zack that she doesn't like Irina, but also that she understands that he may be seeing a different side to her. In the end Zack chooses Irina, saying that he feels he can trust her, and he breaks Bliss's heart when he ends things.
One musical proposal later, Zack and Irina meet each other for the first time and Irina immediately isn't feeling it. They get through the rest of the Mexico trip on very awkward ground, with Zack's attempts to make Irina open up all failing. By the last night, Zack and Irina break up, with even Irina telling Zack that he made the wrong choice choosing her over Bliss.
When Zack and Bliss meet again in a Seattle restaurant, he immediately admits that he messed up. "I made the wrong choice. You know I did, and I do, too. You were the girl I was looking for," he tells Bliss. Even though Bliss was skeptical and hesitant to give Zack a second chance, she eventually gives him a second chance, saying in a confessional that their chemistry is "bringing all the feels back." Eventually, two weeks before the Love Is Blind wedding days, Zack proposes to Bliss on a boat date, and she says yes.
The pair quickly continues the LIB process, moving in together even though Bliss was still dealing with her worries that she was Zack's second choice. The pair are able to talk through it, and they made their debut as a couple at Chelsea's birthday party. In the final batch of episodes, the couple have both some genuinely sweet moments and difficult questions when they meet each other's families.
Several members on both Zack and Bliss's sides are supportive of their relationship, with Bliss' mom even telling Zack that if the marriage happens, she would be a mom to him too. The snag comes up with Bliss's dad, who's immediately not into it from the moment Zack starts explaining criminal justice reform. He blasts the LIB process and Bliss and Zack's relationship, and it turns out that the dad has a history of disapproval when it comes to his daughters' marriages.
Even though Bliss defends Zack during the tense meeting, she does admit during the bachelorette party that she still has doubts on whether or not she's fully ready to marry him. (The Irina switch-up is a lot to work through.) Though past trailers have revealed that the couple makes it to the altar, one clip also showed Zack talking to some male friends on his wedding day, saying, "I don't want to be in a marriage where your parents hate me. You know, Romeo and Juliet didn't work for a reason." We'll have to wait til Friday to see whether the pair says "I do" or "I don't" at the altar.
Did Zack and Bliss get married?
Zack and Bliss are the last wedding of the finale, and they both seem more excited than nervous ahead of the ceremony. Zack gushes to his friends about how much he loves Bliss, but he does admit that he isn't sure of how their relationship will be in the future when they're not high on "dopamine and oxytocin." He also has an emotional conversation with his sister and grandma about how he wishes his mother was there. Meanwhile, Bliss speaks to her mom and dad ahead of the day, though her dad makes snide warnings telling her not to settle up until the last moment. (Like, literally right before they walk down the aisle.)
Once they make it to the altar, Zack and Bliss exchange vows, as Zack says that he didn't know how much he loved Bliss until he "told her goodbye." Meanwhile, Bliss says that she loves the way he sees the world and sees the best in people, adding, "Just meeting a man that's so kind is a unique thing." Then come the "I do's," and both of them say...Yes!
At the reception, they finally have their "I Hope You Dance" moment and Bliss jokes that he owes her a vacation, but "Not Mexico." The finale ends with the couple happily signing their marriage certificate.
What happened at the reunion?
Bliss and Zack are still going strong and even thinking of expanding their family! In response to host Vanessa's pleas for a Love Is Blind baby, Bliss tells her, "I can't wait to have this man's babies." Also, Zack is now apparently "best buds" with Bliss's dad, and she added that they talk all the time. Her dad is even paying for a honeymoon for the couple to go to Panama. As for their look back at the past year of married life, the couple shared some sweet vacation photos, including some joint getaways with all three of season 4's married couples (featuring matching swimsuits!), all soundtracked by Zack's latest song. (...yeah)
The couple also addressed the drama involving Irina, as she attended the reunion in person. Irina quickly took accountability for her mean-girl behavior towards Zack and Bliss and everyone else she hurt during their time on the show. Though Bliss said she just wished Irina would reflect on her actions and continue to grow as a person in the future, she also didn't let Irina off easy, even noting that Irina sent her a DM telling her, "You dodged a bullet," after the Mexico getaway.
Meanwhile, Zack did not mince words when he responded to Irina's apology, saying that only ten percent of her behavior made it onto the show. "If we're real, you went on this show to get famous," he said, adding that he has forgiven her. "I really don't hold anything against you. There's so many people out here that want to attack the cast on this show. Everybody who made a mistake on this show, it has been punishment enough for the entire world to see them at their worst...With that said, I really believe, Irina, that you will become an amazing person one day."
Bliss also previously shared her thoughts after watching Zack and Irina's Mexico scenes during an Entertainment Weekly interview. "Even though Zack and I had ended things in the pods, I still believe he's such a good person and seeing [his and Irina's breakup] just was really heartbreaking and it made me feel really bad for him," she told the outlet. "No matter what, people don't deserve to be treated so poorly...That wasn't easy for me to see him being treated that way." (Irina has since apologized, saying in an Instagram video: "I want to say that I'm so, so sorry for the people that watched the show that felt frustrated, angry, hurt by the way that I was mistreating people on the show—it was very immature and naïve of me."
She continued on to gush over Zack later in the interview, saying that her respect for him is part of the reason she continued the experiment with him. "I really, really respect him as a person, and he is such a brilliant person and he also is extremely forgiving and full of grace, even more to the point where I am on some levels," she added. "I think through our pod experience, I even learned that from him. I would not have continued on going through with this process that became very challenging at the end if I didn't respect his [judgment] of character and if I didn't respect him as a person." And speaking to Today she referred to Zack as "my person," noting that post-Mexico: "I also really felt like I loved this person. I felt like this was my person." She even defended Zack's singing (!), saying, "But that's just him being himself. What's more beautiful than that?"
As for her feelings about the Irina of it all, Bliss told People that she has no bad blood with her castmate, adding that she stands by the final conversation that she and Irina had in the pods.
"For me, this was a year ago," she told the outlet. "This is one small little blip in my life ... that was just one part of me and Zack's story. So it's something that I feel like I've really moved on from, and I just hope the best for everyone."
Celebrity news, beauty, fashion advice, and fascinating features, delivered straight to your inbox!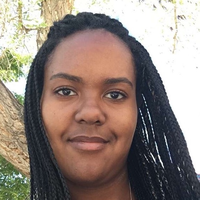 Contributing Culture Editor
Quinci LeGardye is a Contributing Culture Editor who covers TV, movies, Korean entertainment, books, and pop culture. When she isn't writing or checking Twitter, she's probably watching the latest K-drama or giving a concert performance in her car.