The 32 Most Iconic Supermodels of the '80s
Including all the 'Sports Illustrated' icons.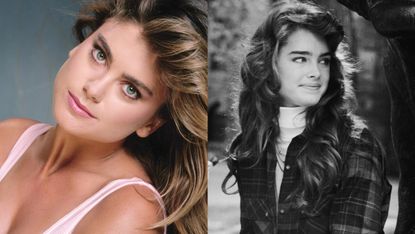 (Image credit: Getty Images)
The '80s were...an interesting time for the modeling world. The term "supermodel," which was already in existence, really started to apply to some of the modeling icons of the day. The profession was lucrative and also highly visible, with the lives of models becoming just as fascinating as their work (a trend that would continue into the '90s and well beyond). There were also barriers being broken, with non-white models being selected to walk the runways of major fashion houses—but, as is no surprise, there were still problems of exclusion and racism permeating the industry at all levels. We even saw the debut of some modeling superstars who would go on to have careers in the '90s and beyond—truly embodying the idea of supermodel well beyond their initial time on the runway.
Keep scrolling for 32 of the most iconic, groundbreaking, savvy, and fascinating supermodels of the '80s. Many of them you don't know, or know in a different context—but their work was epic.
Linda Evangelista
An up-and-comer in the '80s who would hit supermodel-dom in the latter part of this decade, the fashion chameleon started out in the mid-80s. But in '88, when photographer Peter Lindburgh suggested she cut her hair short, she became the Linda Evangelista we all know and appreciate. One of the "Big Six" supermodels who would dominate the '90s (the other five being Naomi Campbell, Cindy Crawford, Claudia Schiffer, Kate Moss, and Christy Turlington), she's been immortalized in hundreds of magazine covers.
Cindy Crawford
Crawford would be one of several models on the January 1990 cover of British Vogue, instantly making her a household name. But her star was still rising in the 1980s; In 1986 she was signed to Elite New York modeling agency. Her first big "moment" also happened in the '80s, even though it's a blink-and-you-'ll-miss-it cameo: In the Michael J. Fox film The Secret of My Success, a quick montage of models all turning to look at Fox's character featured Crawford.
Christy Turlington
Turlington's career was nascent in the '80s and would explode in the '90s, but she had some big moments early in her career too. She participated in Calvin Klein's Eternity campaign in 1989; If you're a fan of Duran Duran's song "Notorious," re-check out their video, because she's in it. And she's on their Notorious album cover in 1986! She was one of the models on the cover of the January 1990 British Vogue.
Claudia Schiffer
The model with the most magazine covers (over 1,000!), Schiffer was still early in her career in the '80s and still drawing comparisons as a modern Brigitte Bardot. She was scouted in 1987, and her early campaigns with Guess? in the late '80s helped raise the profile of the brand (and made her a household name). In the very late '80s, Karl Lagerfeld chose Schiffer to be the new face of Chanel, and began putting her in shows at the turn of the decade.
Naomi Campbell
Campbell was briefly a dancer and actor as a child, but her modeling career began in earnest when she was scouted as a teen. An early cover on British Elle led to several runways, including Versace and Mizrahi, and by the end of the decade she was one of a "trinity" of models (the other two being Christy Turlington and Linda Evangelista), who were popular, in-demand, and faces for their generation. Campbell would appear on the January 1990 cover of British Vogue.
Tatjana Patitz
Tatjana Patitz would work into the '90s, but she had a prolific career in the '80s. In addition to being one of the models appearing in Michael J. Fox's The Secret of My Success, alongside Cindy Crawford, she was also on the January 1990 cover of British Vogue and was considered by those in the industry as one of the first essential supermodels. Her first major cover was British Vogue in 1985, and she parlayed her European success into a career in American magazines during this decade as well—including consecutive covers of American Vogue.
Ines de la Fressange
The daughter of a model and stockbroker, whose family derived from French nobility and Colombian politicians, de la Fressange was well-poised to have an important career of her own. Her modeling started in the '70s, but the '80s were a heyday, becoming the first model to sign exclusively with Chanel (as she would later recount, he wanted to show that the brand could be embodied by a woman and that the clothes were fit for 20-year-olds). That relationship would turn sour at the end of the decade, but it was a fruitful partnership that was reestablished in the '90s and '00s.
Jill Goodacre
You may perhaps know Goodacre these days as married to Harry Connick Jr., but she was also an early model for Victoria's Secret, back when it was becoming a major brand. Along with other models like Stephanie Seymour, she helped raise the profile of the brand as a major (sexy) player in the lingerie space. The '90s would be a good decade for her too—particularly meeting Connick in '90 and a brief television career that included a Friends cameo in 1994 (which was the show to have a cameo on at the time).
Beverly Johnson
The first Black model to appear on the cover of Vogue in 1974, Beverly Johnson broke barriers all over the place (after her cover, magazines and fashion houses began using more Black women and women of color in the campaigns, covers, and shows). Author of two books about beauty, actor (she later had a role in Crossroads, among others), and singer, she's considered not just a multi-hyphenate but also one of the most influential people in the fashion world.
Stephanie Seymour
Seymour had the trifecta of modeling aspiration at the time: featured in Sports Illustrated, on the cover of Vogue, and as an early Victoria Secret Angel who helped define the brand. She was more at home in the studio than on the catwalk, telling Vanity Fair in 2008, "I used to be booked for every show in New York and cancel the day before, because I'd have panic attacks," adding, "Then Gianni [Versace] would offer you so much money that you couldn't say no."
Karen Alexander
Alexander began her career in the late '80s and continued into the '90s. One of People's "50 Most Beautiful People" also made the cover of Vogue, Harpers Bazaar, Glamour, and other magazines, including most notably Sports Illustrated. She also acted, most recognizably in the '90s (Bad Boys). She has said in interviews that she faced racism her entire career, never having the prominent career that other white supermodels had.
Isabella Rossellini
The daughter of Ingrid Bergman and Roberto Rossellini was probably destined to become a film star, but she also modeled in the '80s. She got a bit of a late start (as far as models are concerned), appearing in Vogue (British and American) in her late 20s, which led to a lot of magazine work and becoming a spokesmodel for Lancôme. In the '80s, she also started acting, and has been in such eminent films as Blue Velvet. She still occasionally models, though!
Kelly Emberg
Originally from Austin, Texas, Rod Stewart's former partner was also a successful model in her own right, with covers in Vogue, Harper's Bazaar, and Cosmopolitan, among others. Most notably, she appeared in the Sports Illustrated swimsuit issue and was a spokesmodel for brands like Cover Girl and Calvin Klein. She has since worked as an interior designer and entrepreneur, including debuting a line of sportswear clothing.
Kelly LeBrock
If you know LeBrock because of her roles as "the perfect woman" in Weird Science or The Woman in Red, what you may not know that she started life as a (very successful) model. The Pantene spokesmodel also was featured in Vogue and had a substantial contract with Christian Dior. She took a break from acting, then returned to it in 1990 working with then-husband Steven Seagal in Hard to Kill; She continued to act until the 2010s.
Yasmin Le Bon
One of the highest-earning models in the '80s, Le Bon was on the cover of Vogue (American and British) as well as Cosmopolitan, Marie Claire, and Elle (as well as, like other models on this list, starring in music videos). She's been a part of campaigns for big fashion houses like Versace and Chanel but has also done work for retail brands like Ann Taylor (as recently as the 2010s) and Banana Republic. She's been married to the pop star Simon Le Bon since the '80s.
Farida Khelfa
The model, actor, and filmmaker, who's from Lyon, was discovered by photographer Jean-Paul Goude and went on to some impressive campaigns—including working for Thierry Mugler and Jean-Paul Gaultier. She's continued to work, including a more recent campaign in the 2010s, working for multiple years with Schiaparelli. She still does modeling from time to time, including Vogue Arabia and Elle Arabia.
Renée Simonsen
If you were wowed by the cover of Roxy Music's "The Atlantic Years" album, you're familiar with Simonsen. The Danish model appeared on several Vogue covers, as well as Sports Illustrated, and was the face of several prominent cosmetics brands like Maybelline and Covergirl. (She also dated a member of Duran Duran, apparently!) Simonsen would actually quit acting, try her hand at other careers, then return to acting in the '90s.
Jerry Hall
Jerry Hall, who started modeling in the '70s and was very in demand in the '80s, was one of the most popular models of the time and helped define the signature model "look" (tall, long blonde hair); She worked with prominent photographers and even was a model for Andy Warhol. She also acted in the '80s, including 1989's Batman. If you know of Jerry Hall as the former wife of Rupert Murdoch and former partner to Mick Jagger, you don't know the full scope of her career.
Katoucha Niane
Sometimes known mononymously as Katoucha and nicknamed "the Peul Princess," one of Yves Saint Laurent's muses worked prolifically in the '80s, primarily in Europe and with icons including Thierry Mugler and Christian LaCroix. She quit acting in the '80s to focus on activism, even writing a book about her experience with female circumcision as a part of her work to speak out against the practice. She died from a suspected accidental drowning in the '00s.
Carol Alt
Like other models on this list, Alt's rise to ubiquity came through a Sports Illustrated cover. She would go on to be on over 500 covers of magazines like Vogue (American, British, Paris, and Italia), did major ad campaigns for big brands like Diet Pepsi and Hanes (alongside major fashion houses like Givenchy), acted in movies, and appeared on a cover and feature for Playboy. She more recently has been a TV host and appeared on The Celebrity Apprentice.
Kim Alexis
In the '70s and '80s, Alexis had a prominent career alongside other contemporaries like Janice Dickinson—most notably being the spokesmodel for a new Revlon line, being on the cover of American Vogue and Sports Illustrated, and participating in couture campaigns. She also acted in the '80s, but would go on to become a television personality in the '90s hosting health shows as well as reality competitions. Alexis, per her Instagram, is a nutritional author and wellness speaker.
Anna Bayle
The Filipino model was seen as one of the first supermodels of Asian descent. Originally rising to prominence internationally, she achieved notoriety in America, particularly through a distinctive runway walk, and worked with brands including Yves Saint Laurent, Dior, Versace, and Valentino. She was even considered a particular muse for Thierry Mugler. After she retired from modeling she became a style consultant and a beauty editor.
Cristina Córdula
Córdula, who's Brazilian but resettled in France, is now a television personality. But in the '80s, she had a successful modeling career, particularly after she debuted a shorter hairstyle. She walked the runway for several fashion houses, including Yves Saint Laurent, Chanel, and Dior, and appeared in the pages of prestigious magazines (often the international editions, where she achieved prominence). In 2002 she launched Cristina Cordula - Agence de Relooking, a fashion consultancy, and is seen as a successful model-to-businessperson.
Marpessa Hennink
"The Catwalk Contessa" (what a nickname!), so named because of her distinctive strut, walked the runway during the inaugural 1985 Dolce & Gabbana's fashion show. She also walked for a ton of designers like Versace, Valentino, Moschino, Oscar de la Renta, and Christian Dior. But, she also did some magazine work, like in Marie Claire, American Vogue, Vanity Fair, and Glamour. She was one of the models featured in Bryan Ferry's song, "Slave to Love."
Iman
In case you happen to know her only as David Bowie's wife, the mononymous Iman also had a long, fruitful career as a model. She was considered a muse for many fashion icons, including Gianni Versace, Halston, and Yves Saint Laurent, and appeared in Vogue as early as the 1970s. Despite this, she battled racism throughout her career but thrived in a multitude of ways, including as an actor on shows like Miami Vice, and later in the '90s launching her own cosmetics line—Iman Cosmetics—which became an top-selling foundation brand.
Janice Dickinson
More recently known as a TV personality (America's Next Top Model, The Janice Dickinson Modeling Agency, and Celebrity Big Brother, to name a few), Dickinson started her professional life as an impressive model. Her career began in the '70s, and she did ad campaigns with brands including Revlon and Christian Dior, and did features and covers with Vogue, Cosmopolitan, Marie Claire, and Playboy. She calls herself the first supermodel—although that claim's been disputed—and she's written multiple memoirs.
Paulina Porizkova
The Sports Illustrated model—the second woman to feature in consecutive covers after Christie Brinkley, and the first woman from Central Europe to be featured on a cover (in 1984)—started her career in Paris, then quickly made a splash (pun not intended) in the United States. Her Sports Illustrated work led to campaigns and covers, including for Vogue and Glamour, and a huge contract with Estee Lauder. She also, more recently, was a judge on America's Next Top Model.
Gia Carangi
While unfortunately more attention was paid to her death from AIDS-related complications in 1986, Carangi's impressive career was given notable attention in the Angelina Jolie-starring movie Gia that centered around her life. Like other supermodels on this list, Carangi appeared on the cover of Vogue, Cosmopolitan, and other major magazines, and ad campaigns for Versace and Armani. It was a meteoric rise and just as fast of a fall, but it was an iconic career nonetheless.
Elle Macpherson
"The Body" was more than just her moniker, but her long and fruitful career with Sports Illustrated help get her the title. Her career kicked off in the '80s with commercial work, as well as a ton of magazine work in American Vogue, Marie Claire, and Cosmopolitan and walking the runway for houses like Louis Vuitton. Fun fact: She appeared in every issue of Elle for six straight years, and married the magazine's creative director.
Kathy Ireland
Kathy Ireland was the face of Sports Illustrated for a long time (inclusion in 13 consecutive issues and three covers), and the magazine's publisher declared her 1989 cover "The Greatest Sports Illustrated Swimsuit Cover Of All Time." But she also modeled throughout the '80s in other magazines, including Vogue, Cosmopolitan, and Seventeen; She also did some acting, and became a highly successful entrepreneur in the '90s. She's considered one of the most successful models-to-businesswomen in the industry.
Brooke Shields
By the '80s, Brooke Shields had already been acting and modeling (sometimes quite controversially as a child star). Her star-making movie, Blue Lagoon, premiered in 1980, and that same year she was the youngest model to appear on American Vogue at the time (she was just 14). Her modeling career was impressive, most especially her campaign with Calvin Klein, which raised the profile of both her and the brand—but was controversial even at the time, since Brooke was still only 15 years old.
Christie Brinkley
It may have culminated in the "Uptown Girl" music video for her at-the-time boyfriend Billy Joel (to whom she would get married in 1985), plus an epic, hilarious cameo in National Lampoon's Vacation, but Christie Brinkley's rockstar '80s was a whole lot more than her most iconic moments. The Sports Illustrated model also wrote a book on health and beauty, spent decades as the face of CoverGirl, has over 500 magazine covers (including Vogue), and was even made into a doll by Matchbox.
Celebrity news, beauty, fashion advice, and fascinating features, delivered straight to your inbox!