12 Things Only Shopping Fanatics Understand
Because one pair of black heels is never enough.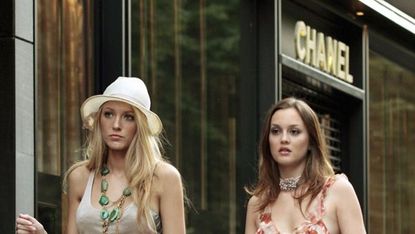 (Image credit: Archive)
1. The Barneys Warehouse Sale is your favorite holiday.
They call it legendary for a reason.
2. Closet space is important real estate.
The top shelves are reserved for shoes only.And there must be room for everything to be color-coded.
3. During Fashion Week, it's painful to see all the clothes you covet but can't buy yet.
But that's why they created Moda Operandi, right?
4. Public transportation and you don't mesh.
Trying to fit through the doors of the subway just isn't happening with all those bags.
5. Carpal tunnel is a real thing.
Two words: Cyber. Monday.
6. Shopping is exercise.
Your arms have been sore for days after a massive shopping haul. It's hard work.
7. You have so many loyalty shopping cards they don't fit in your wallet.
But that's reason enough to go shopping for a new one.
8. The bookmarks toolbar on your laptop is reserved for your favorite shopping sites.
And you check for new inventory religiously each morning.
9. You keep a running "shopping list" on your iPhone.
That's why the iNotes app was created, right?
10. You hunt for those Prada chandelier shoes from 2009 on Ebay.
And last season's Chanel backpack. And every other coveted fashion item you hope to find at an amazing price "one day."
11. Shopping apps dominate your phone.
Spring. PS DEPT. Polyvore. You've tried them all.
12. Your significant other knows exactly what to get you for birthdays and holidays.
Only because you've dragged him to three stores after a dinner date to check out the prices on those outrageous shoes you were planning to buy. You rushed to make it before closing, but that's OK because shopping is your dessert.
Related Links:
Shopaholics, You've Finally Met Your Match, Thanks to These
Confessions of a Real-Life Shopaholic
The 7 Best E-Commerce Sites and Apps for Shopaholics
Image via WiffleGif
Kristen Bateman is a contributing editor at Harper's Bazaar. Her first fashion article was published in Vogue Italia during her junior year of high school. Since then, she has interned and contributed to WWD, Glamour, Lucky, i-D, Marie Claire and more. She created and writes the #ChicEats column and covers fashion and culture for Bazaar. When not writing, she follows the latest runway collections, dyes her hair to match her mood, and practices her Italian in hopes of scoring 90% off Prada at the Tuscan outlets. She loves vintage shopping, dessert and cats.