How to Get Kim Kardashian's Gravity-Defying Cleavage
Make your décolleté pop.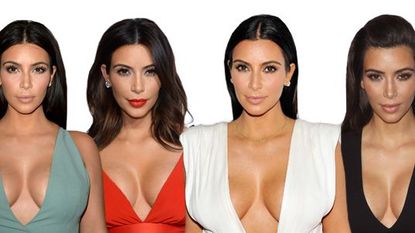 (Image credit: Archives)
Marie Claire Newsletter
Celebrity news, beauty, fashion advice, and fascinating features, delivered straight to your inbox!
Thank you for signing up to Marie Claire. You will receive a verification email shortly.
There was a problem. Please refresh the page and try again.

Forget Interstellar, it's Kim Kardashian's cleavage that has us rethinking Sir Isaac Newton's law of gravity. No matter how deep the plunge of her made-to-fit couture, her ample bosom always look immaculate. We're no scientists, but felt it was our obligation to get to the bottom of how the reality star's able to flout the force of nature. For expertise, we looked to The Bra Book author Jene Luciani, who spelled out just how Kardashian keeps her (second best?) asset looking tip top. Hint: It begins with top tier genes and ends with an abundance of boob tape.
Marie Claire: Let's get one thing straight, how does Kim Kardashian achieve such great cleavage?

Jene Luciani: Well, first of all, she has very full breasts naturally, but you can get the same effect by utilizing a push-up bra in your proper size with a snug band and inserting some silicone "chicken cutlets" in the bottom part of each cup. These have long been a celeb secret and a really simple and easy way to boost the bust in pretty much any bra.
Hollywood Silicone Breast Enhancers, $26.99; hollywoodfashionsecrets.com.
MC: What's the best boob tape to use for optimal support?

JL: Before cutlets, et cetera, often you'd hear of celebs "taping" their breasts using duct tape or something similar. If you tape the bottom, they stay pushed up. But, no one really does this anymore. There are boob "lifting tapes" on the market such as Hollywood Fashion Tape, which you place just above the nipples, pulling the skin taut and upward. However nothing compares to the support of a bra. Also, boob tape can be used when you can't wear a bra and need to tape the garment to you so it doesn't move, like a plunging dress.
Hollywood Breast Lift Tape, $9.99; hollywoodfashionsecrets.com.
Hollywood Fashion Tape Refillable Gun, $10.99; hollywoodfashionsecrets.com.
MC: What tricks do you have for using boob tape?

JL: Make sure there's no lotion or oils on your skin.

Step 1: While leaning over a bit to give the boobs a lift, I usually start with a strip of tape about 12-16 inches long, depending on how big you are or where your dress is cut. Then, tape from one side of your boobs, with the end pointing toward armpit, under the boobs pulling them together a bit, then up the other side of boobs with the end pointing toward the other armpit.

Step 2: Standing up straight, take a strip of tape and place it horizontally across boobs while pulling them together for cleavage and to where it covers nipples, being sure each end touches the previous tape strip on the side, near armpits.

Step 3: A third strip can be placed above the second for reinforcement, pulling the boobs together again.
MC: What do the Kardashians mean when they talk about getting a bra "lifted" ?

JL: My guess would be that there's graduated padding in the cups, meaning it's stiffer and thicker at the bottom and works its way up.
MC: What necklines are most flattering on cleavage?

JL: V-neck, plunging, or sweetheart. A balconette bra is also a great bra to create a really pretty cleavage that looks like two nice little bumped up breasts as opposed to a "butt," type of looking cleavage where breasts are squished together.
H&M Balconette Bra, $14.95; hm.com.
MC: What do you think of corsets with built-in bras?

JL: Corsets are great for whittling the middle and boosting breasts. If it has boning, it's like a built-in bra and creates a flattering lift.
MC: How can you wear a bodysuit like a bra?

JL: If you can find one with built-in foam cups or buy the foam cups at a fabric store and then have a seamstress sew them in, that's the way to go .
MC: What kind of plunge bra do you recommend?

JL: A molded cup to give some nice shape and a front close is another trick for boosting cleavage! Calvin Klein has a great push-up option.

Calvin Klein Icon Perfect Push Up Bra, $44; net-a-porter.com.
MC: How do you prevent boobs from sagging?

JL: Wear a well-fitting supportive bra and be sure you get sized every year at least! Because size fluctuates and bras stretch out, you need to stay on top of this! Lots of factors go into sagging like genetics, weight loss and/or gain and whether or not you've had children, but you can help keep breast tissue supported and gravity from pulling them down by always wearing a good supportive bra.
MC: What additional tricks and tips do you have for larger breasted women like Kim?

JL: Larger busted women have many challenges. You can look for full coverage cups and always opt for underwire. Look for wider or even padded straps in case breasts are heavy and straps dig in. Also, a wider backband helps to add support.
MC: What bras must every girl have in her repertoire?

JL: This is different for everyone because you need to determine your needs. Most of us regularly wear one style of bra, so buy 2 or 3 in that style, so you can rotate. For me, it's a nude t-shirt bra. Then be sure to get one in black. Then you need a strapless or convertible in nude and black, and a sports bra usually. Also, some women like to have a "spa" bra, which is a comfortable cotton bra for running errands or around the house.
Related Video: Every Time Kim Kardashian Wore a Pencil Skirt
Celebrity news, beauty, fashion advice, and fascinating features, delivered straight to your inbox!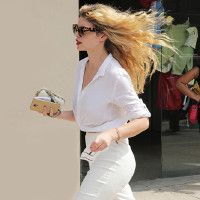 Lauren is the former beauty editor at Marie Claire. She love to while away the hours at coffee shops, hunt for vintage clothes, and bask in the rough-and-tumble beauty of NYC. She firmly believes that solitude can be a luxury if you've got the right soundtrack—that being the Rolling Stones, of course.