Trend to Try: Matching Lip and Nail Color
Dara Adeeyo of Dark Berry Beauty finds out: can you make matching lips and nails work?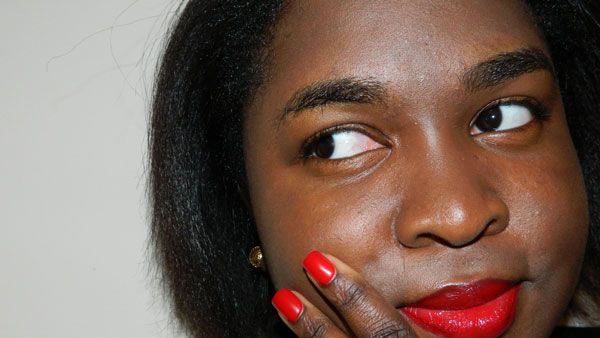 (Image credit: Archives)
While watching the Golden Globes a couple weeks ago, I noticed a certain trend among the ladies on the red carpet: lip color matched with dress color. Diana Agron wore a bold red lip with her red Giles dress, Viola Davis had the perfect plum-colored pout to complement her Pucci gown, and Angelina Jolie donned a red smooch that matched her clutch and the accent of her dress.
Inspired by these looks, I wondered how I could put my own spin on this trend, and involve my nails. Instead of match my lip color with my outfit, I decided to match it with my nails. I grabbed my Revlon ColorBurst Lipstick in True Red (FYI: it's a makeup artist's must-have!) and a pack of Broadway Nails press-on manicure in Tweetheart.
I had a lipstick in mind, but it took some trial and error to find the right nail color. I discovered that the varnish needed to be a shade darker, so my nails and lips would match perfectly. I chose press-ons because they allow for a quick color-change, and these are very different than the ones you had as a kid. They are short, come in different colors and designs, last for 7 days and are easy to apply or remove. A true steal for its price.
Dara Adeeyo is a nail polish junkie who blogs her beauty diary on Dark Berry Beauty.