Would You Try Stiletto Nails?
Dara Adeeyo of Dark Berry Beauty gets inspired by pop divas, and tries stiletto nails.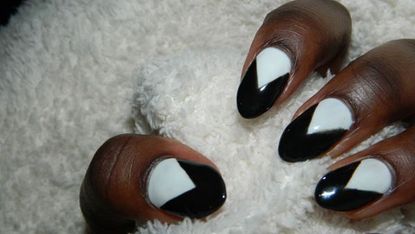 (Image credit: Archives)
Donned by stars like Rihanna, Beyoncé, Adele and Lady Gaga, stiletto nails are a trend that shows no signs of dying. These claws are usually fake, and are cut and filed to form a point.
For the longest time, I was against this type of nails; I absolutely hated pointy fingernails. I loved — and still do — having square-shaped nails. I only took a liking to this nail shape when I spotted Adele with a nude stiletto nail in one of my favorite magazines. I was surprised at how chic her nails looked, and decided to give them a try in the near future.
Searching for a salon that would craft stiletto nails, I eventually stumbled upon Valley Nails NYC, which specializes in nail art. I initially thought I would use a dress from one of the Fall 2012 shows as inspiration, but after my nail technician was done, we both agreed that the design just didn't work.
Since I already had white gel polish as my base, we decided to just go with black triangular tips la Rihanna's You Da One music video.
While these nails may not fly in a workplace that's less creative, if painted a solid color, I think they could suit any woman's professional lifestyle.
Dara Adeeyo is a nail polish junkie who blogs her beauty diary on Dark Berry Beauty.
Celebrity news, beauty, fashion advice, and fascinating features, delivered straight to your inbox!