How This MarieClaire.com Editor Looks Amaze For 12-Hours Straight
Rosa Heyman knows how to dress for the day ahead—here's how to steal her look.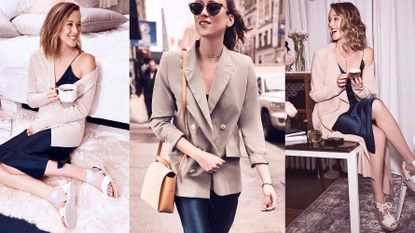 (Image credit: Jeff Allen)
Dressing for spring in the northeast requires being ready for all sorts of wackiness, weather-wise, while staying true to your own personal style. Rosa Heyman, the editor in charge of Marie Claire's social media and video strategy, knows what she likes and how to honor her personal vibe. "I tend to wear feminine pieces and give them a bold or edgy touch," she says. "I wear a lot of black, grey, white, camel, and then red for accent. I love animal skins (not real!) and classic patterns like stripes and polka dots."

Most mornings, Rosa reaches for a slip dress. "Slip dresses are comfortable and also incredibly sexy. I love wearing a statement jewel tone, like sapphire—it stands out in a meeting and then transitions to drinks with friends after work." A cardigan keeps her cozy despite blasting A.C., and flat sandals look understatedly cool.
SOREL sandals, $80, sorel.com; Aqua Cardigan (similar), $99, bloomingdales.com; Cami NYC Slip Dress, $264, bloomingdales.com
And while she doesn't have it all figured out yet, she knows what she's drawn to. "My 'signature style' is a work in progress—I'm embracing the sophisticated while trying to remain playful; retiring some of the more youthful cuts while still dabbling in trends," she continues.

"The thing I love about these SOREL shoes is that they're versatile, which is key for going from the office to running around town. The color palette is neutral and they're super comfortable. But most of all? I loved the treads on the soles. When you live in NYC, you do a lot of walking—so you need shoes that you can literally pound the pavement in. They make me feel really secure, but in, you know, a chic way."
If big meetings are on the docket, Heyman swaps the cardigan for a more structured, borrowed-from-the-boys blazer and a bit of height. "I try to dress up a bit more for the office since I'm on the younger side and I want to present a bit older and sophisticated."
SOREL wedges, $150, sorel.com; Mango Blazer, $119, mango.com; Janessa Leoné bag, $248, janessaleone.com; Vita Fede Bracelet, $295, vitafede.com; Quay Australia sunglasses, $60, quayaustralia.com
After work, Heyman again swaps her topper ("I use outerwear and accessories to change up my style—so I always have coats and sunglasses and purses on hand," she says) for a sultry trench, and dials up the glam with her jewelry. And with the right accessories, those daytime wedges become totally evening-appropriate.

"What a blazer does during business hours, a duster does for cocktails with my friends," she raves. "Basically, I go for ensembles that can be deconstructed and then reconstructed depending on the situation."
SOREL wedges, $150, sorel.com; Finders Chances Coat, $195, bloomingdales.com; Lana Jewelry Y-Lariat, $900, lanajewelry.com; Vita Fede Ring, $285, vitafede.com
Dying to replicate Heyman's vibes? Click below for her favorite shoes. Happy shopping!
Styling by Brandy Joy Smith; hair by Jacob Rozenberg; makeup by Mark Edio