The Item I Wear to Death: A Vintage Versace Jean Jacket
It's one of a kind find.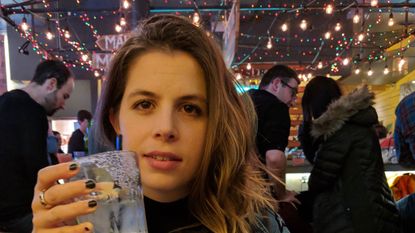 (Image credit: Megan DiTrolio)
In our biweekly series, editors share "the item they wear to death," whether it be a basic white tee or a super-trendy jumpsuit. Prepare yourself (and your credit card) for some guilt-free shopping.
When I first interviewed for my job at Marie Claire, my interviewer flatly asked me, "Do you know anything about fashion?"
It wasn't a dig at my outfit. I was in a smart, safe, interview look: a black blazer, black pencil skirt, and modest heels. The question was meant to quiz me on the industry I was about to enter into, if I was one of those people who "got" fashion fashun. To put it another way, if you work at a financial firm, you should know about mutual funds. (I think?) Thus, if you're going to work at a fashion magazine, you should at least know the basics of style. Unfortunately for me, I didn't. For the sake of being honest, I candidly answered "No," then quickly added, "but I am a fast learner."
Remarkably I got the job, and ever since, I've tried to follow up on the promise made at that interview: to learn and understand the world of fashion and use it as a means of self-expression; to expand my wardrobe past basics and petite-length jeans.
But early on my plans to look like an Instagram-influencer-meets-nonchalant-cool-girl went awry. Every time I put on something "fashionable," like a furry coat, I didn't feel like me, I felt like a major poser.
As it turns out, I learned my most important fashion lesson by simply observing the women in my office: that dressing well does not mean dressing like everyone else. One of my co-workers looks chic every day sporting floor-length back sheaths under chunky sweaters. Another dons platform sneakers and puffy neon coats, even when it's not cold. And though these two ladies couldn't look more different, they both look effortlessly cool because their clothes completely epitomize them. So I ditched the items that didn't feel like me and let go of the idea that I had to hit up every sample sale in New York City to build a worthy wardrobe. In return, I focused on finds that, at the risk of sounding cliché, made me feel like my best self.
Fast forward to Black Friday 2017. I was home in Philadelphia for Thanksgiving when I ventured into an upscale consignment shop with my mom. In the sea of tea-length black sheaths and sleek kitten heels, I found a jean jacket from one of the top fashion houses: Versace. It came oversized in a light denim color and was covered in embroidery and patches (the back patch boasted the word "Versace" in a race car–inspired font). The outerwear was much flashier than anything I had ever owned, but when I tried it on, something about it just made me feel cool. Not poser cool, not New York cool, but me in a slightly more edgy, fun look. As an extra selling point, the store owner told me the jacket was one-of-a-kind.
At a "thrifted" price, the denim piece was still $150 dollars, but I just had to have it. And though spending that much on a glorified jean jacket felt somewhat ridiculous, it has proven to be a shrewd decision. I've worn this jacket to work—it passes the office fashion test!—and for drinks out with my girlfriends. I can layer it over a sundress in the spring or pair it with black jeans in the fall. I even draped it over my shoulders and a silky slip dress for a holiday party.
A small disclaimer here though, the jacket doesn't always match with everything (like most denim jackets do) and I can only wear it once in a while or risk it feeling overdone. But, when I do reach for it in my closet, it always boosts my confidence. And I always feel powerful when I have it on. Now, that's fashion folks.
In case I've convinced you to pick up this little number for yourself...
Here's a similar patch-covered denim jacket to shop.
For more celebrity news, beauty and fashion advice, savvy political commentary, and fascinating features, sign up for the Marie Claire newsletter.
RELATED STORIES
Megan DiTrolio is the editor of features and special projects at Marie Claire, where she oversees all career coverage and writes and edits stories on women's issues, politics, cultural trends, and more. In addition to editing feature stories, she programs Marie Claire's annual Power Trip conference and Marie Claire's Getting Down To Business Instagram Live franchise.