The 42 Best Swimsuit Brands for Summer 2022
Your next go-to swimsuit is on this list.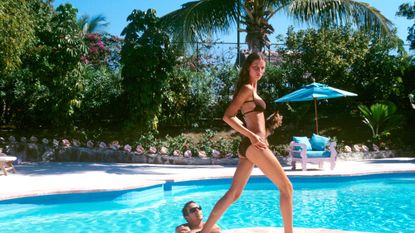 (Image credit: Arthur Elgort / Conde Nast / Getty Images)
Summer is just around the corner, which means lying out in the sun at a beach, a park, or—for those city dwellers among us—a rooftop. Regardless of your location, you'll need a cute swimsuit. Thankfully, brands that carry trendy swimwear and vacation-ready pieces are releasing their latest styles to help us ring in the warm weather. Ahead, you'll find the season's best swimwear brands, from Kaiso. Swim with their daring cuts and tropical patterns to surfer-approved Myra Swim. With so many bikinis, one-pieces, and Instagram-worthy swimsuits to choose from, your biggest issue will be where and when to wear them all.
YEMAYA Swimwear
Named after the Mother Goddess in Yoruba and Santería traditions, this Latinx-owned brand centers itself on comfort, body positivity, and female empowerment. Each of its styles are named after women that the founder, Carla Pallares, looks up to in her personal life.
Heart of Sun
This Latinx-owned, sustainably-made swimwear brand hails from Miami and appeals to women of all shapes and sizes with its edgy designs and flattering cuts. We especially love their new Nostaslgia collection, which takes its inspiration from urban nightlife with its sleek, classic look.
Myra Swim
Myra Swim was founded by Biance Elouise, a professional surfer from Australia who spent so much of her life in swimwear, she decided to apply her expertise to designing her own line of eco-friendly, slow fashion swimsuits. In addition to her history as an athlete, she gains much of her inspiration from her edgy taste in fashion, and seeks to make flattering designs that suit the needs of women of all sizes. Personally, I love the smooth, seamless approach she takes on her designs and the thick, luxurious feel of the fabric.
Gigi C
Hearing loss advocate Gigi Caruso founded her eponymous brand, Gigi C, with her mother, Tina, a former clothing designer and swimsuit model. Beloved for its creative cutouts, comfortable fabrics, and versatile designs, the sustainable brand also makes loungewear and athleisure.
MOTSI Swimwear
This Black-owned brand's swimwear line hones in on a few core, minimalist pieces that come in a handful of neutral and jewel-toned colorways. I love their bikini tops and high-cut bottoms, both of which look super flattering while providing just the right amount of coverage
Boteh
We love Boteh for their old-world-European-inspired designs. My personal favorite is the bikini below: Its detailed pattern is striking on any skin tone, and the bottom provides a surprising amount of lower-belly coverage.
Watercolors by Kenny Flowers
Upscale brand Kenny Flowers has long been known for its beachwear and Hawaiian shirts, and they've expanded their repertoire to include women's swimwear. Their collections are named after beautiful places like Colombia, Maui, and Positano, with unique patterns inspired by each of these destinations.
Girlfriend Collective
This size-inclusive brand sells a variety of clothing, including tops, jeans, outwear, and (*cue drumroll*) swimwear! Check them out for comfortable, functional styles that come in a myriad of colors.
CUUP
If you haven't gotten on the CUUP train yet, now's your time. CUUP sells both swimwear and lingerie that boasts size inclusivity and optimal comfort, so you can look and feel your best in pieces that will last you a lifetime. Check out some of the styles below, whose classic cuts come in a ton of colors so you can mix-and-match to your heart's content.
Summersalt
Summersalt has long been the go-to swimwear brand for women who want their swimsuits to fit well, suit their curves, and be made from sustainable materials. You can never go wrong with these colorful, affordable pieces.
Maaji
We love a good reversible swimsuit, and Latinx-owned brand Maaji more than delivers with its colorful, eco-friendly pieces. The brand also sells dresses, activewear, and cover-ups, making their site a one-stop-shop for all your vacation needs.
Andie
Andie is built heavily on customer service, so you can count on their site to be helpful in terms of purchasing the right swimsuit for your body type and stylistic preferences. They have a "Fit" section, for instance, that delves into the bust support and curve coverage that each of their fit types provide. We love this commitment to setting appropriate expectations: You know that when you buy one of their suits, it'll fit you like a glove.
Do Good Swimwear
Have you ever sat out of a beach volleyball game or been too scared to hop in the ocean because you think your bikini might get displaced? Well, Do Good Swimwear was founded by a women's surf collective that understand that women want to look good and have fun at the beach. Plus, their suits are both eco-friendly and affordable, made from ECONYL and ranging in price between $38 and $50.I
Wolven
Wolven's swimsuits are made from 100% recycled plastic bottles, which makes for guilt-free shopping sprees. We love how long their vibrant prints last and appreciate the wide variety of styles that their website boasts. Definitely make sure you don't sleep on this brand!
Liandra Swim
We love Liandra Swim's celebration of Aboriginal Australian culture and its commitment to sustainability. Designer Liandra Gaykamangu names each piece after an indigenous woman that inspires her in the hopes that their stories will inspire you, too.
MIKOH
Sisters Oleema and Kalani Miller founded MIKOH as a tribute to the power of femininity. MIKOH comes from the Japanese term for "female prophecy" or "female shaman," and the Millers' brand certainly lives up to its name. These pieces, which combine form and function (the sisters happen to be surfers themselves), will undoubtedly have you looking and feeling great.
TJ Swim
Spend a perfect weekend poolside in beloved Australian swimwear brand TJ Swim. Sustainably made and filled with trendy colors, TJ Swim provides premium quality swimwear that complements all sizes and body types and will last you for seasons to come.
Sommer Swim
Feel like your favorite celebs (opens in new tab) this summer in luxury swimwear label Sommer Swim. This brand is known for their minimal coverage tops and bottoms—ideal for tanning and island-hopping.
Wave Babe Swimwear
Suns out, buns out! Make any beach-day an instagram moment with Wave Babe Swimwear's eye-catching Shimmers and Sunday Ribbed collections. You're bound to find the fit and fabric of your dreams with their array of options and sizing.
Londre
This Canadian small business wants you to get the most out of your swimwear. You'll find backless one-pieces, asymmetric tops, minimalistic styles and more that easily double in functionality. Each piece of Londre's swimwear is ethically and sustainably made from a minimum of six plastic water bottles, all constructed to withstand the wear and tear of the surf and sand.
Deta Knits
Transition from inside to swim-time this summer with Deta Knits. This made-in-L.A. brand creates swimwear using water resistant yarn that maintains its shape and doesn't absorb water (how cool!). Just add your favorite shorts with any of their knit bikinis or one-pieces to easily go from beach to brunch.
Lokiki
New York City swimwear label Lokiki is making timeless, beautiful and functional pieces that will last you a lifetime. Find minimalistic hues, plunging necklines, flattering high-waisted briefs, and much, much more.
OOKIOH
OOKIOH is a sustainable swimwear line whose suits are crafted out of 100 percent regenerated materials (fishing nets, for instance) and the brand's main objective is to continually reduce and eliminate their carbon footprint.
Kōraru
Kōraru's versatile, minimalist pieces also happen to be long-lasting and great for the environment. Their pieces are sourced from recycled fishing nets, and the result is one of the softest, most seamless fabrics I've ever tried.