The 22 Best Swimsuit Brands of 2023
Your next go-to swimsuit is on this list.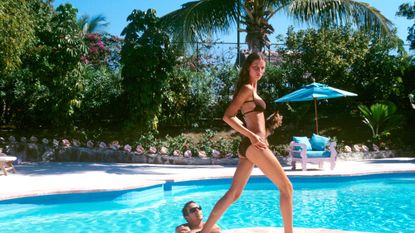 (Image credit: Arthur Elgort / Conde Nast / Getty Images)
Marie Claire Newsletter
Celebrity news, beauty, fashion advice, and fascinating features, delivered straight to your inbox!
Thank you for signing up to Marie Claire. You will receive a verification email shortly.
There was a problem. Please refresh the page and try again.
Summer is just around the corner, which means lying out in the sun at a beach, a park, or—for the city dwellers among us—a rooftop. Regardless of your location, you'll need a cute swimsuit. Thankfully, swimwear brands that carry trendy bikinis, cool one-pieces, sexy high-cut swimsuits, and more are already releasing their latest styles to help us ring in the warm weather.
But with so much swimwear on the market, how can you possibly make a decision on what to buy? "Swimwear is a very personal item to purchase, with every single individual having a unique body type," acknowledges Judy Stein, Executive Director of SwimShow. "It is important to know your body and know what looks and feels good on you. The craftsmanship, composition, construction, style, design, execution and most importantly the fit are the 'what to look for' in purchasing a swimsuit."
At Marie Claire, we're passionate about sustainability and size inclusivity. With that in mind, read on for this year's hottest swimwear brands designing pieces that not only feature daring cuts, fun fabrics, and unique patterns, but are swimwear brands that prioritize sustainability and feature inclusive sizing. With so many swimsuits to choose from, your biggest issue will be where and when to wear them all.
What To Look For in a Swimsuit
As anyone who's ever shopped for a bathing suit knows, refreshing your swimwear collection can be an expensive experience. Stein reminds us, though, that it doesn't have to be, and tells us to never feel pressured into buying a high-priced suit just because it's trendy.
"There are lots of price points in the marketplace," she reassures. "Find the price that you are comfortable with and then seek out the 'what to look for' in purchasing a swimsuit."
Another tip on getting the most bang for your buck? Go for timeless, classic looks instead of opting into single-season trends. "Trends are always brought forth by the many great brands on the market, but you can't go wrong with timeless silhouettes," Stein says.
Stein also reminds us that it's important to look for high-quality swimwear that lasts a long time. This is both a cost-effective and sustainable decision, and it results in a better experience while you're wearing your suit, too.
"Quick drying, colorfast, and some stretch are all important features when choosing swimwear," she explains. "There has to be stretch so that it fits comfortably and hugs the body in all the right places and wears well. The fabric needs to hold its shape while wet and dry. Elastane is the stretch fabric that is used—more commonly known as Lycra or spandex—blended with other synthetic fibers such as polyester, which is colorfast and resistant to chlorine. Nylon is also used. Each manufacturer will blend as they see fit, and today, we're seeing more gravitate to be more eco-friendly. More and more manufacturers are introducing sustainable fabrics, either natural fibers or upcycled fibers, or a combination of both. Hemp, bamboo, organic cotton, Econyl (obtained from pre- and post-consumer plastic waste), linen, and recycled nylon are all safe for the environment."
All in all, there's no need to sacrifice sustainability for quality. But if you're still unsure of the fit, quality, or feel of the fabric when you're shopping online for a bathing suit, Stein suggests "becoming familiar with brands in person at your retail stores so that you have a comfort level when purchasing online. If that is not possible, then research the return policy for the online retailer, keeping in mind that swimwear is oftentimes not returnable."
This is especially relevant when you're considering swimsuits for your body type. For instance, the best swimwear for people with small busts may not necessarily be the best swimwear for big busts.
Caring for Your Swimwear
Because swimwear fits very different needs from day-to-day, dry clothing, and is often made from very different materials, it also needs to be cared for in a specific, careful way.
"It's always best to rinse your swimwear as soon as possible in cool tap water to remove chemicals such as chlorine," says Stein. "Hand-washing is always recommended, however, you can use the washing machine as long as you use a mesh laundry bag on the delicate cycle using cool water. A mild detergent should always be used, whether hand washing or using the washing machine. And lay the swimwear out nicely to air dry—never ever put your swimwear in the dryer."
The Best Swimwear Brands
YEMAYA Swimwear
Named after the Mother Goddess in Yoruba and Santería traditions, this Latinx-owned brand centers itself on comfort, body positivity, and female empowerment. Each of its styles are named after women that the founder, Carla Pallares, looks up to in her personal life.
SHAN
SHAN is a luxury Canadian swimwear brand focused on making luxurious, comfortable swimsuit made from high-quality materials. Its craftspeople are committed to making universally flattering, timeless silhouettes that transition from summer to summer without going out of style, and that are built to last for years to come.
Acacia
Acacia is made up of a collective of women based in Hawai'i who are committed to creating sustainable swimwear pieces that all women, regardless of size or stage in life, are able to feel comfortable and fashionable in. Creative director and designer Naomi Acacia Newirth is particularly dedicated to crafting versatile, wearable silhouettes fit to transition from beach to brunch.
Myra Swim
Myra Swim was founded by Biance Elouise, a professional surfer from Australia who spent so much of her life in swimwear, she decided to apply her expertise to designing her own line of eco-friendly, slow fashion swimsuits. In addition to her history as an athlete, she gains much of her inspiration from her edgy taste in fashion, and seeks to make flattering designs that suit the needs of women of all sizes. Personally, I love the smooth, seamless approach she takes on her designs and the thick, luxurious feel of the fabric.
Gigi C
Hearing loss advocate Gigi Caruso founded her eponymous brand, Gigi C, with her mother, Tina, a former clothing designer and swimsuit model. Beloved for its creative cutouts, comfortable fabrics, and versatile designs, the sustainable brand also makes loungewear and athleisure.
CUUP
If you haven't gotten on the CUUP train yet, now's your time. CUUP sells both swimwear and lingerie that boasts size inclusivity and optimal comfort, so you can look and feel your best in pieces that will last you a lifetime. Check out some of the styles below, whose classic cuts come in a ton of colors so you can mix-and-match to your heart's content.
Summersalt
Summersalt has long been the go-to swimwear brand for women who want their swimsuits to fit well, suit their curves, and be made from sustainable materials. You can never go wrong with these colorful, affordable pieces.
Liandra Swim
We love Liandra Swim's celebration of Aboriginal Australian culture and its commitment to sustainability. Designer Liandra Gaykamangu names each piece after an indigenous woman that inspires her in the hopes that their stories will inspire you, too.
MIKOH
Sisters Oleema and Kalani Miller founded MIKOH as a tribute to the power of femininity. MIKOH comes from the Japanese term for "female prophecy" or "female shaman," and the Millers' brand certainly lives up to its name. These pieces, which combine form and function (the sisters happen to be surfers themselves), will undoubtedly have you looking and feeling great.
Londre
This Canadian small business wants you to get the most out of your swimwear. You'll find backless one-pieces, asymmetric tops, minimalistic styles and more that easily double in functionality. Each piece of Londre's swimwear is ethically and sustainably made from a minimum of six plastic water bottles, all constructed to withstand the wear and tear of the surf and sand.
Lokiki
New York City swimwear label Lokiki is making timeless, beautiful and functional pieces that will last you a lifetime. Find minimalistic hues, plunging necklines, flattering high-waisted briefs, and much, much more.
OOKIOH
OOKIOH is a sustainable swimwear line whose suits are crafted out of 100 percent regenerated materials (fishing nets, for instance) and the brand's main objective is to continually reduce and eliminate their carbon footprint.
Kōraru
Kōraru's versatile, minimalist pieces also happen to be long-lasting and great for the environment. Their pieces are sourced from recycled fishing nets, and the result is one of the softest, most seamless fabrics I've ever tried.
Léa the Label
This swimwear brand proves that minimalism and sustainability aren't the least bit boring. Lea The Label makes their products from Econyl, a fabric made entirely of recycled material, and their high-waisted designs are meant to be both comfortable and universally flattering.
Monday Swimwear
Founded by two "swimwear connoisseur" best friends, Monday Swimwear creates bikinis and one-pieces that make their customers feel sexy and confident without sacrificing comfort. This size-inclusive brand offers a wide range of top sizes—even up to E and F cups—so that all woman can enjoy stylish swimwear.
Follow Suit
Follow Suit boasts bold colors and vibrant patterns inspired by Mediterranean beaches. But their main focus is sustainability. Patterns are digitally printed onto fabric using 90 percent less dye and saving 40 liters more water than typical methods, plus they opt to use 100 percent regenerated nylon. They hope others will follow suit—pun intended—by making eco-conscious choices.
Anemos
Anemos takes a minimal and simple approach when designing their swimwear. From dainty straps to high-cut styles, Anemos' pieces are a '90s supermodel's dream.
Vitamin A
"Super sustainable, super sexy" is Vitamin A's winning tagline. Their collections are designed with recycled and plant-based materials, and everything from their swimwear to their loungewear is made to last and built to keep you feeling confident and guilt-free while strutting down the boardwalk.