What I Wear to Work: Dayna Isom Johnson, Trend Expert at Etsy
She has the best jewelry collection.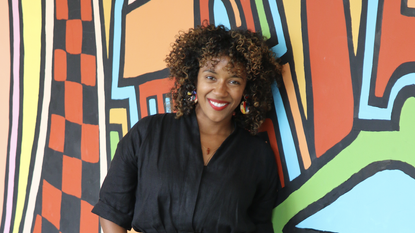 (Image credit: Courtesy of Dayna Johnson)
In a bi-weekly series, we're interviewing female executives, founders, CEOs—basically, boss ladies—on their "power suit" a.k.a. the outfit they wear every day for easy dressing to conquer whatever the job throws at them.
Anyone who has visited Etsy knows it's a mecca for unique, individual pieces in fashion, beauty, and home decor. I've been stalking the website lately for the latter. Seashell vases like this one were super popular over the summer (thanks, bloggers) and I knew Etsy was one of the few places that would carry such miscellaneous, yet trendy, items.
So, how does the company know what's popular and what to serve its audiences? After all, Etsy doesn't follow the traditional fashion retail calendar with seasonal drops or runway collections. Instead, Etsy works with thousands of individual sellers to get their wares in front of your eyes. This is where the company's resident trend expert, Dayna Isom Johnson, comes in. Her job is to see what trends are bubbling up on Etsy (i.e. what people are searching for on the site) and to provide a road map for the company, sellers, and consumers on what's popular. I'll let her explain.
"My job is to really focus on three different things," she says. "One is combing through the site for myself to see what is bubbling up. Second, I work with our data analytics team to find out what shoppers are engaging with and what is peaking in terms of search. Third, I see what traditional forecasters like WGSN and Trend Bible are predicting. I compare all three [sources] and tidy up [all the information] to serve to you."
If "trend expert" sounds like the kind of role you make up, that's because it is. Johnson, who's been with Etsy for eight years, founded the unique position on her own. During a stint as Etsy's communications manager, in Etsy's start-up days, Johnson saw that Etsy shoppers and sellers were discovering the trends before they even reached the masses. "Our Etsy sellers, their creative expression has no limits," she says. She realized there was an opportunity for the company to set the trends and speak on them authoritatively with data.
"We had an opportunity one day to tell this narrative on Good Morning America, it was a segment on weddings, and at the time we hadn't had any television appearances," says Johnson. "The person I was training [for the show] fell through. The next day I went on GMA to chat about wedding trends and everything started to blossom from there."
Johnson has become Etsy's go-to person for all things trendy—and she's perfected her television persona too. In addition to morning show appearances and popping up on Etsy's YouTube channel, Johnson also stars in NBC's Making It, alongside of Amy Poehler and Nick Offerman. "One of my favorite things about my job is that no day is the same," she says. "The one huge constant, however, is connecting with our sellers and trying to bring attention to [what that community is doing]."
For someone in such a creative space, you can bet Johnson's personal style is as diverse and colorful as the sellers she works with. In fact, her entire wardrobe is pretty much from Etsy and, if you want to replicate it, she has the insider tips on who to shop from. Check out what she wears to work, below, then channel her can-do attitude at the office tomorrow.
Her Morning Routine
"Even though my days are so varied, my mornings are always consistent. I'll wake up and work out at 5 a.m. or 5:30 a.m. I'll come back, meditate for at least five minutes or, if I have extra time, I'll do 10 to 15 minutes with Insight Timer. I take a shower, feed my dog, take him for a walk, and then when I get back, I figure out what I'm going to wear. Before I leave the house, I always pick up a crystal to help me manifest my day. Then, I draw one tarot card to give me motivation for the day."
Her Getting Dressed Strategy
"I've never been the kind of person that sets things up the night before. As you can tell from my crystals and tarot cards, I am an energy-based person. I want to dress based on how I feel that day or how I want to make myself feel. I don't have a special closet trick or a way to separate my clothes either."
Her Work Uniform
"I love a jumpsuit because it's easy and you immediately feel put together. I have one jumpsuit that I love from Etsy and it's linen, which is good in warmer weather. It's breathable and a great color. I have another short jumpsuit with three-quarter sleeves from another Etsy seller, who is actually making a suit for me, too. Where I tend to spend most of my efforts in dressing, though, is my jewelry.
I don't discriminate against silver or rose gold pieces, but I love yellow gold. I literally have a piece of jewelry on every part of my body right now. I have on earrings, rings, two bracelets, and two layered necklaces. Another thing I always have on is my raw garnet necklace—garnet is my birthstone—it keeps me grounded and gives me bosslady vibes that I need for my Capricorn self. There's this designer I found in Los Angeles, Margaux Perrier, who I love.
For the past year, I've had on two friendship bracelets as well. I went to Thailand in January and these bracelets were blessed by monks and are supposed to give me luck, prosperity, and good thoughts for the new year. They told me to keep them on for 365 days, so on the last day I will cut them off, but they have not left my wrists since Thailand.
As for shoes, it depends. If I wake up and feel a little sassy, I will wear a heel. I'm only 5'2", so I like to give myself some height. I will wear flats since they're comfy, though they have to be interesting looking."
The Three Words That Describe Her Power Outfit
"Bold, authentic, and playful."
Her Motto
"Stay positive. I feel like I try to live by those words every day and it's something that people take for granted. It can also be a challenge, especially when you're up against tight deadlines and different working environments, but as long as you stay positive you can push through everything."
If you love Johnson's accessory-heavy style, get her aesthetic with these picks below.
For more stories like this, including celebrity news, beauty and fashion advice, savvy political commentary, and fascinating features, sign up for the Marie Claire newsletter.
RELATED STORIES
Marie Claire email subscribers get intel on fashion and beauty trends, hot-off-the-press celebrity news, and more. Sign up here.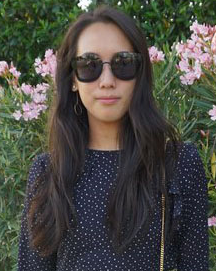 Marina Liao is the former fashion news editor at MarieClaire.com, where she covered celebrity style (from Meghan Markle to Katie Holmes), fashion trends, and shopping advice, plus conducted original interviews with industry insiders. She's also had many opportunities to write content in other areas such as beauty, food, tech, and even home. Her previous fashion stints include POPSUGAR and Cosmopolitan.