What I Wear to Work: Vikki Kavanagh, Global Buying & Merchandising Director at The Outnet
She has our dream closet.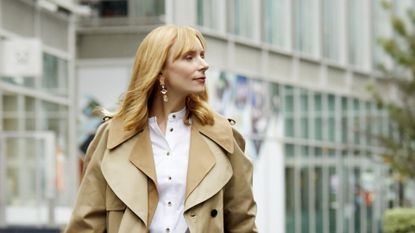 (Image credit: Courtesy of Vikki Kavanagh)
In a bi-weekly series, we're interviewing female executives, founders, CEOs—basically, boss ladies—on their "power suit" a.k.a. the outfit they wear every day for easy dressing to conquer whatever the job throws at them.
Every product you see on The Outnet's website is carefully placed there for your shopping pleasure by Vikki Kavanagh and her team. Kavanagh, whose background is as a buyer for House of Fraser and Harvey Nichols, has been with The Outnet, known for its discounted luxury goods, for almost three years. "I am accountable for the product proposition and all of the metrics, including margin, how much we're selling, and various accountabilities, for the company," she says of her role. "I would say that [The Outnet's] customer is focused on her style, more styles then trends; she likes iconic classic pieces like Dolce and Valentino."
Simply put, Kavanagh uses data and her business acumen to determine what kind of luxury products to offer and what to charge for those items. Previously, The Outnet received 90 percent of its stock from Net-a-Porter, but nowadays, Kavanagh works with brand partners (think: Oscar de la Renta, Marni, even more contemporary picks like Ganni) to secure product for The Outnet, whether that be end-of-season goods or exclusive capsule collaborations. At the end of the day, the goal is for customers to love their purchases and for The Outnet to be profitable. Sounds simple, right?
Kavanagh says the hardest part about her role is that there aren't enough hours to get everything done. "We're a mobile organization," she tells me. "I can begin with a call to our regional buying team in Dubai and end the night at 9 p.m. on the phone chatting with a U.S. based partner. I need another four hours in the day." Despite the constant churn, the upside is always knowing and even bringing the fashion trends to consumers. "Every time someone learns what I do, the inevitable question I'm asked is 'What should I be wearing?'" she says. "The retailer business is tough and you have to be business-minded, but it's rewarding too."
So what, then, does a stylish woman like Kavanagh herself wear to work? She divulged below and even provided similar shoppable options from her favorite designers. Now you don't have to guess what you should be wearing. You know.
Her Morning Routine
"In the morning, I wash my hair, which sounds a little odd, but when I have clean hair I am ready to take the day on. I check through emails as I have breakfast. I have two small children, so I try to digest the food and reply to anything urgent as I go wake my kids up. I give them breakfast, have some play and chat time, then I literally pull my clothes on and run out of my house in West London. Makeup usually happens somewhere along there...it's a frenzied approach."
Her Getting Dressed Strategy
"When I check my inbox, I also look at my calendar and shape my outfit around the meetings I'll have or if I'm rushing around from location to location for work. My outfits depend on the audiences I am speaking to in my meetings. I am more formal for hard-hitting meetings. Also, depending on my activities—say if I am trying to get to the gym before work—I will need something more transportable. If I have a dinner at night, I might bring a change of clothes."
Her Work Uniform
"I tend to dress in a one-piece where possible, so I love dresses and jumpsuits. You put that one piece on and you're done; you can just accessorize then. Sometimes, though, I will go with pants, a blouse, and heels. Currently my go-to outfit is a pair of Chloé trousers, tapered to the ankle, with a pair of high heel shoes, and a fairly simple silk cream blouse. It's my look of the moment to feel strong and in control.
Generally, if I go out in the evening and bare anything, it'll be my arms and shoulders. I don't like high hemlines or deep necklines because I like to be more covered. Also, my complexion is pale and rosy, so I wear mostly autumnal tones such as brown or chocolate and mustard. I love clean, tonal clothes from Victoria Beckham, Chloé, Khaite, and Stella McCartney.
As for shoes, it depends on how my calendar looks, so I can be in trainers or, right now, I am obsessed with my Prada boots. I do feel the power of a heel, so again depending on what I need to achieve, I'm quite keen to don a high heel when necessary. It makes you feel stronger. My work bags range from Fendi to Bottega Veneta and all meet the autumnal trend, so they're brown or red. They're quite a team in my wardrobe."
The Three Words That Describe Her Power Outfit
"Structured, fluid, and heels."
Her Motto
"I am a huge believer in being good and being kind. What you give certainly comes back, so be aware of everything/everyone around you as you live your life."
If you love Kavanagh's elevated work wardrobe, shop from her favorite brands here.
For more stories like this, including celebrity news, beauty and fashion advice, savvy political commentary, and fascinating features, sign up for the Marie Claire newsletter.
RELATED STORIES
Marina Liao is the former fashion news editor at MarieClaire.com, where she covered celebrity style (from Meghan Markle to Katie Holmes), fashion trends, and shopping advice, plus conducted original interviews with industry insiders. She's also had many opportunities to write content in other areas such as beauty, food, tech, and even home. Her previous fashion stints include POPSUGAR and Cosmopolitan.