What I Wear to Work (at Home): Roxanne Assoulin, Founder of Roxanne Assoulin
Yes, she still wears jeans.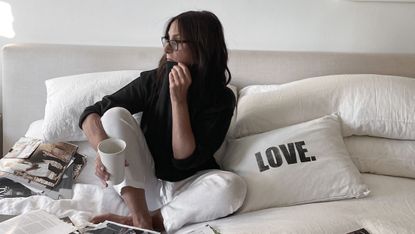 (Image credit: Courtesy of Roxanne Assoulin)
Marie Claire Newsletter
Celebrity news, beauty, fashion advice, and fascinating features, delivered straight to your inbox!
Thank you for signing up to Marie Claire. You will receive a verification email shortly.
There was a problem. Please refresh the page and try again.
In a bi-weekly series, we're interviewing female executives, founders, CEOs—basically, boss ladies—on their "power suit" a.k.a. the outfit they wear every day for easy dressing to conquer whatever the job throws at them.
Roxanne Assoulin has been in the fashion business for more than 35 years, from her early days of crafting wrap leather bracelets for Henri Bendel and Bloomingdale's to designing private label jewelry for J.Crew and Club Monaco. Now, Assoulin is best known for the vibrantly colorful accessories from her namesake label, Roxanne Assoulin.
The designer launched the brand in 2016 after a happenstance lightbulb moment: "I always had these handmade ceramic tiles made by some man in 19-something [sitting on my desk]. One day, I was playing with the tiles and I made a line and went Wow, that would be a cute bracelet," she says. "I called up some editors, my daughter-in-law Rosie, and friends like Leandra Medine, asking if this meant anything to them. Everyone was very supportive. Leandra came up and piled like 17 of them on her wrist."
Soon after, Medine, who runs Man Repeller, shared a photo of herself wearing some of Assoulin's pieces on Instagram. Her followers immediately honed in on Assoulin's jewelry. "It was six o'clock and my phone was blowing up," Assoulin recalls. "I called up a friend to quickly put together a website and we sold out in one day. This was like my third [time experiencing] 15 minutes of a little bit of fame."
Fame, however transient for some people, has since been on Assoulin's side. The now-iconic bracelets, which have the whimsical nature of a charm bracelet and an elegance suitable for adults, have become stackable statement pieces adorning every fashion lover's wrist. Wearing just one of the happy, colorful tile bracelets will make you feel more lively—I say this from experience.
Typically, Assoulin drops new items on her website weekly (Shopbop and Net-a-Porter also carry her designs). New pieces aren't arriving as regularly right now because of the COVID-19 pandemic, which has effected many businesses, including hers. However, the designer is approaching it all with a positive mindset, saying, "I feel pretty okay. I think [fashion businesses] have to decide what's our platform and who do we want to be in all of this. For me, it's about making people smile and distracting them in a pretty dark time. Whether they buy or not is not my end game. I think it's more about giving to charities, addressing that people are at home, and showing everyone some compassion."

Assoulin herself has adopted a simple way of living. Though she does miss her traditional work life, the designer has come to embrace "not having to run around anywhere." This minimalist way of living also extends to her work-from-home wardrobe. Ahead, Assoulin shares with me her current, cozy style for Zoom meetings and business calls.

Her Morning Routine
"I find that I don't sleep that well during the night, so I'll probably wake up around 7/7:30 a.m. I make a cup of tea and while I wait for it to be done, I make sure everything is straightened up for the day because I can't work in a mess. I'll tidy up my papers, do some breathing exercises. I practice meditation every day for 45 minutes, then I get dressed for work. I work at my dining room table as long as my back can handle it, otherwise I started sitting on my meditation cushion on the floor because it's a little more comfortable for me. I don't work out my bedroom at all—that's a place I go to rest and do my meditation."
Her Getting Dressed Strategy
"I'm not going to say I dress beautifully, but I do get dressed, whether that's by wearing a pair of sweatpants, a pair of linen pants, or a sweater with jeans. I have to get dressed. My hair goes into a ponytail, I put on some face cream, lip balm, and I'm presentable."
Her Work Uniform
"My strategy is comfort, meaning what you feel good in. I have two pairs of jeans that are so soft and old, two pairs of sweatpants—I love Monrow sweatpants—and a bunch of linen drawstring pants. So [I'll wear] one of those. And for my top, right now it's either a sweater or a sweatshirt. That's it. Depending on my mood, I'll wear an old Celine sweater or an Everlane sweater. They have bright turtlenecks and mock necks that I like.
My linen pants are from Australia. I bought them last year when I was there; I have them in six different colors. They're my favorite pants because they're so comfortable and they feel—but don't look—like pajamas. I also love linen shirts, especially for the summertime. Assembly Label, which is Australian, does this amazing job with linens. For shoes, I'll wear my shearling slippers.
My style is very minimal. I truly believe in keeping things very simple [in life]. People used to say, 'You shop like a man.' I'll find a sweater I like and buy it in multiple colors from navy and black to light gray and olive green. I do this with bottoms too. It took me many years to pare down my wardrobe and be simple like this. I had so much shit in my closet until I realized, Oh, I don't wear prints. Why didn't I know that? I also think color is a funny thing. I don't wear a lot of color [in my clothing] usually, but I do wear all the colors on my wrist."
The Three Words That Describe Her Power Outfit
"Anything simple, soft, and easy."
Her Motto
"I have so many. I believe in silver linings. I believe that this too shall pass. That the only constant thing we know is change. Change will always happen, so you have to trust things and not try to control them. I can't change life, but I can change the way I look at it. I lead a very spiritual life and think spirituality is efficient and practical."
Get Assoulin's effortlessly easy work-from-home aesthetic below:
For more stories like this, including celebrity news, beauty and fashion advice, savvy political commentary, and fascinating features, sign up for the Marie Claire newsletter.
RELATED STORIES
Celebrity news, beauty, fashion advice, and fascinating features, delivered straight to your inbox!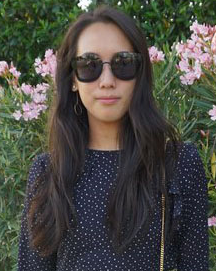 Marina Liao is the former fashion news editor at MarieClaire.com, where she covered celebrity style (from Meghan Markle to Katie Holmes), fashion trends, and shopping advice, plus conducted original interviews with industry insiders. She's also had many opportunities to write content in other areas such as beauty, food, tech, and even home. Her previous fashion stints include POPSUGAR and Cosmopolitan.