What I Wear to Work (at Home): Sabrina Zohar Founder of Softwear
She has the best WFH loungewear outfits.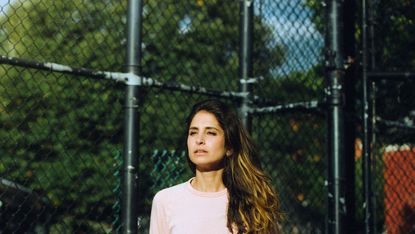 (Image credit: M Cooper)
Marie Claire Newsletter
Celebrity news, beauty, fashion advice, and fascinating features, delivered straight to your inbox!
Thank you for signing up to Marie Claire. You will receive a verification email shortly.
There was a problem. Please refresh the page and try again.
In a bi-weekly series, we're interviewing female executives, founders, CEOs—basically, boss ladies—on their "power suit" a.k.a. the outfit they wear every day for easy dressing to conquer whatever the job throws at them.

As most of us adapt to a work from home situation, one entrepreneur has it down to an exact science. Sabrina Zohar, founder of leisurewear brand Softwear, is a one-woman team running her two-year-old brand from her Williamsburg apartment. She answers all her emails from her table in the living room, which houses around "60 plants" and keeps Softwear clothing inventory in the downstairs portion of her home. She describes her apartment as an "anomaly of a very lucky place"—it's two floors, a rare find in New York City real estate. "I do everything out of my apartment," she says, minus the manufacturing and piecing together of the actual Softwear pieces, which takes place in Los Angeles and Brooklyn, New York.
Zohar started her business after going through a series of personal crises, from not feeling fulfilled in her career as a wholesale rep to discovering her passion for the activewear and health space, to almost losing her mother to six brain aneurysms. It was during this time that Zohar started working for an athleisure brand and one of its pieces, a hoodie, had become her mom's go-to while she was in the hospital.
"The brand was super expensive though and I started doing consumer research on why does something like this have to cost so much. Why is sustainable more expensive? Why is locally made instantly more expensive?" she says. "[My boss] ended up embezzling money and closing down the company, so then I came up with Softwear in that time because what was missing in the market, to me, was high quality, accessible, affordable, and locally made leisurewear."
With the idea in mind, Zohar's next step was to find a fabric for her brand that wouldn't pill after multiple wears/washes and would feel super soft to the touch. She started with modal, which is beechwood converted into cellulose, but found that the end result of the material led to shedding after some wear tests. After some back and forth, a few tears, and a call with a new (and Softwear's current) manufacturer, Zohar came up with a completely brand new weave that doesn't fade, shed, and is machine washable too. The fabric is completely exclusive to Softwear and how it's made is—well, that's a trade secret.
What she can reveal is that this fabric is dyed, woven, and finished in Los Angeles at a family-owned mill which uses sustainable and non-toxic dyes. Then the fabric is cut and sewn in a factory in Brooklyn, which also acts as Softwear's warehouse. The building has solar panels and the roof is converted into a garden for the summer months, which births fruits and vegetables for the neighborhood. This space is a reflection of Zohar's strategy to bring a sustainability aspect where she can to her brand.
To avoid excess inventory, Softwear strategically only carries a handful of skews, or what Zohar calls her core basics, for both men's and women's collections such as a pullover, a tank, a hoodie, and a pair of joggers. (This also ensures that the pieces can keep for seasons to come.) Most importantly, "people buy Softwear products because our pieces feel like [you're being] wrapped up in a cloud," she tells me. All pieces come in at an affordable pricing of under $100.
Currently, like most businesses, Zohar's young company has been affected by the COVID-19 pandemic. "When I first heard about what was happening, my first reaction was fuck. But then after that, I'm solutions driven, I was thinking Okay, how are we going to adapt to this? she says. "I'm not able to see customers, which has been really hard because I'm all about relationships and miss seeing clients. I can't do wholesale anymore, so I focus on driving people to the website and it's like how do we do that? We're a small brand with not much money, so the big challenge is changing the structure of my business and having it adapt to right now."
One way she's going with the flow is by offering to personally tie-dye all white Softwear pieces, free of charge, when customers make a purchase. "I send photos and I work with everybody one-on-one just to give back to our consumers," she says. "This also gives me something to do to move the business forward."
Despite the current ups and downs, Zohar sees the light at the end of the tunnel and has big plans for the brand down the line. She teases that there will be two new color ways coming to Softwear in the fall (if everything remains on track) as well as three new skews for men and women. "The most I can wish for is that we get to see another year and that we're able to gain/keep our supporters and get as many people wrapped in their 'clouds' as we can," she says.
Ahead, Zohar shares how she gets dressed for work each morning—she's an expert in putting together WFH outfits—as well as some timely mantras to remember as we all try to remain positive. Spoiler alert: She's been living in her cozy loungewear pants and tops like the rest of us.
"I wake up and I have my coffee with collagen in it and my superfood creamer. It's like a concoction of things that can help me stay young and healthy forever. After I drink this, I take my dog out for a walk and do a walking meditation every morning. It helps to set me up for the day and then I dive right into work. I wish I could tell you 'Oh, I don't touch my phone for two hours when I wake up. But, yes, I do.' I check my emails first thing, complete any online orders, and make sure my customers are taken care of. Then I will sit and brainstorm on every single thing I can do in that day. Part of my daily routine is that I also sweat at least once a day, so I'll do yoga, boxing—right now it's been at home yoga—some kind of exercise to keep myself sane."

"I pick out my outfits the night before because I will never forget how Steve Jobs said you can only make so many decisions in one day, so minimize how many you have to make. I start with my workout clothes because, truth be told, if I put on my Softwear pieces first, then I'm not going to do a workout that morning. After that, I always pick a Softwear outfit with the colors that make me feel good."

"I have a tank on every single day. Some color variants of a tie dye or the solid colors. I always have the tank on just because it's a good layering piece. During the summer all I wear is a tank and then during winter, I'll have on a Softwear pullover or hoodie, which is now my go-to and makes me feel like I'm being hugged. I'm pretty minimalist when it comes to accessories because I forget about the jewelry that I have. People have accepted the fact that I'm in leggings or some piece from Softwear every day and they love it. I will say that I always have on a pair of fun, cool socks (I like Stance) or sneakers (Vans or Lane Eight) to go with my outfit, just to give it a bit of a pop.
Stance has so many funky socks that you can just play around with. Back in middle school, I used to wear high socks as a little punk kid. Now I usually wear the socks over my jogger pants. Lane Eight are the most comfortable sneakers you will ever put on in your life, and I have serious ankle injuries [so the sneakers are great for support]. For my [work bag] I use a canvas Softwear tote or my State backpack. I take them with me when I'm going somewhere and want to look a bit more presentable."
"Chic, tailored, and comfortable."
"There are a couple. 'This too shall pass' is one and the second is 'put one foot in front of the other. That's the only way you're going to get ahead.' My last one is something my mom always said, which is 'everything is for now because that's all that we can control.' And I live by that. This discomfort or this scare is just for now, doesn't mean it's forever."
For more stories like this, including celebrity news, beauty and fashion advice, savvy political commentary, and fascinating features, sign up for the Marie Claire newsletter.
Rihanna Dressed Up Her Sweats With Kitten Heels
Cozy Sweatpants to Spent the Day or Week In
Related Stories
Sweatpants You Can Wear from the Couch to Brunch
Celebrity news, beauty, fashion advice, and fascinating features, delivered straight to your inbox!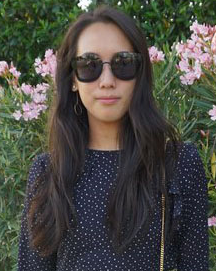 Marina Liao is the former fashion news editor at MarieClaire.com, where she covered celebrity style (from Meghan Markle to Katie Holmes), fashion trends, and shopping advice, plus conducted original interviews with industry insiders. She's also had many opportunities to write content in other areas such as beauty, food, tech, and even home. Her previous fashion stints include POPSUGAR and Cosmopolitan.