Whitney Madueke Re-envisions Traditional Nigerian Fabrics for a New Generation
The up-and-coming designer draws inspiration from her home country.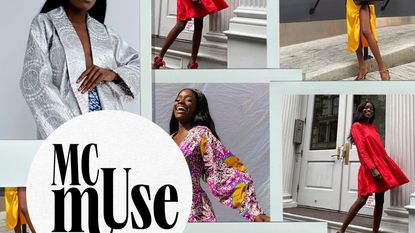 (Image credit: Design by Hanna Varady + Courtesy of Whitney Madueke)
Marie Claire Newsletter
Celebrity news, beauty, fashion advice, and fascinating features, delivered straight to your inbox!
Thank you for signing up to Marie Claire. You will receive a verification email shortly.
There was a problem. Please refresh the page and try again.
In our new series MC Muse, savvy women from around the world share their style, their ambitions, and the most coveted pieces to shop right now.
Growing up, Whitney Madueke watched on the sidelines as her parents got dressed up for Nigerian weddings and parties. "My dad would play pretty background music and you knew he was getting ready to go out," she says, laughing. "I was mesmerized at how my parents would pair their traditional Nigerian attire with modern pieces from the Western world—tradition, mixed with, like, a pair of Gucci sunglasses," she quips.

As a student in England, Madueke realized that her own cultural encounters started influencing her fashion choices in the same way as her father—a mix of trendy and time-honored pieces. "I started mixing Nigerian pieces [like a Buba blouse, a top with long loose style sleeves], with a pair of jeans. Or I'd find myself mixing traditional silk fabrics with more modern materials," she says. Drawing on her African background and her love of fashion, Madueke, 26, set out to launch her own eponymous fashion line, which went live on her website and on Instagram in June. Currently living in New York, Madueke frequently travels back to London to visit her siblings and spends winters with her parents in Nigeria, where her line is based.
Here, we chat with Madueke about her own style, her clothing line, and her favorite designers to shop now.
Marie Claire: How did you get your start in fashion?

Whitney Madueke: Since I was little, I've had an interest in fashion and fashion design. I wanted to study fashion in college, but I figured my parents would say no to that, so I went to college in England to study law. I needed a creative outlet there, so I started a fashion and beauty YouTube channel and an Instagram—but I wasn't really happy with law. I was like, What is my life? What's my next step? I needed to do something that would make me happy, so I decided to move to New York to study fashion design at Parsons in their Associate's Degrees for Professionals program. Last year, I started working on the launch of my clothing brand, Whitney Madueke.
MC: What was the inspiration behind your new fashion line?
WM: Nigerian fashion represents the people, but it also tells the story of the country and its surrounding nature. I wanted my clothing line to tell more African stories and to expand on who I am as a Nigerian and African woman—in the fabrics, the silhouettes, and the vibrant colors.
MC: Tell us about Lagos Fashion Week.
WM: Just like New York, Lagos fashion week is a great way for the fashion community to connect with one another. Designers tell stories through their collections using traditional Nigerian fabrics like Adire fabrics, Kente and Akwete cloths. As a Nigerian fashion designer, I love celebrating a diverse group of designers telling the story of home. Lagos Fashion Week was scheduled for late October this year, but in light of the #endSARS protests [centered around police brutality in Nigeria], the event has been postponed.

MC: How do you get dressed in the morning?
WM: It depends on how I feel that day, but I tend to gravitate towards bright colors, especially vibrant, primary colors that stand out in a room. I also love versatility—I'm always looking for great basics that I can pair in numerous different ways.
MC: Who are some of your favorite designers right now?
WM: Social media has made it so much more accessible for global designers to have a voice, and I'm able to actively find and support more African designers. Two of my favorites are Abiola Olusola and Onalaja. Both are Black women designers that embody timeless fashion. Their pieces are crafted from African textiles and include intricate beading techniques.
Shop Some of Whitney's Favorite Pieces:
RELATED STORY
Celebrity news, beauty, fashion advice, and fascinating features, delivered straight to your inbox!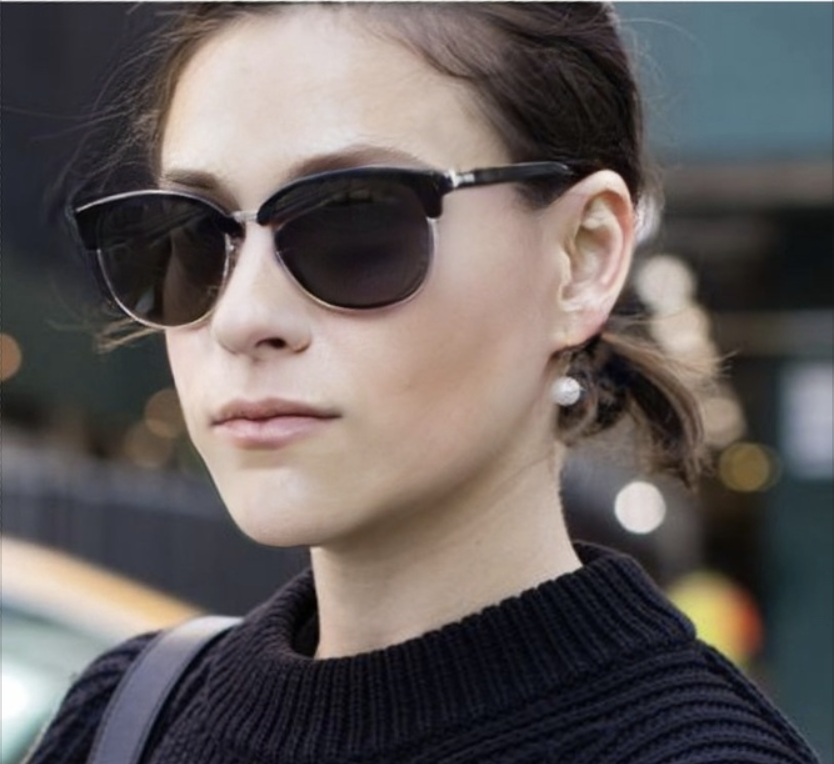 Sara Holzman is the Style Director at Marie Claire, covering runway trends and tracking down the latest finds to buy and wear. When she's not writing about fashion, she pens about the best places to jet-off to. Over her six years with Marie Claire, Sara has reported on the ever-evolving world of fashion— covering both established and emerging designers within the industry. Sara has held fashion positions at Lucky and SELF Magazine and was a regular contributor to Equinox's Furthermore website, where she wrote across their style, wellness, and travel verticals. She holds a degree in Journalism from the University of Missouri, Columbia, and currently resides in Manhattan. Follow her along at @sarajonewyork.