What I Wear to Work (at Home): Alvina Patel Buxani, Vice President of Commercial and Brand Marketing at Farfetch
Let her WFH looks inspire yours.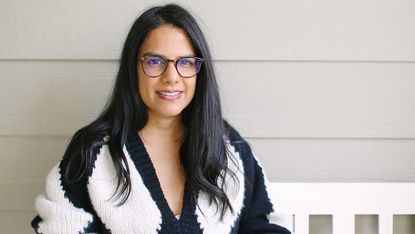 (Image credit: Anna Naphtali)
In a bi-weekly series, we're asking female executives, founders, CEOs—basically, boss ladies—about their "power suit" a.k.a. the outfit they wear every day for easy dressing to conquer whatever the job throws at them.
---
There are many entry points into the fashion industry, which is great for anyone who doesn't necessarily want to become a designer or a fashion editor. One route is public relations and marketing, which is how Alvina Patel Buxani, Farfetch's VP of commercial & brand marketing, landed where she is today. Patel Buxani studied journalism and communications at Boston University and started out in public relations by working for a lifestyle agency in New York City.
Why did she pick the field? "Truthfully, the opportunities. When I graduated from college, it was a lot of years ago, there were just more opportunities in public relations and communications at that time," she says. The timing was serendipitous; Patel Buxani then connected with someone at Bulgari, which eventually propelled her forward to work with luxury heavy hitters such as Hermès, Van Cleef & Arpels, and Christian Louboutin.
Now at Farfetch, Patel Buxani works cross-functionally within the retailer, overseeing the retailer's brand partnership and boutique partner teams and working with Farfetch's global marketing team, which is based in London. (For those unfamiliar, Farfetch is a luxury global online retailer that sells products from boutiques, department stores, and well-known brands such as Gucci and Chloé.) Patel Buxani's job focuses on both internal and external communications, in addition to strategizing on how to best work with Farfetch's many brands and its influencers/celebrity clientele. If this seems like a lot to juggle, it is.
"As you grow in your career, time management becomes a bigger challenge," she says. "When I took on the expanded role to include commercial, I was drowning. There's something in my career that I like to practice, which is called essentialism," she shares. "Meaning, go where you are most needed and best utilize based on your skill and function. At some point, you can't be in every meeting and have to let your teams take on some responsibilities and leadership on their own."
Part of her role involves finding and showcasing brands from underrepresented communities. Farfetch's homepage navigation bar now has a Black designers section under its "Shop by" filter, making it easier for consumers to find the goods, from Fenty hoop earrings to Off-White's latest It bag. "We are also working towards including under-represented categories including gender-fluid, and Latinx brands" Patel Buxani says. "It's a personal interest of mine, but also so important for our industry that we're able to help these brands succeed through their business operations"
For those seeking advice on how to make it in fashion, Patel Buxani has some wise—and practical—tips. She advises for those who are still in education to "not put all their eggs in one basket," and study a wide range of topics that can be applicable to the fashion industry while keeping an open mind of where your path can take you. As for those interviewing for jobs, she says, "Candidates that come my way now really do their research and beyond just doing the research/reading articles, form their own opinion and have their own points of view."
Ahead, Patel Buxani dives into her own personal style, including how she dresses for her job (at home, because they're currently working remotely). Her fashion sense is on par with what you'd imagine from an executive at Farfetch: very, very polished and chic.
Her Morning Routine
"Most of the time from about 6 a.m. to 9 a.m. is spent with my 19-month-old son, so my morning consists of waking up with him, giving him breakfast, and having breakfast myself. Mornings where I can, I try to work out. When I first had him, my husband got me Mirror, which we have in our apartment in New York City. We're not in NYC right now, but thankfully you can still do workouts on an iPad or phone as well. We're currently at my parents in South Carolina, so we can sometimes get a morning stroll in before it gets too hot and that's been a nice way to start our days too. I am then at my computer no later than 9:30 a.m. going into my calls and getting to work."
Her Getting Dressed Strategy
"Before, the beauty of my office was that it was a 20-minute walk from my home, so I would get dressed based on the weather, what I had to do for the day, and find a pair of great walkable shoes. What I miss about New York City is being able to walk everywhere. As a New Yorker, I've lived here for over 20 years, it's become a part of me and that includes how I get dressed. Currently, I don't like to come downstairs in my pajamas, so when I wake up in the morning, I'll get changed into my workout clothes or a comfortable flow-y dress, which I will throw on with Birkenstocks or sneakers so I feel dressed but am comfortable."
Her Work-From-Home Uniform
"I'll give you two that I do quite often. One is an easy dress, something I can throw on and has a great neckline because I'm on video a lot, and is also comfy during the day. As the weather cools down here, I will wear a lot of cozy knit sweaters or a t-shirt with a knit skirt. I love a sweater skirt. Since I'm in my house, I'm barefoot but I do love a great sneaker, Birks, a slip-on shoe that I can walk in and out of. I don't have a nanny with me right now, so when I take my son for a walk or to the playground, I need to wear something comfortable to walk out and walk back in.
I would say my favorite brands for dresses are Ulla Johnson, Proenza Schouler, a simple See by Chloé dress. I am a delicate jewelry person, I always wear earrings. We just signed this amazing designer called Mateo, who has the most delicate jewelry. I have a Van Cleef & Arpels bracelet that I have had for a million years which I never take off. I also always wear this little ring from a French jeweler that I got when I was in Paris years ago."
The Words That Describe Her Power Outfit
"I would say classic, comfortable, and cool."
Her Motto
"I think the one I most often repeat to myself is: Would you rather be right or would you rather be free? It's the idea that when you're having an argument or conversation with someone or with yourself, you have to make a decision about either prolonging that conversation to be right or let it go and just be free. I think it's helpful [to apply this] in to both work and personal [settings] because sometimes we get frustrated with the smallest things and if we just let them go, we'll be more free."
Shop some of Patel Buxani's very chic pieces, below.
Related Stories
Celebrity news, beauty, fashion advice, and fascinating features, delivered straight to your inbox!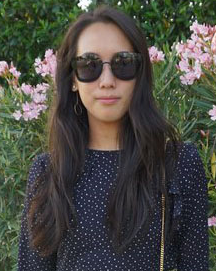 Marina Liao is the former fashion news editor at MarieClaire.com, where she covered celebrity style (from Meghan Markle to Katie Holmes), fashion trends, and shopping advice, plus conducted original interviews with industry insiders. She's also had many opportunities to write content in other areas such as beauty, food, tech, and even home. Her previous fashion stints include POPSUGAR and Cosmopolitan.