What I Wear to Work (at Home): Lisa Aiken, Fashion and Buying Director at Moda Operandi
No sweats allowed.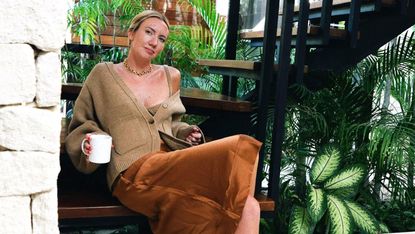 (Image credit: Lisa Aiken)
Marie Claire Newsletter
Celebrity news, beauty, fashion advice, and fascinating features, delivered straight to your inbox!
Thank you for signing up to Marie Claire. You will receive a verification email shortly.
There was a problem. Please refresh the page and try again.
In a bi-weekly series, we're asking female executives, founders, CEOs—basically, boss ladies—about their "power suit" a.k.a. the outfit they wear every day for easy dressing to conquer whatever the job throws at them.
---
Breaking into the fashion industry is like being granted access to a special club, and the stories of those who have made it in are often inspiring. Putting in the work, knowing your shit, and being kind to everyone you meet are keys to succeeding in fashion and pillars of Lisa Aiken, the fashion and buying director at Moda Operandi, one of the biggest luxury e-commerce retailers.
Aiken grew up in Newcastle, England, and knew she wanted to pursue a career in fashion early in life. After moving to London, she landed an internship at Matches (now known as MatchesFashion), which was a series of stores in west London at the time. "The fashion industry has always been notoriously challenging to crack. It's not going to be glamorous from the outset, it's really competitive, and you can come at it from many different routes," Aiken says. "Ultimately, however, your commitment for the industry will shine through."
That commitment and passion helped Aiken stand out amongst her peers. "At the time, [Bridget Cosgrave, the fashion and buying director] didn't really enjoy typing, so she said 'You're going to type up my trend notes.' I was like 'Okay wonderful, I can do that,'" Aiken recalls. "I am sitting there as she is dictating—and Bridget was my idol at that time. I read about her in the Sunday Times style, in books, had her lectures, and all these different things. Naturally, I was terrified. When we got to the end, and she didn't pause for the fact that you're trying to type as quickly as you can, she looked at me and just said, 'You spelled all of the designers names correctly.' I was like 'Oh yeah, well, I was a Saturday girl at the only high-end luxury store in Newcastle and I've been selling many of these collections on the shop floor to pay my way through university.' She looked at me and was like, 'Hmm, good to know,' and walked away. That was my first real impression on Bridget and from that point forward, we had a really great relationship."
From Matches, Aiken went to MyTheresa in Munich for a year, putting her limited German skills to the test, then returned to London to work at Net-a-Porter as the fashion director (and to get married). After seven years, Aiken yearned to work for a smaller business that would allow her to work cross-functionally, company-wise. She landed at Moda, where she leads the buying team.
"I spend my time working with the team to curate the assortment [of merchandise] and manage the business, talk with multiple areas of the organization on how to support that investment, and also work on the U.S. Moda team, which is our trunk show business," Aiken says. "The trunk show model is designed to bring designers to the client in real time. Essentially, a runway happens then a consumer can purchase any of those looks. I love that it puts all the power in consumers hands. I might see myself out of a job one day because, perhaps, the entire world will move to pre-order. It's a more sustainable approach to production, and therefore buyers wont be needed, but I don't think we're quite there yet.
Until then, Aiken is in charge of placing those must-have products in front of our eyes. How does she choose what bag, shoe, or new designer to feature? Aiken says it's a balance of head versus heart, with data on consumer behavior playing an important role in how merchandise is served to shoppers. "In a traditional retail sense, you have historical selling reports, you can see what has performed, what hasn't performed," Aiken says. "The added layer of what Moda has and what I have at my fingertips is that we have a read directly on the consumer, on what she fell in love with from the trunk show. What was added to cart, what was liked, how many page views it has, that all builds a picture and gives us a direct line to a consumer's mindset about a certain collection."
Despite having access to the latest, newest designer collections, Aiken says that isn't how she dresses every day—well, at least not anymore. She once considered herself a "real fashion magpie" and loved anything new, but over the years her personal style has erred on the more minimal side (think neutral tones, with a few statement pieces here and there). Her most special items—what she calls her investment pieces—range from a Topshop skirt that she bought in her early teens to a Phoebe Philo–era Celine bag to a pair of Acne jeans that don't exist on the market anymore.
Ahead, Aiken dives deeper into her personal style, especially her work-from-home outfits, and shares some tips on how she made it in the cutthroat fashion industry.
Her Morning Routine
"My alarm goes off every day, including weekends, at 6:30 a.m. The first thing I do is check my emails and scan The New York Times. I want to get away from that, but that's where we are at right now. I take my time getting ready; I am not a speed demon—mainly because I work out every morning. I go on a run or do a virtual class. Even if my body doesn't feel like doing it, getting out for a 20 minute run...you're not pushing yourself, you're just getting a little mental headspace. I also started doing yoga, which has never been my area, but has made a huge impact. After working out, I'll have a hot cup of tea and, owing to the time difference (my family is in the UK), I'll FaceTime with them and friends. If you don't catch that time slot in the a.m., it [gets too late to chat]."
Her Getting Dressed Strategy
"Prior to working from home, I checked my day, looked at the weather, and in the shower I would would come up with something that was inspiring for the day. I want to wear one thing and build everything else around it. No two days were alike [for me], I could be in the office, in a showroom, or at a runway show. All those factors played into [how I got dressed]. Now, it's a lot more straight-forward since commute and weather are less of a factor. For work from home, it's been a little less considered, which is refreshing."
Her Work-From-Home Uniform
"There are some really lovely basics out there. A tank top or skinny rib knit or something simple on top, which has generally been a little closer to the body. I personally prefer on Zoom to wear something closer to the body, like a jersey or tank with a neckline, and then a slip skirt or wide leg pants. I only own one pair of sweats and I had it prior to the pandemic. They do go through the wash more often now, but, even on the weekends, I'd be hard pressed to spend it in sweats. It would have to be that I was completely exhausted after fashion week and [wanted to] take the day for myself to watch movies and drink tea for me to be in my sweatpants.
My old uniform would be an oversize blazer, jeans, tee, and heels. If I couldn't figure out what to wear in the shower, that was my formula. I have multiple different options to mix and match to keep it interesting. Now, I probably wear less denim and I certainly don't wear heels. I find blazers look boxy on Zoom, so I'm not as into that. If in doubt, it's a tank top with a chunky chain necklace.
I styled the background of my Zoom more. Now I have nicer glassware or have more greenery in my apartment. I bought a desk and a desk chair that I really like. My uniform extends as much to homewear as to what I am wearing.
I'm currently WFH in Mexico, so it's quite warm. I've been wearing more resort wear brands, like the ready-to-wear component—I am not taking Zoom calls in swimsuits. I like Totem, Frankie Shop...and Jacquemus has such a great collection: oversize shirts and shrunken knits, and that's what I want to be wearing right now."
The Words That Describe Her Power Outfit
"Simple, probably neutral, and, hopefully, well accessorized."
Her Motto
"More than anything, just to be kind. I know that sounds really simple but it's interesting. In our industry, you hear so much about poor behavior, poor personalities, or egos and, of course, we all come in contact with those characters. But, the vast majority of people I come across in the industry are lovely. I think being kind to one another and in your career will always go a very long way."
Shop some of Aiken's favorite brands, below.
Related Stories
Celebrity news, beauty, fashion advice, and fascinating features, delivered straight to your inbox!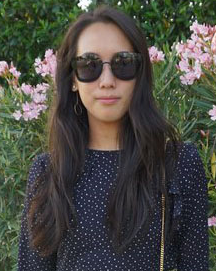 Marina Liao is the former fashion news editor at MarieClaire.com, where she covered celebrity style (from Meghan Markle to Katie Holmes), fashion trends, and shopping advice, plus conducted original interviews with industry insiders. She's also had many opportunities to write content in other areas such as beauty, food, tech, and even home. Her previous fashion stints include POPSUGAR and Cosmopolitan.