What I Wear on Repeat: My Rhude x Thierry Lasry "Rhodeo" Frames
I turned sunglasses into beloved optical frames.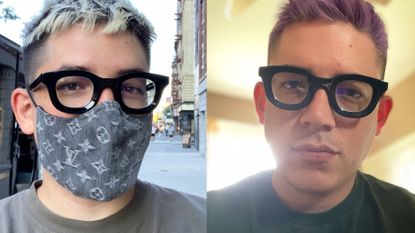 (Image credit: Maxwell Losgar)
In our biweekly series, editors share the item they wear on repeat, whether it be a basic white tee or a super-trendy jumpsuit. Prepare yourself (and your credit card) for some guilt-free shopping.
I've been wearing glasses since the age of five, so when asked to write about one of my most-used fashion pieces for this series, my current Rhude x Thierry Lasry "Rhodeo" frames felt like the most obvious choice. Some might say a little too obvious, but these particular frames are my most prized acquisition in some years. Rhude is a too-cool-for-school casual menswear brand based out of Los Angeles, and Thierry Lasry is a French designer with an eponymous eyewear brand boasting highly elevated silhouettes made from striking materials. And together they've crafted the perfect pair of frames for a New Yorker who happily finds himself smack dab between the two extremely different fashion scenes.
A fun fact about these frames is that they were actually designed, marketed, and sold as sunglasses. Taking sunglasses to my optometrist for a lens replacement has been a hack of mine since my freshman year of college. I've found that sunglasses tend to offer larger, bolder shapes than most optical frames. And, as someone with a wide face, it's a choice that suits me. I've converted the lenses in RayBan Wayfarers, oversized Celine frames, and a pair of Maison Margiela sunglasses from an early collaboration with Mykita. (If you want to try this yourself, my advice is to choose frames with a flat lens. Any curve in the lens whatsoever will render an optical swap impossible.)
When I wear these frames I instantly feel more hip than I really am, or ever will be. They're like a superhero cape for my face. And given that they allow me to see, they quite literally have superpowers! If you're forced to wear something every day, It's important to pick a version that makes you feel this way. I've also recently been dabbling in the art of drag (follow @dotdeville!) and instead of blocking my eyebrows out with glue each time I apply makeup, I have elected to shave them. I especially love that these frames hide my brash—but totally justified—decision to shave my brows. They're perfect.
Shop my exact frames, plus similar options, below:
RELATED STORIES
Maxwell Losgar is the Entertainment Director at Cosmopolitan. He books the covers and inside features with all of your favorite stars. He's probably watching Netflix right now. Like, as his job. For research.