What I Wear on Repeat: A Classic Burberry Trench Coat
Rain, rain, you can stay.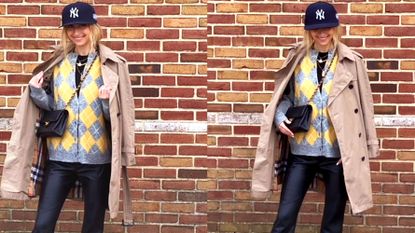 (Image credit: Courtesy)
Marie Claire Newsletter
Celebrity news, beauty, fashion advice, and fascinating features, delivered straight to your inbox!
Thank you for signing up to Marie Claire. You will receive a verification email shortly.
There was a problem. Please refresh the page and try again.
In our biweekly series, editors share the item they wear on repeat, whether it be a basic white tee or a super-trendy jumpsuit. Prepare yourself (and your credit card) for some guilt-free shopping.
As a "fashion girl," I have a running checklist of my must-have "forever pieces," ones that truly stand the test of time. This checklist includes classic splurge-worthy items (i.e. a Chanel flap bag or a Cartier tank watch). Before I go into detail about one specific item on my checklist that I bought and love, a fun fact that you should know about me is that I hate the rain. In my opinion, the smallest drizzle warrants a $30 Uber home from work. Unfortunately, those Ubers add up. I knew it was time to invest my money a bit more wisely.
I referenced my checklist and found the perfect solution to my phobia of rainy days: a classic Burberry trench coat. Here's another fun fact: Back in the 1800s, Thomas Burberry created a more breathable but still weatherproof version of the popular "Mack" coat and the Burberry trench was born. More than a hundred years later, the coat is still effortlessly chic and completely practical, which justifies the hefty price tag IMO.
I like to define my personal style as classic meets funky, which means I choose to invest in timeless pieces then style them in unexpected ways. When it comes to my trench, I like to edge things up with leather trousers and a masculine baseball cap. Sometimes I use it to tone down an otherwise loud look, such as mixed prints or bold colors.
The ultimate beauty of this trench, however, is its ability to make the simplest outfits look put together. When I'm feeling lazy, I let the coat do the talking by pairing it with a white t-shirt and some relaxed fit jeans. I can wear the trench open for a laidback look, or belt it and cinch it in at the waist to create a ladylike feel. It transitions from day to night with ease and, because it is the perfect weight, from summer to fall and winter to spring, too.
As I've stated before, I am a "fashion girl" at heart, and when it comes to my clothing, that can sometimes mean fashion trumps function. With this Burberry trench, however, I don't have to forgo fashion for function and, well, that's just an added bonus for me.
My particular trench also has a removable hood that comes in handy when I get stuck in a torrential downpour (something that used to be my worst nightmare, but this coat has really helped me overcome my inner demons). With this coat on, I don't even need an umbrella. In my line of work, trends come and go, but this Burberry trench will always remain a classic. If you agree and/or hate the rain, too, scoop up a Burberry trench of your own, below.
RELATED STORIES
RELATED STORIES
RELATED STORIES
Celebrity news, beauty, fashion advice, and fascinating features, delivered straight to your inbox!
Shelby Comroe is the Credits Editor and Fashion Assistant at Marie Claire covering all things fashion and giving credit where credit is due. Check her out @shelbycomroe on Instagram if buying designer handbags is your idea of a retirement plan!