What I Wear to Work: Amanda Hearst
"Sustainable fashion is about stories: who made your clothing, what it's made of, and where it came from."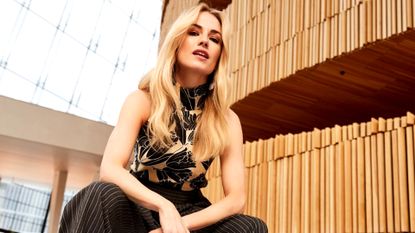 (Image credit: Amanda Hearst)
Marie Claire Newsletter
Celebrity news, beauty, fashion advice, and fascinating features, delivered straight to your inbox!
Thank you for signing up to Marie Claire. You will receive a verification email shortly.
There was a problem. Please refresh the page and try again.
In our bi-weekly series, we highlight dynamic women—from entrepreneurs and small business founders to CEOs and celebrities—discussing their style ethos, the pieces that empower them, and how they balance life alongside whirlwind careers.
---
Sustainability isn't just a buzzword for Amanda Hearst, co-founder of the ethical luxury fashion retailer Maison de Mode. The philanthropist, tastemaker, and socialite has championed eco-conscious fashion ever since her time as an assistant market editor at—guess where?—Marie Claire over ten years ago. "We would go on all these market appointments, meeting the designers and hearing the stories behind the fashion. And for me, that was the most interesting part of the job—learning about how and why the clothing was made. That's what led to my interest in sustainability," she describes. "Because, really, sustainable fashion is about stories: who made your clothing, what it's made of, and where it came from."
After a year and a half, Hearst launched a monthly blog called 'Feel Good Fashion,' where the publishing heiress spotlighted her favorite sustainable fashion brands and held space for the rich narratives behind clothing production. Through her blog, she connected with Hassan Pierre, a then-emerging fashion designer known for his demi-couture reworkings of vintage fabrics. With the combined energy of their sustainably-minded brains, a lightbulb went off: hosting pop-up shops to showcase and celebrate the standout forces within sustainable fashion.
That was in 2012. After a dozen or so pop-ups featuring brands such as Stella McCartney and Lemlem, the duo realized they were on to something. Maison de Mode was born in 2015. Now, the curated platform currently carries 70 sustainable brands and counting worldwide, with pieces often made by small businesses and/or BIPOC artisans.
"For us, how we define sustainability is fashion that considers the environment and the people that make it," Hearst details. "Recycled, Organic, Made In USA, Artisanal, Cruelty-Free, Fair Trade, Charitable, and Positive Luxury's Butterfly Mark—each product has to touch upon at least one of those standards, whether that means being handmade by Indigenous communities and therefore supporting the economic growth of those communities or being made from recycled or regenerative materials. The brands we work with are moving towards covering all of those standards simultaneously."
In addition to carrying brands that make responsible clothing, Maison de Mode has stayed true to its roots by adopting a slow fashion mentality. "We start small and onboard brands at a slower pace because a lot of our products are made to order or the brands are artisanal. We grow as they grow," Hearst shares. "If we're suddenly throwing huge orders at [these businesses], it's not sustainable, for example, to that indigenous community in Costa Rica to fulfill a huge order that has a delivery date in the next couple of days."
Ahead, Hearst shares more about how a sustainable mindset impacts not only her work life but also her fashion philosophy.
Her Fashion Philosophy
Buy less and buy well. I keep it simple and invest in quality basics that will last me a while. And because Maison de Mode is mission-based and focused on sustainability, I have made an effort to make my closet as sustainable as possible, and I do think about that a lot. At this point, the majority of the stuff I own has some kind of story to it, which is cool.
Morning Routine
My life is working from home (especially with a newborn), so I can't say that I have a specific routine. I wake up when the baby wakes up, and once he's fed and settled, I'll hop on my laptop and start emails with a cup of coffee.
We travel so much because of my husband's job (he's a film director). So in the past year and a half, we've lived in Bulgaria, London, and now Los Angeles. And we are moving to Vancouver in two months! So I can't have a morning routine that lasts more than a few months.
Her Work Uniform
My workwear is really WFH-wear, so it's nothing fancy. But I do keep it sustainable with ELEVENSIX Peruvian knits, Boyish jeans, and Port de Bras leggings.
In order to do work, I can't wear my pajamas because then I am not in the right frame of mind. I have things that are comfortable—a button-down shirt with leggings is my typical work outfit. And I try not to wear leather and dress vegan, too, which is not easy when it comes to accessories. But I do love brands such as Stella McCartney and Hozen, who makes chic standard bags that are wearable.
Her Go-To Spring/Summer Work Uniform
We are in Vancouver this summer, which I hear is beautiful but a bit rainy and cold. So I've been looking into some sustainable outerwear from WHITE:SPACE, which is a Norwegian brand of upcycled puffer jackets. I also like the brand We Norwegians for wool pieces, like sweaters and even tees. And for more elevated fashion, I've bought some button-downs and trousers from Envelope1976 (another Norwegian brand). And FYI: my husband is Norwegian, in case you were wondering why I am interested in Scandi-sustainable fashion!
Her Personal Style in Three Words
Minimal, simple, sustainable.
The Last Piece She Purchased and Why
I bought a blue gown from Taller Marmo, a dress brand that is handmade by artisans in Italy. I bought it because my cousin invited me to the Elton John Oscar Party—which was a very fun LA moment!
On The Item That Makes Her Feel Empowered
Heels. Standing tall always makes me feel a bit more powerful.
Her Favorite Designers to Support
As I mentioned, I'm a big advocate of Scandinavian sustainable fashion. So my current favorite brands are: Envelope1976, Samsøe Samsøe, GANNI, and TOTEME.
---
Shop Hearst's Favorite Pieces:
Celebrity news, beauty, fashion advice, and fascinating features, delivered straight to your inbox!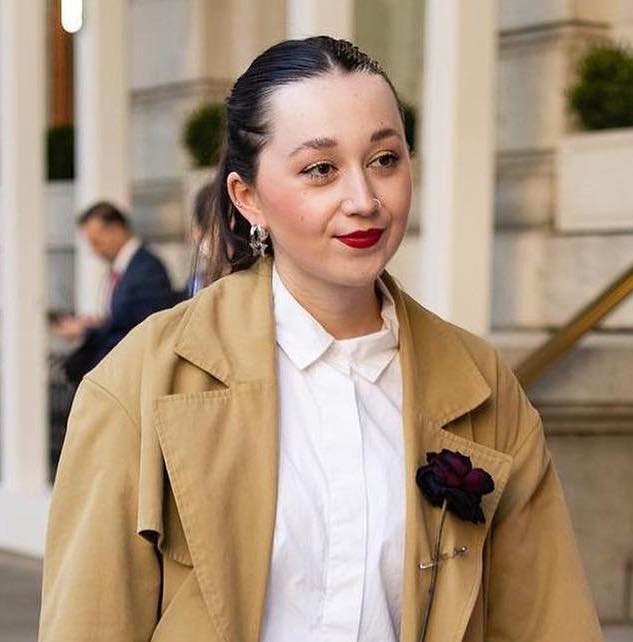 Emma Childs is the Style Editor at Marie Claire, where she researches up-and-coming trends, curates shopping guides, and gushes about the must-buy items she can't stop thinking about. She previously wrote for TZR, Editorialist, Elite Daily, and Mission Magazine and studied Fashion Studies and New Media at Fordham University. When she's not writing up fashion deep-dives or finding the season's best pieces, you'll find her fiddling around in Photoshop and perusing HBO Max for the next show to base her personality on (currently, it's "Succession").