What I Wear to Work (at Home): Amanda Hearst, Cofounder of Maison de Mode
She keeps it casual and sustainable.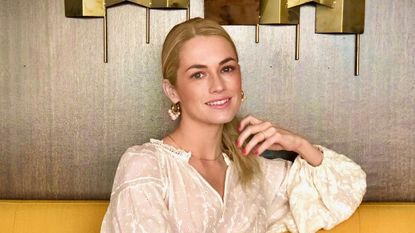 (Image credit: Courtesy of Amanda Hearst)
In a bi-weekly series, we're asking female executives, founders, CEOs—basically, boss ladies—about their "power suit" a.k.a. the outfit they wear every day for easy dressing to conquer whatever the job throws at them.
Sustainability isn't just a buzz word for Amanda Hearst, the cofounder of Maison de Mode (opens in new tab), an ethical luxury fashion online retailer. She's been championing sustainable fashion ever since she was at editor at Marie Claire, almost a decade ago. Back then she oversaw a monthly column in the magazine called "Feel Good Fashion," in which she profiled responsible fashion brands.
"Sustainability wasn't exactly a hot topic back in 2010, but I did it because stories behind the brand, like who made it or where did the pieces come from, [interested me]," Hearst says. "I then met Hassan Pierre, and we came up with this idea of doing pop-up concept shops where we'd showcase our favorite sustainable fashion brands with the goal of [disproving] the idea that sustainable can't be luxurious, beautiful, or high end."

That was in 2012. After a dozen or so pop-ups featuring brands such as Stella McCartney and Lemlem, the duo realized they were on to something. Maison de Mode was born in 2015. The curated platform currently carries 74 sustainable brands, and counting, from all around the world, with pieces often made by small businesses and/or BIPOC artisans.
"For us, how we define sustainability is fashion that takes into account the environment and the people that make it," she says. "Recycled, Organic, Made In USA, Artisanal, Cruelty Free, Fair Trade, Charitable, and Positive Luxury's Butterfly Mark—each product has to touch upon at least one of those standards, whether that means being handmade by indigenous communities and therefore supporting the economic growth of those communities, or being made from recycled or regenerative materials. The brands we work with are moving towards covering all of those standards simultaneously."
In addition to carrying brands that make responsible clothing, Maison de Mode has stayed true to its roots by adopting a slow fashion mentality. "We start small and onboard brands at a slower pace because a lot of our products are made to order or the brands are artisanal. We grow as they grow," Hearst shares. "If we're suddenly throwing huge orders at [these businesses], it's not sustainable, for example, to that indigenous community in Costa Rica to fulfill a huge order that has a delivery date in the next couple of days."
Outside of her role as a curator for Maison de Mode, Hearst has her hands deep in the nonprofit world. She works with The Humane Society (opens in new tab), where she launched a committee called Friends of Finn (named after her dog), and runs Well Beings (opens in new tab) with co-founder Breanna Schultz, a movement that combines Hearst's passion for animal welfare with environmental protection. "Every year we add a new campaign to our roster," she says. "This year our campaign is protecting the Amazon in Bolivia (opens in new tab)." Recently, Well Beings partnered with sustainable shoe brand Alice + Whittles (opens in new tab) to create an exclusive set of laces—100 percent of profits go to Well Beings's campaign to control fires in the Bolivian Amazon.
Ahead, Hearst shares more about how sustainability not only impacts her work life, but also personal life, particularly her style.
Morning Routine
"I've been in Oslo, Norway for two weeks, so I've been pretty jet lagged and can't do my normal routine. My husband is Norwegian, so it's nice to see family here. We're [usually] based in Los Angeles and if I had a routine, it would be: coffee, try not to be on my phone (at least not until after my first cup of coffee), and then I'm not a big beauty person, so I keep that pretty basic. Since I'm not a morning person, I don't workout then, but workout in the afternoon or after work."
Her Getting Dressed Strategy
"Because our company is mission-based and focused on sustainability, I have made an effort to make my closet as sustainable as possible, and I do think about that a lot. At this point, the majority of the stuff I own has some kind of story to it, which is cool.
In order to do work I can't wear my pajamas because then I am not in the right frame of mind. I have things that are comfortable—a button-down with leggings is my typical work outfit. Since we're in Oslo right now, [businesses] are a bit more open, so we're dressing up, and it's colder, so I have been wearing boots, denim, button-downs, and layers."
Her Work-From-Home Uniform
"I really like this athleisure brand called Girlfriend (opens in new tab). I always wear their leggings and I love Veja sneakers (opens in new tab) and Entireworld (opens in new tab) button-downs. I would say that's my day-to-day look. I do Instagram Lives for Maison de Mode and a nonprofit in animal welfare and conservation, called Well Beings (opens in new tab), so from the chest up I have to put together an outfit. I have these little pearl earrings from a brand called Shashi, which are made in America—we sell them on Maison de Mode—that I like and wear layered necklaces. I mainly wear jewelry and makeup when I have to do those IG Lives.
Another thing I started doing this year is trying not to wear leather and dress vegan, which is not easy when it comes to accessories. I can tell you some brands I love such as Stella McCartney (opens in new tab) and Hozen (opens in new tab), who makes chic standard bags that are wearable."
The Words That Describe Her Power Outfit
"Sustainable, comfortable, and minimal."
Her Motto
"I heard Jane Goddall say once: Everything is connected, everyone can make a difference."
Shop some of Hearst's favorite brands, below.
RELATED STORIES
Marina Liao is the former fashion news editor at MarieClaire.com, where she covered celebrity style (from Meghan Markle to Katie Holmes), fashion trends, and shopping advice, plus conducted original interviews with industry insiders. She's also had many opportunities to write content in other areas such as beauty, food, tech, and even home. Her previous fashion stints include POPSUGAR and Cosmopolitan.