5 Pairs of Shoes To Wear This Season—Approved by Style Experts
Unsurprisingly, we want all of them.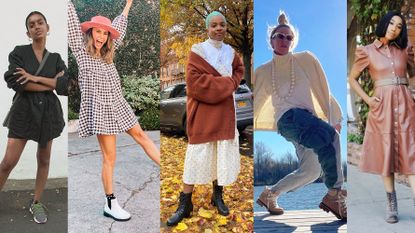 (Image credit: Future)
Ask anyone what their style is like right now and you're sure to detect a recurring theme: Comfortable, effortless, and relaxed. This year prompted everyone to prioritize pieces that feel equally as good as they look, and for many women, this wardrobe journey begins with footwear.
It's presumably safe to say the percentage of high heel-wearing has dropped this year (stilettos in your apartment office feel a tad off-kilter). Right now, shoes that are versatile, well-crafted, stylish, and comfortable are priority number one.
Illustrating why every good outfit begins with a great pair of shoes, five style experts hailing from fashionable cities like Brooklyn and Los Angeles provide tips for creating effortlessly chic looks centered around five seasonal standouts from footwear label SOREL.
Ryan Norville, @cinnamonryan
Ryan Norville is a Brooklyn-based florist with a penchant for playful, carefree style. Her Instagram page is a swirling display of powdery pastels, effortless layers, and major hair inspiration (hers is an icy shade of turquoise at the moment). "When I reflect on my style I think fun and relaxed," she says. "I opt for loose clothing. I like to play with color and patterns but also love neutrals. I think the fun is I never take myself too seriously or put myself in a box."
For this season, Norville is leaning into a layered look capped off by a pair of SOREL Cate Lace Booties. "This outfit is very fall-friendly with a nice warm color palette and oversized pieces," she says. "It's specifically reminiscent of today's trendy #cottagecore but secretly, I styled my outfit this way because it's a great postpartum fit. I had a baby three months ago and I'm still healing! Fitted clothing feels terrible right now so I style my slouchy clothing in a way that still feels put together."
Norville's methodology for brainstorming a strong seasonal outfit? "I like to have shoes that fit all occasions, personalities, and moods so that when I'm building an outfit, I'm still confident I have the shoe for that mood." And her current mood? "Cozy girl in Brooklyn."
Stella Simona, @stellasimona
Authenticity permeates Stella Simona's career starting from her luxury heirloom jewelry brand Haati Chai all the way to her personal style. "Dressing up should never be a headache, but rather, a release and a moment of self gratitude that boosts my confidence," she explains. "I gravitate towards pieces that make me comfortable in my skin."
Simona's taste speaks to minimalism with elevated classics styled in pared-back ways. Her take on SOREL's Kinetic Lace Sneakers mirrors this sensibility. "The sneakers worn with a designer bag and luxurious coat makes my look versatile enough to go for a walk around the neighborhood, run errands, or even head out to a bar in the evening with friends," she notes.
For Simona, outfits begin before clothing comes into the picture. "I am a shoe and accessory person first and foremost," she says. "I chose the shoes for this look and then put together the muted ensemble to really serve as a backdrop for the sneakers."
Alesia Carter, @alesiacarterxo
Between running her skincare brand, AUGUST & LEO SKIN, and clothing label, THE GRL., California-based multi-hyphenate Alesia Carter opts for outfits that are casual, cool, and trend-forward—a combination that's well-suited for her busy West Coast lifestyle. "I like an effortless look that can still stand out from the crowd," she says. "My outfit should always speak for itself, even if I'm only wearing my signature staple (double denim)!"
This season, SOREL's Lexie Wedge Boots are inspiring Carter to embrace a simple-yet-bold approach to style. "The boots make a statement all on their own and I didn't want to distract from that," she says. "As soon as I saw this faux leather dress I knew it would be a perfect match! I like that the look is casual enough to wear out on a socially-distanced lunch date but also sophisticated enough for my next Zoom meeting."
Carter's advice for making sure your outfits never feel stale is to invest in a variety of footwear. "Sneakers, heels, flats, and boots," she suggests. "Whatever I choose, it's all dependent on my mood and what I'm needing to accomplish for the day. Ultimately, I like to stick to what's comfortable, what looks good, and what makes me feel good."
Marni Senofonte, @marnixmarni
Celebrity wardrobe stylist and costumer designer Marni Senofonte works with some of the most iconic women in fashion right now, bringing her unparalleled and uncompromising approach to visual art on red carpets, film festivals, and concert stages.
On top of her impressive body of work, Senofonte's personal look is also something to behold. "I'm a self-certified CEO of layering," she says. "My vibe has always been sexy tomboy, leaving wonderment as to what's underneath the layers." It's true—one glance at her Instagram and every personal style shot exudes this sort of artful amalgamation of layers, prints, and colors; all while still feeling feminine and sexy. Her SOREL-centered outfit is no different. "This is just a typical daily look for me," she explains. She starts with a cream-hued knit draped over a cropped sweater and white tee. Below, a pair of cargo-meets-sweat pants and SOREL's Lennox Hiker Boots. Oh, and a jumbo-size pearl necklace for good measure.
Senofonte's attitude toward her daily wardrobe is to approach it like a uniform. "Either cargos, sweats, or jeans, which is why [outdoorsy boot styles] work for me."
Keltie Knight, @keltie
Award-winning host and best-selling author Keltie Knight keeps things simple, chic, and feminine in the wardrobe department. Her wavy hair and West Coast adjacent aesthetic offer a relaxed and approachable way to dress this season (particularly if you live somewhere that doesn't snow during the wintertime).
"I'm always on the go so I look for comfortable, multi-use footwear," she explains. "I'll decide what I need to do that day, and then what kind of shoe is appropriate for my schedule, and then build a look around that. I tend to keep my footwear super chic and simple and then add flair in other areas of my wardrobe."
Knight took a perennial staple—SOREL's Lennox Chelsea Bootie—and gave it the LA treatment. "When I saw the white boots I had the idea to pair them with these really fun rhinestone socks my mom picked up for me in Japan last year," she says. "I love them together because even though I'm wearing a super comfy flat boot, it still feels elevated." Her go-to silhouette is a tent dress, which checks off both boxes of comfortable and stylish. "This dress shape is so comfy to wear no matter what I am doing each day. I went for a black and white dress, and then at the last second added my favorite pink hat for a little pop of color."