The Best Patterned Tights to Elevate Your Looks
The 6 Best Patterned Tights | How to Style Patterned Tights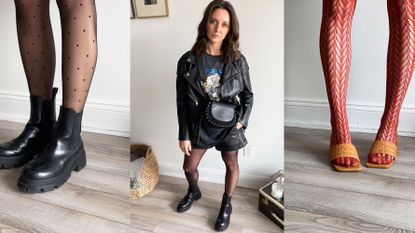 (Image credit: Bridget Burns)
Patterned tights: An intimidating, yet fun way to add a unique twist on your everyday style. Now that spring is peeking its head around the corner, adding a textured pair of tights to your daily look gives a little flare to your transitional pieces. From romantic lace to bold colors, there are plenty of styles to swap out your typical opaque tights for. We've narrowed it down to the best elevated, patterned tight options, and are here to guide you on the best ways to wear them, no matter your style. Scroll through to stock up on our top pick in each category, and styling pieces to go with it.

If you're testing the waters with patterned tights, why not try this sheer polka dot version from Calzedonia? Create an edgy, eye-catching vibe by adding these tights to a pair of leather shorts, an oversized graphic tee, and your favorite chunky boots. They're the perfect beginner tights to give a bold finish to your look.
Shop the tights, plus styling pieces:
Add a statement-making touch to your outfit with some fun colorful blocking. These rust-red pointelle pattern tights are too good to hide under long hemlines. Swap out your long dresses for a light and airy shirt dress, slip into a pair of low heeled sandals, and sport a classic felt beret for a charming finish.
Shop the tights, plus styling pieces:
For those fluctuating temperatures at the start of spring, add these striped tights, with micro-fishnet detail, into your rotation under a chunky sweater dress. Keep the layers coming by adding an oversized blazer and knit socks to keep you extra warm on those chilly mornings, and finish off the look with a trendy patent leather bucket hat for a casual-cool look.
Shop the tights, plus styling pieces:
Some patterns may be tricker to incorporate into your outfit than others but, don't underestimate your pattern-mixing abilities. Work these Wolford floral-lace tights into your look in a way that feels grown-up. Let them peek out from under a printed midi skirt, and top them off with a oversized sweater for a sweet date-night look. Or, accessorize with a pair of pointed-toe booties, gold jewelry, and a mini animal printed bag for a look that will roar.
Shop the tights, plus styling pieces: