What I Wear to Work: Noor Tagouri
The journalist and podcast host has her lockdown looks on lock.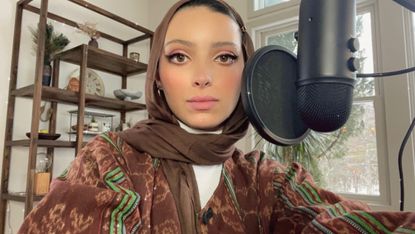 (Image credit: Courtesy)
Award-winning Libyan-American journalist Noor Tagouri has championed the voices and stories of underrepresented communities through her investigative documentary work for years. It was precisely the lack of such stories that compelled Tagouri to fill the void. Growing up, she didn't see a diverse group of women on screen telling stories that represented the multicultural world we will in. Not at first, anyway.
"I never saw myself—women wearing the hijab—represented on television," says Tagouri, 27. "Then I saw people like Lisa Lang, Oprah, Soledad O'Brien, Christiane Amanpour, who I could relate to simply because they felt like they came from a similar background as me. They had dark hair like I had dark hair. They talked about things that I could care about and I can relate to, like the first-gen experience."
Despite being overlooked for jobs in broadcast early on, Tagouri was determined to bring the stories of marginalized people to the main stage. Talk about manifesting: In 2012, she posted a photo to Facebook and shared her dream of becoming America's first hijab-wearing anchor on commercial TV. The photo went viral, prompting a supportive #LetNoorShine hashtag, and giving Tagouri's work the recognization it deserved. She landed a job at CBS and later, Newsy, where she produced her podcast Sold in America, a deep dive into the unseen human sex trade in America, featuring the voices of survivors.
Like Sold in America, much of her work since has served as a megaphone for those who were stripped of their voice: She just launched a new season of her guided storytelling podcast Noor, (opens in new tab) is in pre-production for a documentary on the misrepresentation of Muslims in American media since 9/11, and is heading the multi-media production company At Your Service, which she co-founded with her husband Adam Khafif.
Here, she shares what she wears to feel powerful and take on the day—including her hijab.
Her Morning Routine:
We have a swimming quarry right outside of our house [in upstate New York], and we started taking polar pond plunges every single morning. That completely changed my life. Cold therapy activates your nervous system and basically just sheds the layer of anxiety that you have. When you jump in, you don't feel cold, you just feel survival. It makes me so much calmer. If I have a foggy mind and then I do that, I'm so clear.
Then, I workout. We have an indoor cycling bike—and it's not a Peloton! I do AARMY, founded by Akin Akman and Angela Davis, which has been a saving grace during this time. It's very intentional. I really enjoy working out at my house because I wear hijab. If I was going to a gym, I would [have to wear] a light hoodie and pants, but now I'm wearing regular exercise clothes, like a sports bra and shorts, at home. That makes me really enjoy the workout. I love having that sacred space. There are very, very few options for hijab-wearing women to wear working out and every brand that I know that has them are not my taste. I've felt this way for the last 10 years. But I usually mix and match Outdoor Voices, Bandier, and Adidas.
Her Getting Dressed Strategy:
Her Getting Dressed Strategy:The process is a little bit different now that we live in the mountains. It tends to be colder in the morning, especially in the winter. I love a cashmere turtleneck to stay warm and cozy. I usually layer it with a hoodie—right now, I'm really loving this one hoodie that my husband, Adam, made with his mentor. It says,"Produced by," and another says, "Written by." I've been wearing it a lot lately because we started our production company as a way to maintain credit for the work that we do in the world. On the bottom, I've been wearing either leggings or sweats.
Her WFH Uniform:
I've been getting into really cozy, nice, luxurious clothes, like Woolrich. Woolrich has a complete mountain vibe. They have these amazing flannel pants that I really love that have these side fringes. Their shirts that are actually jackets [a.k.a. "shackets" (opens in new tab)] are amazing. As for accessories, I've been wearing Mejuri gold hoops consistently, and I also love this vintage Dior necklace when I want to make a statement.
Her Zoom Go-To:
I've been doing more speaking engagements in the late afternoons and evenings. For those, I'll change into something that I would've worn to an in-person meeting or a talk. I have a few cashmere Zimmermann turtlenecks that I really love, and then I'll layer them. I'll either layer them with a silk scarf, depending on how I wear my hijab—if I wear it more turban-style or if I wear it draped around.
Her Heels-to-Boots Conversion:
The last talk I gave in-person was in Miami for a marketing conference. It was the first week of March last year. I wore my first pair of Manolos. (I was a big Sex and the City fan.) But, my relationship with heels has completely changed. I wore a pair of Tom Brown heels recently for six hours straight, and I literally cried at the end because I haven't worn heels in so long. I don't know if I'm ever going to wear heels regularly again. Instead, I've been sticking to a lot of boots, because we consistently have a foot of snow. Tamara Mellon has a really amazing pair that is stylish, but also gets the job done. We got snow boots at our local snowshoe shop, and then I got these things called Yaktrax to help me walk in the snow.
Her Power Outfit:
I have this beautiful Prada button up that I really love. It has a studded collar. That always makes me feel really amazing. Prada channels your smart side, but also lets people know you have really cool character.
Describing Her Personal Style:
Curious. I kind also feel like my style is really emotional. It's very much like, I'm ready to talk about my feelings. But that's my vibe in general. It's like, when I wear what I wear and I am who I am, that's when you know that you can tell me your secrets and it'll be fine.
Shop Some of Noor's Favorite Pieces:
Megan DiTrolio is the editor of features and special projects at Marie Claire, where she oversees all career coverage and writes and edits stories on women's issues, politics, cultural trends, and more. In addition to editing feature stories, she programs Marie Claire's annual Power Trip conference and Marie Claire's Getting Down To Business Instagram Live franchise.