13 "Shackets," a.k.a. Shirt Jackets, to Take You From Spring to Summer
Is it a shirt? Is it a jacket? It's both!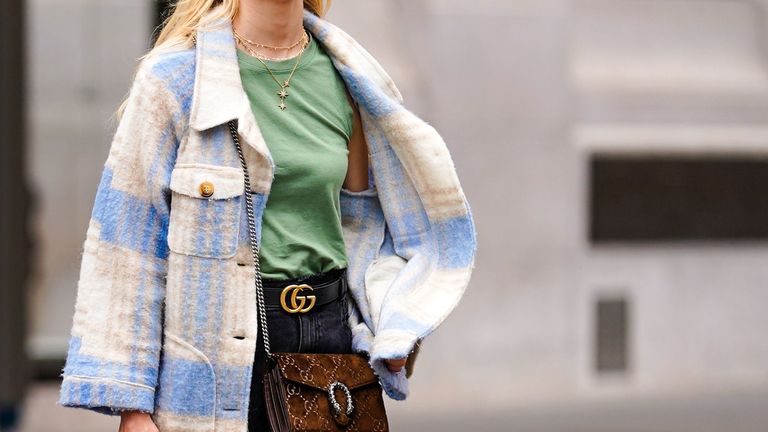 (Image credit: Edward Berthelot)
By Hannah Morrill published
Webster's defines a shacket as a portmanteau of shirt and jacket, and in reality...that's exactly what it is. Not quite as heavy or utilitarian as a jacket, and not as lightweight or insubstantial as a shirt. A shacket is a transitional layering piece for spring, summer, or the ever-present fifth season, quarantine. And while street style is barely even a thing right now, in the few snaps we have seen, shackets reign supreme worldwide—from Hamburg to Paris, Soho to South London. So even if at first you were all, "What is a shacket?" it's okay to shift your mentality to "Okay, now I want one."
If you don't own one, you've probably coveted one, and for good reason. They're at home alongside leggings or denim, bike shorts or slip dresses. And also? They are so cozy. If you're going to get dressed at all, a shacket can remind you that you'll soon be returning to the comfort of your couch. Pick one up in a soft shade of shell, tan or pewter, or consider a flashier plaid. Of course, designer versions are to die for, with ingenious patterns and prints. Ahead, 13 shackets we'd be proud to call our own.
1/13
Abercrombie & Fitch Cozy Shirt Jacket
An influencer fave with luxe details like silky satin lining and shiny metallic buttons that comes in five pastel tones.
2/13
BP Shirt Jacket
Peony pink with tortoise-shell buttons and cool Western detailed pockets.
3/13
Isabel Marant Étoile Faxonli Flannel Shirt Jacket
A bright marigold plaid ribboned with neon pink, ideal for ushering in spring's chillier days.
4/13
H&M Plaid Shirt Jacket
Diffuse black and white plaid that can and will go with everything you own.
5/13
Anine Bing Joey Jacket
Lived-in military details with a pleasantly utilitarian charm.
6/13
L.L. Bean Signature Wide-Wale Shirt Jacket
A deep seal teal in a nubby wide wale is both workmanlike and surprisingly soft and cozy.
7/13
Banana Republic Corduroy Shirt Jacket
The platonic ideal of a shacket, coming in a soft stone hue and a satisfying narrow wale corduroy for added texture.
8/13
Cotton Citizen The Brooklyn Buttondown
Generally, I do not advocate for combining trends. This tie-dye/camo reminiscent shirt jacket is a notable exception.
9/13
ZARA Cropped Plaid Overshirt
A cropped take in a large-scale red, black, and taupe plaid.
10/13
Stella McCartney Marbled Denim Shirt Jacket
Acid wash denim, offset with rainbow marbled veins. Ah, Stella. Ah, humanity.
11/13
Alex Mill Britt Work Jacket in Upcycled Denim
Don this lightweight work jacket and try not to feel like a turn of the century Parisian painter, we dare you.
12/13
Isabel Marant Étoile Checked Shirt Jacket
A cozy cabin blanket, in a wearable, socially acceptable format.
13/13
everlane The Denim Chore Jacket
Boxy, rugged, and that perfect shade of go-with-everything indigo.
Hannah Morrill is a writer and editor based in Portland, Maine. She's an avid reader, an indifferent face-washer and a sunscreen/retinol evangelist.