16 Cute Umbrellas for Rainy Days
Get to where you're going warm, dry, and in style.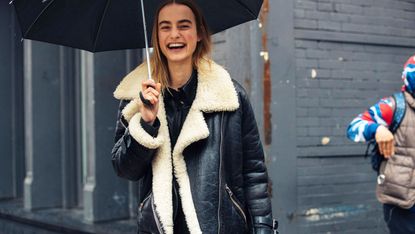 (Image credit: Melodie Jeng)
Getting stuck in the rain (opens in new tab) without an umbrella is seldom the romantic, singing-in-the-rain scenario that you envisioned it to be. Instead of ducking under scaffolding or posting up in a shop until the storm blows through, invest in one of these 20 adorable umbrella options.
Animal Print Umbrellas
Carrying an umbrella doesn't have to be cumbersome. Play up the animal print coat (opens in new tab) trend with a coordinating rainy day (opens in new tab) accessory.
Shop Here:
Floral Print Umbrellas
Charming floral print umbrellas with easy touch openings and pinch proof closures will look adorable with your galoshes and khaki trench coat (opens in new tab).
Shop Here:
Striped Umbrellas
Lightweight aluminum frames and color blocked striping will add a bright spot to stormy days. (opens in new tab)
Shop Here:
Transparent Umbrellas
These see-through umbrellas have a birdcage-like shape that will protect you from the elements.
Shop Here:
Sara Holzman is the Style Director at Marie Claire, covering runway trends and tracking down the latest finds to buy and wear. When she's not writing about fashion, she pens about the best places to jet-off to.