The 24 Best Trench Coats for Women, According to Fashion Editors
We're in the trenches.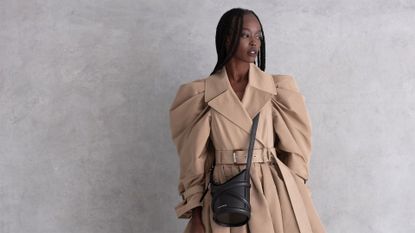 (Image credit: Kat Irlin)
There's a reason a trench coat has stayed in your fall and winter coat rotation all these years. Reliably chic, ever-polished yet understated—the double-breasted, belted style is the epitome of a wardrobe classic. As fashion historian and curator Michelle Tolini Finamore puts it, "The trench coat is the perfect example of utilitarian wear that, over time, has blurred the line between function and fashion." And practicality aside, the best trench coats are those that make a lasting style impression—think Audrey Hepburn as Holly Golightly in Breakfast at Tiffany's or Priyanka Chopra arriving at the 2017 Met Gala in a Ralph Lauren trench dress with a mile-long train. (Finamore's favorite pop culture moment featuring the age-old trench? "Catherine Deneuve's Yves Saint Laurent patent leather trench coat in the 1967 film Belle du Jour.")
Ahead, find the best trench coats to weave into your jacket rotation that'll help you make an unforgettable style impression with this type of coat this season. You'll also find more insight from Finamore on the iconic outerwear staple, including its storied history and connection to luxury fashion.
The Best Trench Coats
The Ladylike Trench
When it comes to the products Marie Claire recommends, we take your faith in us seriously. Every product that we feature comes recommended by a MC writer or editor, or by an expert we've spoken to. Learn more about how we review products.
Get inspired with fresh updates to the classic trench coat, like exaggerated shoulder lines, feminine collars, and refined pleat details. For a more obvious feminine fashion code, pick up a trench coat in trendy hot pink. ShopStyle, a digital shopping platform and search destination, shares that user queries for "pink trench coats" are up 85 percent from last year. The ever-persistent #Barbiecore aesthetic strikes again!
---
The Anything-but-Basic Trench
Up the ante with maximalist prints, color blocking, or a mixed media makeup in your trench. According to ShopStyle, searches for leather styles are up 39 percent and metallic trench coats are up 33 percent, so those are more options to consider if you're down for statement outerwear.
---
The Classic Trench
Never underestimate a classic. These tried-and-true trenches will see you through rain or shine. In particular—and in what should hardly come as a surprise—Burberry's traditional trench coat is trending, with ShopStyle reporting that searches for the style are up 21 percent.
---
The Suede Trench
There's really no "per-suede-ing" needed. A light suede trench will serve you on chilly fall days and will patiently wait for you come spring. Consider expanding outside of the traditional khaki hue of a trench, too—perhaps either a caramel brown, sooty charcoal, or juicy plum purple?
History of the Trench Coat
"The trench coat's history appears to begin in the early 20th century as protective, warm, and waterproof utilitarian garb for British officers," explains Finamore. "The addition of the word 'trench' began around World War I, referring to their use in the fields of war. And during World War I, the impact of military styling on civilian fashion was immediate," she continues, explaining how the utilitarian style slowly trickled down into everyday wear to become the layman's staple that it is today.
The Iconic Burberry Trench Coat
"Burberry is most closely associated with the trench, and it makes sense given the form's British roots," Finamore explains. "And the continuation of tradition is a point of pride for the fashion house. However, the Burberry trench coat has also been re-invigorated over the years, disrupting the standard construction, with designers like Riccardo Tisci employing inventive cutouts, or transforming it into ballgowns and jumpsuits." Remember the gender norm-shirking trench dress Puerto Rican rapper Bad Bunny wore to the 2022 Met Gala? Yup, a Riccardo Tisci brainchild.
Are Trench Coats Waterproof Rain Jackets?
Yes! But also no. Originally, the style was because it was predominately crafted from a water-resistant material called gabardine. Allow the fashion historian to explain: "Breathable yet weatherproof, gabardine is the fabric most commonly associated with the 20th-century trench coats created by Burberry and Aquascutum, brands that started out by innovating waterproof fabrics." But now, in the great year of 2023, designers experiment with a variety of fabrics—vegan leather, silk, sheer tulle—so you'll want to check the tag first to see if your trench can double as a chic rain jacket.
Meet the Fashion Experts
Michelle Tolini Finamore is a Fashion and Design Historian, Curator and Author. She has curated numerous exhibitions, including the recently opened Fashioning America: Grit to Glamour at the Crystal Bridges Museum of American Art. She has written numerous books and articles for both the scholarly and popular press on topics as varied as fashion in silent film, menswear, contemporary fashion, and sustainability. Michelle has taught courses on fashion, design, and film history at Northeastern University, Rhode Island School of Design, Massachusetts College of Art, and the Fashion Institute of Technology. She has interviewed fashion luminaries such as Hamish Bowles, Fern Mallis, Isaac Mizrahi, Liz Goldwyn, Hussein Chalayan, Diane Pernet, Viktoria Modesta, Virgil Ortiz, and Rodarte on stage.
Sara Holzman is the Style Director at Marie Claire, covering runway trends and tracking down the latest finds to buy and wear. When she's not writing about fashion, she pens about the best places to jet-off to. Over her six years with Marie Claire, Sara has reported on the ever-evolving world of fashion— covering both established and emerging designers within the industry. Sara has held fashion positions at Lucky and SELF Magazine and was a regular contributor to Equinox's Furthermore website, where she wrote across their style, wellness, and travel verticals. She holds a degree in Journalism from the University of Missouri, Columbia, and currently resides in Manhattan. Follow her along at @sarajonewyork.