Georgina Bloomberg on Her New Book The A Circuit
Mayor Bloomberg's daughter pens a new young-adult book about her favorite pastime, horse riding.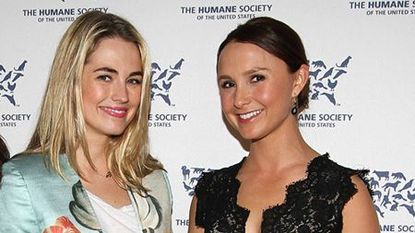 (Image credit: Archives)
Marie Claire Newsletter
Celebrity news, beauty, fashion advice, and fascinating features, delivered straight to your inbox!
Thank you for signing up to Marie Claire. You will receive a verification email shortly.
There was a problem. Please refresh the page and try again.
My good friend and fellow Friends of Finn member Georgina Bloomberg recently came out with a young adult novel about a subject close to her heart: horse riding.
She has always been an avid animal lover — she and I are chairing the Humane Society Gala on Oct. 5th with Annie Churchill — and now she has parlayed that passion into literature with the new book, The A Circuit. I recently sat down for coffee with Georgina where she talked about riding, her upbringing, and her literary ambitions!
So how did you decide to be a writer? On top of your charity work, your professional riding career … that's a lot to take on!
I kind of fell into it! I don't consider myself a writer and have always thought I was a bad writer so doing a book was something that never crossed my mind. But it was the first time that I had the opportunity to write about something that I love and know as well as anyone else out there.
What was your purpose in writing the book?

I really felt like there was a need for a story about this great sport that I grew up in. There are so many cute horse or pony stories out there but not much about the actual riders who make this sport their lives. The show aspect was really something I wanted to write about and portray how riding brings different people together and makes them work together. I feel that is such an important lesson in any sport.
Even though the novel is fiction, did you draw a lot from your real life to write the book? There certainly are a lot of parallels!
There wasn't any one character based off of a person I know but there are a lot of parallels between me and all my friends growing up. Everyone thinks that Tommi is based off of me, and while that may seem true on the surface, I have just as much in common under the surface with all the characters. I think when any writer does a book that is technically fiction but is about a subject they draw from their own lives, there are going to be parallels without even meaning to create them.
What would you say to a young girl who is considering pursuing a career in show jumping? Obviously, the book doesn't hide the fact that it is challenging.
I think this book definitely shows that it's hard work, and what you will see even more in the second book is that like with most sports, working hard and being successful means having to sacrifice a lot of normal teenage things. You have to love the sport and want to work hard to win and the sacrifice has to be worth it to you or you will never really put your whole self into accomplishing your dreams. You also have to keep working hard no matter what setbacks you encounter. Appreciate the good days because no matter how good you are you will have more bad days than good, but at the same time, never let the bad days get you down. Use them as learning experiences and as a way to make the times you do win all that much sweeter.
How did you discover your passion for riding? Was it something that you were brought up doing?
I started riding when I was four because my mother wanted me and my sister to take lessons. I liked it but it wasn't until I started competing when I was six that I started loving it. I love the competition and the chance to work really hard at something at home and then to go show that off in front of a crowd of people. I have always been a show-off since I was a kid … I just learned that it's only okay to be one if you have worked hard enough on something to deserve to show it off!
Georgina with her dad, Mayor Bloomberg.
Celebrity news, beauty, fashion advice, and fascinating features, delivered straight to your inbox!