Carine Roitfeld on Her New Documentary Mademoiselle C
The iconic Carine Roitfeld sat down with us to discuss her new movie, Mademoiselle C and what it's like to choose your own career.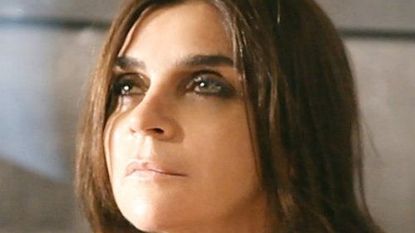 (Image credit: Courtesy of Company)
Photo: Courtesy of Cohen Media Group
Smokey-eyed and polished with a transfixing charisma, Carine Roitfeld is driven and hyper-creative, executing visions with a sheer, vibrating creativity that throws the fashion world off its axis. She's gutsy—not only creating her own magazine, CR Fashion Book, from scratch, but recording the whole process in her new documentary Mademoiselle C. Directed by Fabien Constant, the film will premiere on Wednesday, September 11. We sat down with Carine to discuss her new role and what it takes for a woman to break free of the mold.
MC: How did it feel to break out on your own? What has the experience been like to start your own magazine?
Carine Roitfeld: Oh, it was quite easy, I would say because ten years is a long time, you know, in the life of a woman. Many [people] take two or three months [to make a decision], but it only took me a moment to decide. The day after I finished, immediately someone called me for a new project. It was exciting because it was Barney's. So, I had no time to be sad — I immediately had something else to do. And it was different from a big publication, because it's a lot of power. After ten years, you are more and more powerful.
But there was no fear. I enjoyed the freedom—the freedom to be able to do everything I want because when you're working as an Editor-in-Chief at a big magazine, you cannot be a covergirl, you cannot work on a campaign, you cannot do a book with Karl Lagerfeld, you cannot do a film. So finally for this project, I did not think about it before but when it was possible for me to do all of that, I really appreciated it. It was really fun for me. It was like my rejuvenation.
MC: What advice do you have for women who want to break out of their career mold and venture out on their own?
CR: I think if you don't do that, you get older at your desk. Not everyone has this freedom and the possibility to do that, because sometimes you do not have the power to leave the job that you have because of money, because of everything. I was very lucky to leave and immediately to find something else to do. It was a big chance for me. After you go back to your life, I think it's exciting to do all of those things. As you get older, you see life is very short so you have to appreciate more and more and to enjoy it. I enjoy working much more than before — every project. In a way, it's really fun.
Can you imagine at the same time becoming a grandmother, becoming a cover girl for makeup, having a book come out, doing a film? I would have never dreamed of having so much to do except for cooking a lot this time. At the same time, I'm preparing this very stressful screening on Friday, and plus Fashion Week is starting again. I'm off to London, Milan, and Paris, and then another party in Paris for the screening and the launch of the third issue.
MC: How did it feel to have cameras following you every step of the way from beginning to end?
CR: You see you never get into a habit of [ignoring] the cameras. And honestly, if you know me, you know that I am much more fun with no cameras, because you cannot forget it. You try to be relaxed, but you're not relaxed. It was difficult for me, but it was difficult for my team too, because it was a new team. Now we know each other very well but at the time, it was very new for everyone to try to understand each other, and plus we had these cameras.
When I said "yes" to Fabien Constant, I didn't know it would become so personal. I immediately said "yes" because it was for the launch for the first issue. I said, "Okay, we want people to talk about it, we need to be very careful for this." But after, I did not imagine myself on the screen so much, like me doing my ballet with my granddaughter. It's a lot of me, and you never like yourself on screen. You don't like your looks, you have that [gasp] petite scar on your face. So you have to forget about you and look at the film without you, even if you don't like it.
When I looked at it without me, I thought, "They have so many amazing supporting actors." Karl Lagerfeld, Tom Ford, Ricardo Tisci: it's amazing to have all these people come to support me on that film. So it was really big for me.
MC: How do you find new talent for CR Fashion Book? For example in your Moscow Walk editorial, there were some great talents you introduced your audience to such as Lesia Paramanova, Nina Donis, Ulyana Sergeenko, and Ruban?
CR: Now it's not so difficult to find the talent because these new talents come to the shows. So you find them at the shows. It is not so difficult, you need to have someone aware, with good relations in the city. That gave me the many chances to go to Moscow, and I know Ulyana [Sergeenko] very well. I know the photographer, he's a friend of mine. You need to know one or two people. Now they invited me to go to Ukraine because they told me Fashion Week in Ukraine [Mercedes-Benz Kiev Fashion Days] is very important.
With so many shows, you cannot do everything. I want to find a way to not follow the routine that I'm doing now and to break the rules next year. I have to find a way, because I'm happy to be in New York and to go to Milan but….I'm not blasé, but it's always the same. I'd love to say I'm going to Ukraine to see a show. Maybe it is more fun to discover new things, but the timing is very difficult. So I have to find a way. I'll work on it, I'll find a way.
See Carine in Mademoiselle C on September 11th in New York, Los Angeles, Chicago, Miami and Dallas. It will be nothing short of iconic.