Why You Won't See Jackie Kennedy's Pink Suit Until 2103
You'll have to wait a long time Jackie Kennedy's iconic pink suit.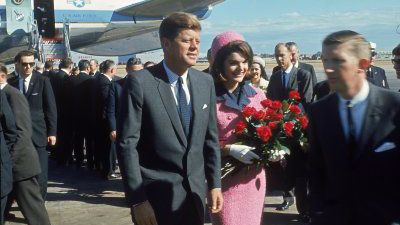 (Image credit: Marie Claire)
Jacqueline Kennedy's wardrobe was chock full of enviable outfits, but perhaps none is more firmly engrained in our collective memory than the pink Chanel suit she wore the day her husband, the nation's president, was killed. She wore it all day, refusing to take off the blood-splattered suit at the hospital in Dallas or on the flight back to Washington where Lyndon B. Johnson was sworn in as president. "Let them see what they've done," she said.
It has since become a symbol of the tragic day. As New York Times fashion critic Cathy Horyn put it, "If there is a single item that captures both the shame and the violence that erupted that day, and the glamour and artifice that preceded it, it is Jackie Kennedy's bloodstained pink suit, a tantalizing window on fame and fashion, her allure and her steely resolve, the things we know about her and the things we never quite will."
Furthering the intrigue, is the fact that since the First Lady took off the famed suit, upon returning to the White House in the early morning hours, it has been seen by almost no one. Subject to Kennedy family restrictions that it not be seen for almost a century, the suit—an exact copy of a Chanel suit (made in America to avoid political criticism)—is stored in a climate-controlled area of the National Archives building in College Park, Maryland, where it will remain hidden from view until 2103. Only young children stand a chance of being alive to see it unveiled, which means for most of us, one of the most iconic pieces of clothing ever constructed will only ever exist in photographs.
With a bouquet of roses in her hand, First Lady Jacqueline Kennedy (1929 - 1994) and, behind her, U.S. President John F. Kennedy (1917 - 1963), greet the public at Love Field airport during a campaign tour in Dallas, Texas, on November 22, 1963. The President was assassinated later that day. (Photo by Art Rickerby/Time & Life Pictures/Getty Images)
President John F. Kennedy (1917 - 1963) and his wife Jacqueline Kennedy ride with secret agents in an open car motorcade shortly before the president was assassinated in Dallas, Texas, November 22, 1963. (Photo by Keystone/Getty Images)
In the aftermath of JFK's assasination, Vice President Lyndon B. Johnson (1908 - 1973) takes the oath of office to become the 36th President of the United States on Air Force One. Kennedy's widow, Jacqueline stands beside him, wearing her bloodstained pink suit. (Photo by Universal History Archive/Getty Images)
Marie Claire email subscribers get intel on fashion and beauty trends, hot-off-the-press celebrity news, and more. Sign up here.
Kayla Webley Adler is the Deputy Editor of ELLE magazine. She edits cover stories, profiles, and narrative features on politics, culture, crime, and social trends. Previously, she worked as the Features Director at Marie Claire magazine and as a Staff Writer at TIME magazine.