Confessions of a Life-Long Chanel Collector
Meet Karen Oliver, Manhattan's most fashionable publicist who's amassed an envy-inducing collection worth well over six figures.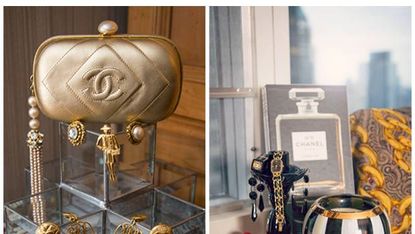 (Image credit: Kathryn Wirsing/Hearst Digital Media)
Marie Claire Newsletter
Celebrity news, beauty, fashion advice, and fascinating features, delivered straight to your inbox!
Thank you for signing up to Marie Claire. You will receive a verification email shortly.
There was a problem. Please refresh the page and try again.
I've always had an intense love affair with French fashion, having worked for several Parisian cosmetic brands since I was a teenager. At first it was Yves Saint Laurent apparel, Hermès scarves, and Louis Vuitton luggage—then it was all about the "House of Chanel."
For me, buying Chanel wasn't just about buying Chanel simply because it's "Chanel"—it was never about the "logo" or the "brand". It was the legendary Coco Chanel herself who initially caught my eye.
Like many women, I coveted her impeccable style and strong sense of self, both of which effortlessly translated into everything she created and presented to the world. To this day, she remains the epitome of all things French chic. That's what speaks to me in regards to Chanel as a brand now.
Aside from the unbelievable quality, Chanel has more than proven itself to be a brand that withstands the test of fashion time, thanks to Karl Lagerfeld. He's done an exemplary job at contemporazing while maintaining that level of prestige and familiarity through reintroducing the original stylistic nuances, like the leather-threaded chain and camellia flowers, year after year. I love knowing that I can walk into a Chanel store today and see a lot of the same designs, though slightly tweaked, to make them a bit more modern. The classic handbag shape is still there—maybe it's a little bigger and the color a lot bolder, but the essence is the same—it's still the classic Chanel handbag that you immediately know it's Chanel when you see it.
And that's precisely why I've been a loyal customer, collector, and able to wear the same pieces for almost four decades. I always get so many compliments when I'm wearing Chanel these days—it still shocks me. Then they ask when and where I bought it. I say, "Oh, I got this thirty-five years ago!" and the response I get is usually, "You're kidding!" That in itself is what makes Chanel well worth investing in.
Over the years I inherited vintage pieces from my mentor, and was gifted several pieces by my wonderful husband, Hollywood film producer Jerry Tokofsky. (He learned very early on that I wouldn't dare dream of exchanging anything that came in that telltale black box tied with white logo ribbon and topped with a camellia flower bow!) The rest was purchased new by me, namely in Beverly Hills, and in Paris during the great days when the dollar was strong, as well as the boutiques in Cannes and Sanremo.
I won't say exactly how long ago, but the very first piece I purchased for myself was a scarf, because at that time it was considered to be the most inexpensive piece of couture a woman could own (aside from cosmetics and fragrance). I loved that scarf; it gave my outfits a sense of that chic prestige that's always been associated with higher end designers.
Next, I began buying accessories to make my wardrobe feel a bit more fresh and fun. Back then, Chanel belts and costume jewelry were also incredibly affordable—nowhere near as expensive as the quilted handbags and iconic tweed suits, which happened to be the first item of Chanel clothing that made its way into my closet.
My most prized possession has to be the gold chain belt, as it's the most versatile. It's such an easy accessory that instantly transforms even the simplest outfit and goes with everything—I throw it on with a skirt, slacks, or even jeans. Plus, the Chanel insignia is in the back so all you see from the front is the heavy gold chain, which I like. It's understated and not obviously Chanel.
On the other hand, I equally love the gold logo bracelet. Even though it's the polar opposite of the belt in that it's quite obviously Chanel, but I love it because it was one of the pieces that my mentor left for me in her will. Whenever I wear it, I always feel like I'm close to her.
The most recent Chanel item I bought for myself was a liquid foundation. Before that, it was a bottle of nail polish for each member of my team (at Karen Oliver and Associates, a boutique beauty PR firm). Every year they get a bottle of Le Vernis as one of their annual holiday gifts, which they love. Even though it's not expensive, there's something special about the gesture of gifting someone you appreciate with a beautifully wrapped Chanel package.
When I was younger, the Chanel brand was beloved by the wealthy, conservative ladies who lunched in the brand from head to toe, from the tweed suits to the handbag to the pumps to the perfume! I've never identified with that. I was mixing high street with high fashion before it became the "in" thing to do.
With that said, I've always passed on acquiring anything that felt too of-the-moment. I learned the importance of purchasing moderate designs and classic cuts in order to get a lifetime of wear out of my wardrobe. Remember that trends go as fast as they come—the last thing you want is to look incredibly dated.
It's also imperative to pay a little extra to send your priciest pieces to a professional dry cleaner that specializes in luxury garment cleaning and care. I seriously doubt my clothing would still be in top-notch, pristine condition decades later had I have gotten in the habit of routinely dropping everything off at a local laundromat. That's a risk I was never willing to take.
As for the jewelry, belts, and other Chanel accessories, I'll admit I'm not so good at storing everything separately in the protective dust bags in which they come. It's good to keep metals separated so that they can't scratch or tarnish one other, but I prefer to toss it all in clear accessory bins for easier viewing and instant access.
This is just a small selection of my collection. I have so much more in storage back in Los Angeles where my husband and I used to live full-time. Inside you'll find more handbags and accessories, as well as an assortment of several evening wear gowns, ball skirts, and cocktail jackets. (Jerry and I used to attend Cannes and other various film festivals around the world, which of course called for black-tie attire. My schedule isn't as glamorous these days, so I don't find the need to have that part of my collection here in New York City.)
All in all, I'd assume my entire Chanel collection alone is worth well over six figures at this point, and it isn't as robust as it used to be. I recall outgrowing quite a few pieces at one point in my life, and instead of holding on and hoarding in vain, I chose to donate those items to Salvation Army. It's funny to think that I've actually given away $10,000 gowns to charity! Reselling or consigning didn't cross my mind… probably because eBay wasn't around back then.
Not that I'd ever consider selling any of it in a million years. It's all so special to me; I have a fond memory of every single piece, so one day in the far, far, far future, I plan on passing the entire collection down to a few of the lucky young women in my life, so a little part of me will live on for decades to come. I love knowing that they'll get to create their own memories while wearing it all. In fact, they're already fighting over who will inherit what. Of course I continuously have to remind them, "Let me live. I'm not dead yet!"
Related:
11 of Coco Chanel's Best Quotes

Marilyn Monroe's Obsession with Chanel

How-To: New Chanel French Manicure
Photo Credits: Kathryn Wirsing; story as told to India-Jewel Jackson
Celebrity news, beauty, fashion advice, and fascinating features, delivered straight to your inbox!
Managing editor. Bona fide beauty addict. Full-time globe-trotter. Part-time DJ. Skinny leather pants lover. Exercise hater. Deep-fried tofu fanatic. Recovering red-lipstick abuser.