New Site Tinker Tailor Helps You Make Your Own Designer Clothes
Create your own, or re-imagine a designer's piece just for you!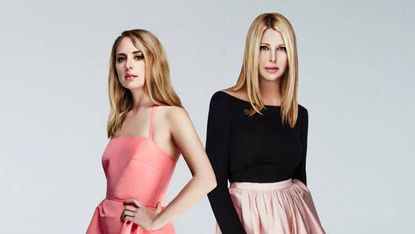 (Image credit: Courtesy of Company)
It happens to all of us: You go shopping with the exact idea of what you want in your head only to return home empty-handed because you couldn't find what you were looking for (read: skirts were too full or too tight, hems too high or too long, or the colors too muted or too bright). You think to yourself: If only I could create my own design! But now you can.
Photo Credit: Courtesy of Company
Enter TinkerTailor.com, the first e-commerce outlet that allows you to customize exclusive designer pieces (add sleeves, change a print) but also lets you play fashion designer by creating your own tops, skirts, and dresses that are manufactured in the company's NYC atelier and shipped to you in around 6 weeks.
We chatted with Aslaug Magnusdottir, TinkerTailor.com co-founder and CEO (and former CEO of Moda Operandi), to get the scoop.
Marie Claire: Who do you picture sitting on the other side of the Tinker Tailor screen?

Aslaug Magnusdottir: There are three core groups of women who love our site. The first is the affluent woman who adores luxury brands and buys often, but looks for something distinct—she never wants to arrive to an event wearing the same dress as another woman. Tinker Tailor allows her to buy an exclusive item from a designer she already cherishes and lets her put a personal stamp on it. Then, there is the professional woman who loves beautiful, high-quality clothing, but might feel challenged to buy a runway look and wear it to the office. With Tinker Tailor, she can make the item work perfectly for this environment by adding sleeves or lowering the hem. This shopper might buy several variations of one particular dress or skirt she likes, swapping out colors and fabrics. Finally, there is the younger fashionista who reads magazines and blogs and is active on social media. She might not have a big budget, but she saves up for the occasional splurge and is in love with our "Create Your Own" design tool.
MC: You have a group of fashion pros that lend their expertise to Tinker Tailor. How do you choose them and what influence do they have?

AM: When we were putting the company together, we spent a lot of time thinking about who might make a powerful impact in areas we lacked expertise. So to have industry veterans like Melanie Ward and Yasmin Sewell on board shaping our aesthetic is amazing. Leandra Medine embraced our idea from the beginning, and we are grateful to have her provide input and help us get the word out. Having friends like these be a part of Tinker Tailor has been wonderful, and their ideas have helped shaped the company into what it is today.
MC: Who are some of the designers offering custom collections on the site now, and how do the designers rotate?

AM: We offer mini exclusive collaborations (typically 5-10 styles) that are made available on the site for usually only a few weeks at a time, and we have signed up around 80 designers so far. Right now you can see designers ranging from Roksanda Illincic, Luisa Beccaria and Tata Naka to Vivienne Westwood and Alberta Ferretti, who is offering a bridal collection.
Photo Credit: Courtesy of Company
MC: Do you find most designers are eager to enter into a closer partnership with their consumers to create the perfect garment?

AM: It was really exciting to discover that most designers were thrilled about the prospect of allowing customers to collaborate with them in select ways. While they want the customization options to be carefully thought through and approved by them, they have been receptive to the notion that empowering a customer to be part of the design process can be good for everyone. Not only does the customer get a special piece that she shapes to reflect her taste or needs, the brand can experiment with offering new styles or twists on classic pieces, which provides feedback for future designs.
MC: You're launching a new iPhone/iPad app soon. How will it enhance the unique experience Tinker Tailor is providing its customers?

AM: Mobile is the new black, so to speak, so a mobile strategy is critical for us. Just a few years ago when I came up with the Moda Operandi concept, I didn't feel an urgency to put out an app. Now, some of our designer friends have told us they have witnessed a five-fold increase in sales from mobile devices in just the past year alone. And while I do not want to let the cat of the bag just yet, Tinker Tailor's soon-to-be-released mobile app is designed to allow users to customize, design, share, and shop items in a fun, effortless way.
Photo Credit: Courtesy of Company
MC: How will having the ability to customize luxury fashion label designs influence the fashion industry?

AM: Designers are artists and the lifeblood of this industry, and their art will always define and drive its future. My hope is that by providing brands with a platform to provide small customizable collections at little or no additional cost to them (they do not need to provide us with samples of different variations), Tinker Tailor is providing a creative tool to help them push the boundaries of their art. Additionally, Tinker Tailor allows designers to introduce new products outside of the regular fashion calendar and we hope to provide a step towards evening out the cyclicality of the industry.
MC: What are the advantages of using Tinker Tailor as opposed to using one's traditional tailor?

AM: One nice thing about our tool is that you can see the piece in photorealistic 3D in real time as you create it and adjust it. At a traditional tailor, you do not always know what you're going to get until the piece comes back— and by that time you have already made the purchase. Our web site allows you to see the hem slide up or down or sleeves swap in or out right there in front of you as you are designing it before you hit the purchase button.
MC: Some well-known artists have lent their prints to the "Create Your Own" Line. Can you tell us about them?

AM: Susan Brown is a local artist whose work blows us away, so it was a natural fit to ask her to create some exclusive prints. Her imagery ranges from beach umbrellas in St. Tropez to swirls of bees – really fun, beautiful stuff that works perfectly on a dress or a skirt. Also, French designer and "it

girl" Yaz Bukey has created pretty, girly prints that reflect the same aesthetic you see in her jewelry and bags.
MC: About how many different design outcomes are there for the "Create Your Own" line?

AM: Literally in the hundreds of thousands! That is what we consider to be so interesting about the line: You can dream up a dress, skirt, or top that is unique for you. Considering the vast array of silhouettes, the myriad fabric options, and the many embellishments like belts and collars that can be added, chances are you'll never run into anyone else wearing that piece. Unless you want them to buy your design!


Photo Credit: Courtesy of Company
MC: Where did your love for fashion come from?

AM: My love for fashion is what gets me up in the morning and what keeps me up before I go to sleep at night. This has been true ever since I was a child. My favorite book when I was four years old was Princess Penelope's 365 Dresses. As you can imagine, it was about a little girl who had a different dress for every day of the year. When I read this, I knew I wanted to have Princess Penelope's wardrobe. Much to the chagrin of my closets, I eclipsed Penelope's number a long time ago.
MC: If you could only pick one "Create Your Own" dress to have in your closet, what would it be?

AM: Well, that's a tough choice. I guess it would have to be the Aslaug dress, in the Joe Duke: Botanics Roses Black fabric with black tulle sleeves. I actually already have that one in my closet and absolutely love it. Princess Penelope would probably approve!
Celebrity news, beauty, fashion advice, and fascinating features, delivered straight to your inbox!