Get Shorty
At four-foot-two, Lauren Ruotolo suffers from a rare disease that stunted her growth — but not her ambition. Every day she puts on a pair of fabulously high heels and lives life in the fast lane, juggling a jet-setting job, celebrity pals, and a pair of crutches. Here's how.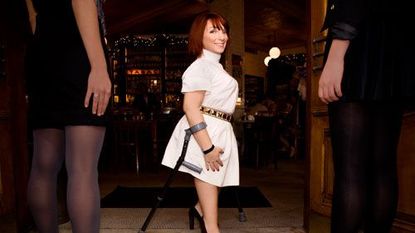 (Image credit: Anna Skladmann)
I'm at a party after the Emmy Awards in Los Angeles, waiting for singer Pink to arrive. She's running late, and since I'm the event planner, it's my job to escort her down the red carpet and over to the stage where she'll be performing — and to make it happen fast. She rolls up, looking glam, blonde, and tan in a long white gown, and the paparazzi start shouting and snapping away.
"Hey, Pink!" they yell. "Look over here!" Flashbulbs pop.
A few of the photogs eye me curiously. Someone says, "Who is that girl?"
It's a phrase I've heard all my life. I'm a 4-foot-2 woman in a 6-foot world.
I was born with a mysterious and rare condition called McCune-Albright syndrome. Some researchers say it occurs in one in 100,000 people; others say one in a million. It's not inherited — it's random. Essentially I have bones that can be easily bruised and broken, and very short legs. But I make up for that by wearing the tallest, most fabulous high heels I can find. (You don't want to be in my way when I spot a pair of patent-leather 5-inch cork platform shoes at Neiman Marcus.)
For the past two years, I've been the director of entertainment promotions for the Hearst Corporation, which publishes this magazine and others, like Esquire and Cosmo. That means I come up with creative ways to connect the magazines with Hollywood. For instance, when Marie Claire hosted the premiere of the TV series Lipstick Jungle, it was my job to get Brooke Shields and the show's other stars to walk the red carpet and then sit down for an interview with the magazine's editor-in-chief after the screening. And when Hearst Digital wanted to throw a launch party for its prom Website, I rounded up singers Ashanti, Lloyd, and JoJo to give a concert at the shindig. I have no qualms about calling up Hollywood honchos to pitch an idea. I've always been a go-getter, ever since I was a kid. I learned early on that you can't let others put limits on you.
People often ask where I get my attitude, and I credit my parents, back home on Long Island. They always treated me just like everyone else, including my two younger sisters, Addy and Emily, who don't happen to share my syndrome. I was just 5 when my mom and dad guided me through one of the biggest decisions I'd ever have to make: whether to sit in a wheelchair for the rest of my life or to walk with crutches. (I'd been walking on my own up till that point, but my bones were getting weaker, and I kept falling and breaking my hip.) I chose to walk.
Before I got my first job, I went on 31 different interviews. People were afraid to hire me; one guy asked if I would need "special health insurance." But finally someone gave me a break. His name was Arthur Novell, and he ran a celebrity public-relations firm that represented people like Jim Henson, creator of the Muppets. Arthur was an interesting dude: He'd make job applicants write him a letter in pencil so he could analyze the handwriting; he'd meet them only if the penmanship was up to snuff. Mine was. We met, and he offered me the job as his assistant the very next day. "I really love your handwriting," he told me over the phone. That was 10 years ago.
Today, in my much loftier position, I travel from New York City to L.A. every few weeks and am constantly on my BlackBerry with colleagues and friends (who like to call me "Shorty"). I pride myself on my wardrobe, especially my shoe collection — Marc Jacobs, Via Spiga, Michael Kors. In fact, I'll buy a dozen pairs of shoes before I'll shell out $99 for a new pair of crutches. (I've had the same crutches for five years now; they're pretty ghetto.) Only a handful of designers make shoes that fit me — size 4 — so it's like a treasure hunt to track them down. (You can imagine how traumatic shoe shopping was for me as a teenager; I could never find anything I liked and would wind up in tears.) Of course, my doctors would prefer that I wear sneakers. They're worried that I'll fall and break my bones (I take calcium supplements to keep them strong). But unlike a couple of Miss Americas of late, I have yet to take a tumble in my stilettos. To me, fab shoes equal freedom: The higher they are, the better I feel. In heels, after all, I can see more than just my forehead in the mirror.
Shoes are also the one item I can wear without having to do alterations. It's a different story with pants, which I need to have shortened. But one unusual upside is that I can still fit into the same jeans I wore in high school, since I never outgrow anything. Some of my clothes from the '80s and '90s, like leggings, are really making a comeback. Basically, I like to think of my style as fashion-forward and vibrant: I'd put on anything that Carrie from Sex and the City would wear.
Looking good reflects how I feel, and that has always been important to me. Perhaps it's because I grew up hanging around my parents' beauty salon on Long Island. (I'm still a sucker for the smell of hairspray.) I love to express myself through my clothes and hair; I've probably had every single hair color you could imagine. I started out as a dirty blonde, then got blonder and blonder, before switching to various shades of brown. Now I'm in a red phase. This one might be a keeper.
Sometimes people ask how I cope, working in the world of celebrity — a superficial and appearance-driven industry, to be sure. I just try to let go of stupid things — like the occasional inappropriate comment or stare — and not obsess. For instance, I was in St. Lucia on vacation with some friends recently, and a bum who was walking with a limp came up to us and singled me out, rather aggressively. "Hey, you, the little girl, I know how you feel," he said. I just smiled, said thank you, and kept walking.
I'm not saying life is always a breeze. It can be incredibly hard sometimes. Take my friends: They're constantly setting each other up on dates. Once I told them, "Hey, you never set me up!" So they introduced me to a disabled guy. Okay, I understand why, and I know they meant well. But still, I wondered, is that how they see me? I don't think of myself as handicapped, and I certainly don't identify myself that way on match.com. Some of my dates have gone swimmingly, but in the end, guys often can't cope. There was a man I hooked up with and really liked, but later he wrote and said, "Look, I think you're great, but I could never go out with someone on crutches." Now, thankfully, I'm dating someone wonderful.
I have my moments of insecurity as well. The other day, for instance, I was getting a full-body scrub at a spa. I usually don't expose my legs or let people touch them, but this time I thought, Hey, I'm going to do it. Then immediately I started worrying: Oh, my God, what are people thinking? Everything turned out fine, and I know that all women have parts of their bodies they don't love, so I remind myself not to dwell on my own issues.
After all, people remember me because I'm different. Everywhere I go, they tell me I'm "unforgettable" (especially when I careen past them in my white-hot Audi convertible, which I drive with hand controls — push to accelerate, pull to brake — since my feet don't reach the pedals). In New York City, the easiest place on the planet to remain anonymous, even random strangers remember me: cabdrivers, security guards, doormen. One time a guy I'd never met said hello because he recognized me from a café in Soho where I was a regular. Apparently he was a regular there, too, but I didn't remember him. Even rapper LL Cool J, a neighbor of mine when I was a little kid, knew me when I came across him decades later. I'm like Norm from Cheers — everyone knows my name. People remember me because I don't try to hide the fact that I'm different. Because I don't let anything stop me from doing what I want to do.
Or maybe it's the shoes.
QUEEN OF THE RED CARPET

Lauren Ruotolo partying with singer Lloyd.
Celebrity news, beauty, fashion advice, and fascinating features, delivered straight to your inbox!
Abigail Pesta is an award-winning investigative journalist who writes for major publications around the world. She is the author of The Girls: An All-American Town, a Predatory Doctor, and the Untold Story of the Gymnasts Who Brought Him Down.