Confessions of a Reluctant Shopper
One woman's journey into retail bliss. "I grew up believing shopping was supposed to be fun. It didn't quite turn out that way."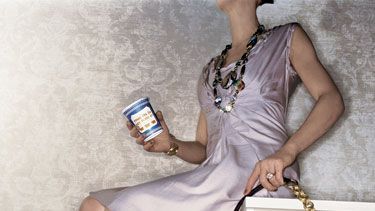 (Image credit: Karin Catt)
In my early 20s, when most of my friends had already come into their own styles, my top priority was losing the band-geek image that had followed me since high school. On a vacation to Montreal, I combed the racks of high-end shops for a pair of jeans that would kick-start my transformation. In the end, I was seduced by the advice of a trendier-than-thou salesgirl and flew home with ass-huggers and a backless, lace-up top. "But where do I wear it?" I asked. "Anywhere," she replied in a Quebecois accent that could make chaps sound stylish. I convinced myself that I'd become the type to wear such an ensemble. But in practice, I couldn't even make it work on Halloween.
Then there was my attempt at aspirational shopping. My grandmother had just passed away, and I felt the urge to immortalize her in designer goods. As $1200 sizzled in my pocket, I stalked the handbag selection at Chanel. It took six weeks of nose-on-glass surveillance before I found the courage to ask for sales assistance — only to learn that the month's rent I was ready to fork over would barely cover the chain-link strap on my dream bag. I put my name on the waiting list for a smaller runner-up and scurried out with my tail between my legs.
They never called.
Soon after, I concluded that for me, shopping was destined to be a necessary but joyless act. I bought hard-to-screw-up pieces in black, gray, and denim, then mixed, matched, and repeated. I shopped clearance racks for the least offensive footwear. And through it all, I suffered an acute sense of retail guilt. I tortured friends with the should-I-or-shouldn't-I-keep-it? game and returned items to remote branches of my go-to stores. Who wants to void a salesperson's commission face-to-face?
And then my fairy-tale moment arrived. Strolling down Boston's Newbury Street last summer, I spotted a 75-percent-off sign in the Marc Jacobs window. I almost kept walking, but the self-service boxes of merchandise lured me inside. And there they were: a single pair of white-patent stiletto slingbacks — just my size, under $100, deliciously over the top. I slipped them on, took three laps around the store, and threw down my Visa even though they were marked Final Sale. For a handwringer like me, it was a reckless, impulsive move. But when I walked back out onto Newbury, M.J. shopping bag swinging on my arm, I felt a rush. Shopping was indeed fun.