Inside DKNY's New Plus-Size Line
Full-figured fashionista Ashley Falcon spotlights one of the best — and most affordable — new curve-friendly collections.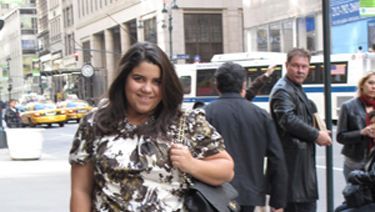 (Image credit: Archives)
I sometimes fantasize about locking a bunch of famous designers in a room with a dozen women, all size 16. I'd ask these fashion maestros to take a long, hard look at the different shapes that comprise a size 16, how one woman packs her weight in her double-D chest, while another carries it all downstairs. For a 220-pound girl, I'm fairly petite and proportional — I wear my weight all over. The point of this imaginary exercise: Force designers to accept that they can't just add inches to the clothes they make for willowy 2s and 4s and expect them to fit a plus-size. It just doesn't work. But right now that's pretty much how clothes are made for curvy women, which is why shopping can be such an excruciating task for us big-boned divas. And even if you manage to get your hands on that to-die-for designer leather bomber in a size 14, odds are it's too tight in the shoulders or requires a wrench to zip up.
The good news: Help is on the way! I recently got an exclusive sneak peek of the new plus-size line from DKNY Jeans, a brand long synonymous with city chic. The line, which runs from size 14 to 28, is available at Lane Bryant and zappos.com. (Don't forget to scoop up a Zappos promo code before you shop.) Unlike other brands, which often treat their size-14-and-up customers like a pair of last season's harem pants, DKNY Jeans has thoroughly researched how to design for a voluptuous physique. No droopy armholes thanks to extra, fit-enhancing stitching you wouldn't typically find on cheaper plus-size blouses. The denim is thick and sturdy and boasts a durable stretch that will retain its shape even after several washes and the inevitable "chub rub."
One of my biggest gripes about plus-size trousers (aside from camel toe and the mom-jean effect): side seams that zigzag up my leg — the inadvertent result of spandex struggling to contain a sizable thigh or calf. How's this for clever: DKNY Jeans moved those side seams forward, a subtle trick that yields a super-slimming straight leg line.
"We won't sacrifice a sexy, fashionable fit for anything," promises Penelope Chan-Jansens, VP of design for the new plus-size line, which is crammed with the same on-trend pieces you'd find on DKNY Jeans' so-called straight-size racks. For fall, that means military-inspired looks. Seriously, could anything be cooler this season than an army-green shirtdress paired with boots? Also worth checking out: a cuffed khaki pant that you'll literally live in all weekend. A particular favorite of mine is a killer sequined T-shirt, available in both black and blue. These are my mainstays — versatile, well-made, affordable pieces that help me transition effortlessly from a daylong photo shoot to a chic industry cocktail party.
Now it's your turn: What brands would you most like to see translated for the plus-size market? Shout it out at marieclaire.com/ashley. Until next time!
NEXT MONTH
Stripes, belts, and other big-girl fashion myths.