Fur Real: The New Trend in Cruelty-Free Furs
Jostling for space with fall's runway faves, like tie-dyed mink and lavender fox chubbies, are a brave new species of sustainable furs.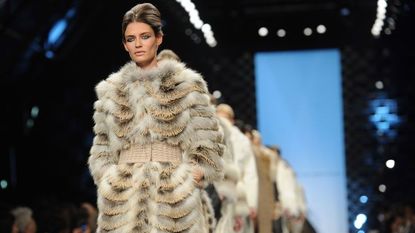 (Image credit: Tullio M. Puglia/Getty Images)
Marie Claire Newsletter
Celebrity news, beauty, fashion advice, and fascinating features, delivered straight to your inbox!
Thank you for signing up to Marie Claire. You will receive a verification email shortly.
There was a problem. Please refresh the page and try again.
Maybe the furry pink rabbit's-foot charm dangling from his fall 2011 chrome clutch is Alexander Wang's way of ensuring his It boy status — and luck — holds out. Only 9 years old when Christy Turlington posed nude for the iconic 1993 PETA ad, "I'd Rather Go Naked Than Wear Fur," Wang is one of a handful of hipster designers, like Prabal Gurung and Altuzarra, who view fur as nothing but fun. We're talking tie-dyed mink car coats and raccoon-trimmed glam-grunge parkas. "The young guys want to establish themselves in the big leagues, and fur takes them to a whole other level," says Harriet Mays Powell, editor of the website The Look Now. "This isn't for Greenwich matrons; fur is very zeitgeist-y right now, all about 20- and 30-somethings starting to really dress up. For them, nothing's cooler than a textured suit with a bright-green fox collar."
Like it or not, fur is hot. Global retail sales were up more than 5 percent last year, to just over $14 billion. With style icons like Rihanna, Kate Moss, and the Olsens regularly photographed fur-clad, its cushy place in our culture seems secure. During recessions and wartime, we tend to emulate stars who embody our escapist fantasies — to feel that we too are sexy, rich, and, as Roberto Cavalli once noted, "tigers at heart." But what's really wild is that for the first time, women aren't blindly following designers' or celebrities' leads: We're asking tough questions about luxury items, looking for alternatives to living the dream. The generation that demanded Diet Coke without caffeine and bronzed skin minus the burn asks, "Why not glamour without the guilt?"
When President Obama signed into law The Truth in Fur Labeling Act last spring, a lot of people in the industry got nervous. Now every piece of fur must clearly state the species of the animal and its country of origin. Behemoth brands like Burberry have already announced their compliance on their websites, spelling out their refusal to use hides produced using the unacceptable treatment of animals. The good news: Consumers conflicted about fur can be armed with information before buying.
"Fur is a natural, renewable, and sustainable resource," claims the Fur Council of Canada, which further states that thanks to new trapping regulations, there are now as many beavers, muskrats, raccoons, coyotes, and foxes as there were when the Europeans first arrived on the continent. Closer to home, Oscar de la Renta and J. Mendel have used nutria in recent collections; this overpopulated mink-like rodent has been responsible for devastating thousands of acres of Gulf Coast wetlands. There are those, like Carla Bruni, who say they're fine wearing the pelts of animals that provide food. And while Karl Lagerfeld famously sniffed, "In a meat-eating world, wearing leather for shoes and clothes and even handbags, the discussion of fur is childish," he also delighted fans by filling Chanel's fall 2010 collection with relatively affordable "fantasy faux" jackets, coats, and boots.
If the real thing still makes you uncomfortable, there are increasingly cool, "serious" fashion options. Reliably adept at reading the fashion entrails to predict what women want each season, Miuccia Prada puts her typically mad spin on '60s mod with kooky-girl dresses with shaggy chic faux-fur trim and oversize buttons. The look is offbeat but clearly in tune with the news that, no, the recession isn't over, and yes, fake can look fierce. And let's not forget last spring's other genius Prada move: designing mufflers in both real and artificial versions — giving shoppers both an ethical and affordable option.
The vintage-fur vogue has picked up steam during the recession. Its growing fan base includes fashionistas on a budget and devout green girls who recycle Great-Aunt Charlotte's chinchilla. Shareen Mitchell, who owns Shareen Vintage in L.A., believes it's a steal: "I can sell an '80s silver fox for $75, where it might be $4,000 new. I remove the shoulder pads, lop off the sleeves and, voil, my clients have got a slick vest." Fifties-era mink stoles, she notes, are belted to create the trendy short caplet. "I get a lot of women who are ambivalent about embracing the glamour of fur but think that at least they're not supporting the current fur industry," adds Mitchell.
As long as the fur keeps flying down runways and into stores, it seems essential to arm yourself with a buyer-beware attitude, education, and tolerance. It may be tempting to shoot paintballs at those whose sartorial choice is not yours, but remember, there's truth in the old joke, "People are more violently opposed to fur than leather because it's safer to harass rich women than motorcycle gangs." But if your fashion motto is "It's a free country and I wear whatever the hell fur I want," you might consider accessorizing with Alexander Wang's mink-wrapped sunglasses, so no one recognizes you.
Celebrity news, beauty, fashion advice, and fascinating features, delivered straight to your inbox!