Roberto Cavalli: Traveling Man
With his newly recharged Just Cavalli collection, the fashion icon proves that there's nothing like a change in scenery to shake up your look and outlook on life.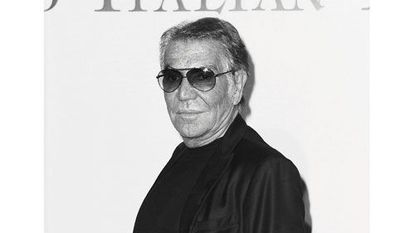 (Image credit: Archives)
Always tanned, rarely seen without sunglasses or heard without a smoker's rasp, Roberto Cavalli doesn't seem like someone burdened with existential concerns. Over the past 40 years, he's built an unparalleled, sex-infused universe of whipstitched leather pants and plunging necklines more suited to an after-party than an ashram. But sitting in his Parisian flagship, the 70-year-old designer is contemplative about his life as a fashion rock star. "I don't think it's enough," he says, before erupting into a belly laugh. "I'm sorry. Maybe I think too much."
Lately, the Florentine has been searching for meaning — and inspiration — in some of the earth's least glamorous places. Between collections, he spent a month aboard an icebreaker in Antarctica, slept in a clay hut in Papua New Guinea, and hobnobbed with goatherds in a remote region of Colombia. Movies and television don't interest him at the moment. "I learn much more by traveling by myself," he says.
Cavalli's personal quest is evident in his latest resort collection for Just Cavalli, his line for younger women who have actual jobs. More hands-on than ever in the design process, Cavalli referenced a photograph he took of sand dunes to create wave-printed stretch-cotton jeans. Camel and white strips on an ethereal caftan suggest clouds on a desert horizon.
There are signature Cavalli pieces, too: Cotton skirts in leopard and mixed jungle prints are matched with prim cotton-poplin blouses in white, black, and baby pink. But he styles most of the shirts buttoned up to the neck, acknowledging that even the Just Cavalli girl can't always flaunt her cleavage at the office. It's a new blend for the brand — a soul-searching sex appeal — that reflects the creator's current lifestyle.
That's not to say that Cavalli is giving up on VIP lounges or nightclubs anytime soon. He's still energized by youth culture. But after the fall fashion shows, he's planning a trip to Bhutan and Tibet. "Maybe I am looking for the reason why I exist," he says, laughing. We'll take the philosophy, as long as he keeps creating the clothes.
Celebrity news, beauty, fashion advice, and fascinating features, delivered straight to your inbox!