Runway-Inspired Summer Style Trends
Just because the mercury spikes doesn't mean your style can take a vacation. Keep your fashion sense on high-alert during the hottest months with these cool ideas.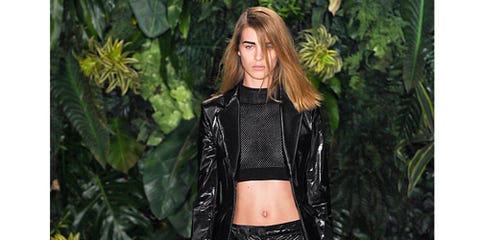 Just because the mercury spikes doesn't mean your style can take a vacation. Keep your fashion sense on high-alert during the hottest months with these cool ideas.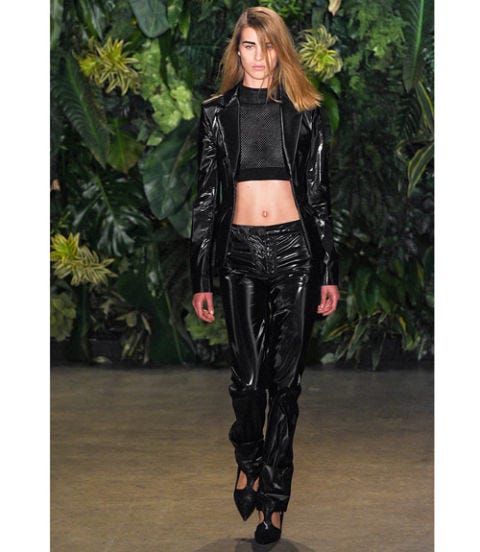 Crop Tops
Altuzarra
Ladies, get your abs in order. This summer, the long-ignored fad of cropped tops is back. If you aren't comfortable going all out, Joseph Altuzarra tames the midriff-baring look by pairing it with a jacket.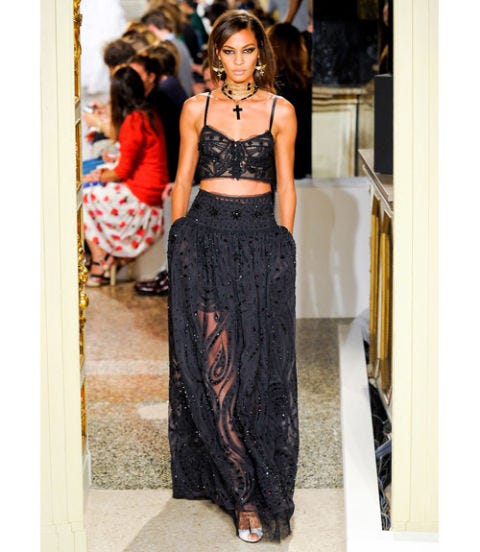 Crop Tops
Pucci
The cropped tops aren't just for the casual set. They're now becoming an evening gown staple, as is the case with this sexy, lingerie-inspired two-piece Pucci number, perfect for a night out.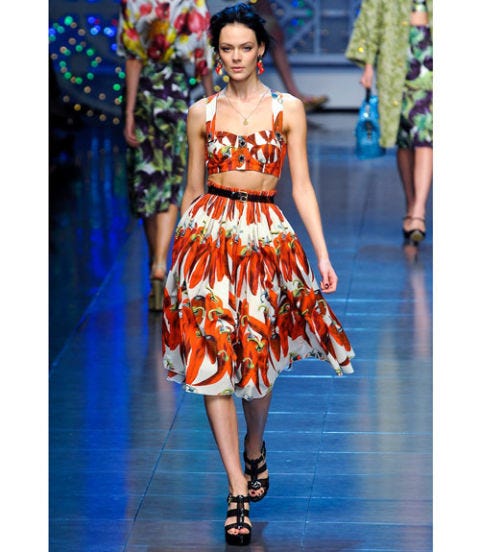 Crop Tops
Dolce & Gabbana
As this trend is not likely one to last season after season, have fun with it while you can. Take a cue from Dolce and Gabbana who add spice to their crop top and matching skirt with red hot chili peppers.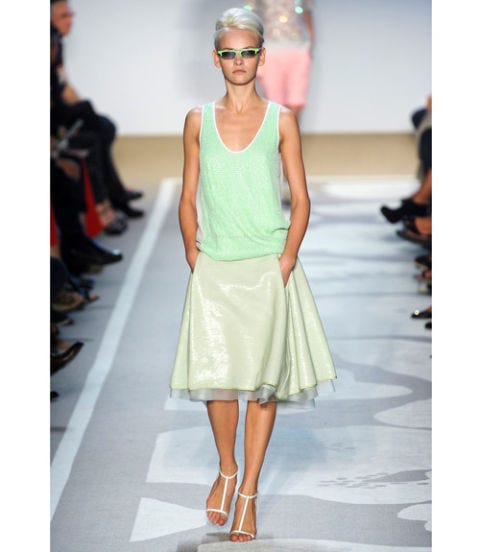 Mint
Diane von Furstenberg
Pastels were all over the spring runways, but there's one hue that's emerging as the perfect antidote to a hot summer day: cool mint green. Here, Diane von Furstenberg puts her usual ladylike spin on the color.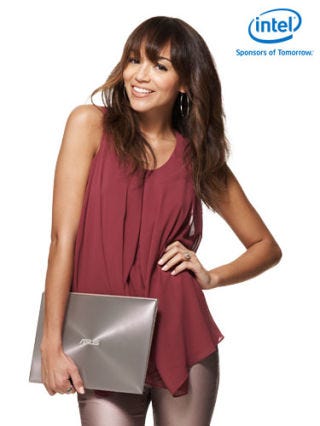 SPONSORED: Intel Ultrabook™
The Intel-Inspired Ultrabook™ Presents Fall's New Reds. Now you don't have to sacrifice beauty for power. Introducing the ultra-sleek, ultra-responsive Ultrabook™, inspired by Intel. Revenge actress and Ring My Bell blogger Ashley Madekwe knows the only thing moving faster than fashion is technology—and that devices instantly drive the conversation about fall's must-have burgundies and plums.

Plums and burgundies are the new red," notes Ashley, working metallic leather skinny jeans with a sheer wine-colored top that goes anywhere. Sounds kind of like her Ultrabook™. Less than an inch thick, the lightweight, highly portable device "goes in my purse, the pocket in my chair on-set—anywhere."Enter here for a chance to win an Intel-inspired Ultrabook and a $500 shopping spree!
Mint
Jill Stuart
If this one-tone ensemble is any indication, you'll be seeing a lot of seafoam — a particularly fresh alternative to fall's white trend — this summer.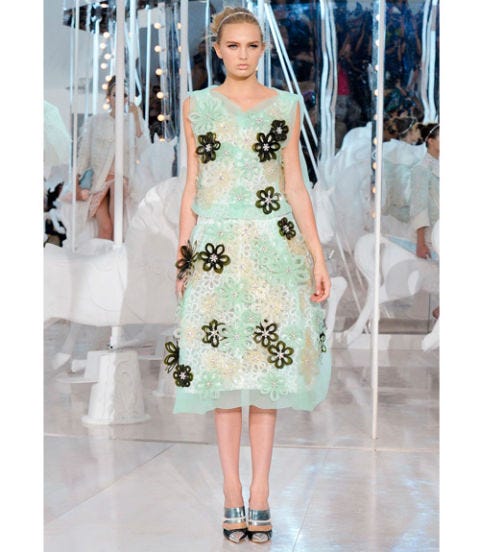 Mint
Louis Vuitton
Talk about mint condition! Louis Vuitton was all about playful pastels in the runway collection that gave us this adorably youthful frock with black, white, and mint green floral decals.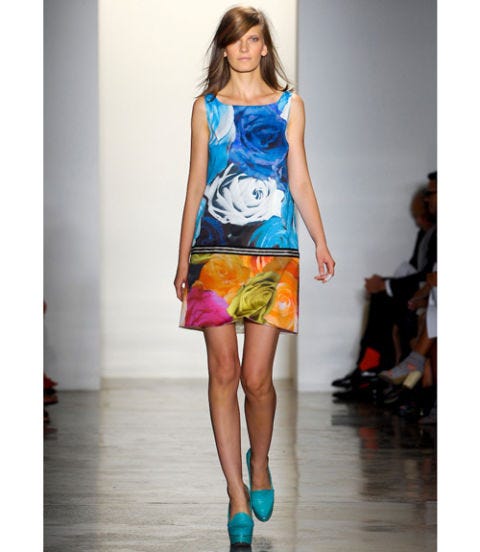 Floral
Peter Som
For those wanting an ultra-feminine look, floral is a trend that can't be topped. Peter Som infuses his oversized roses with neon color-blocking for an edgier look.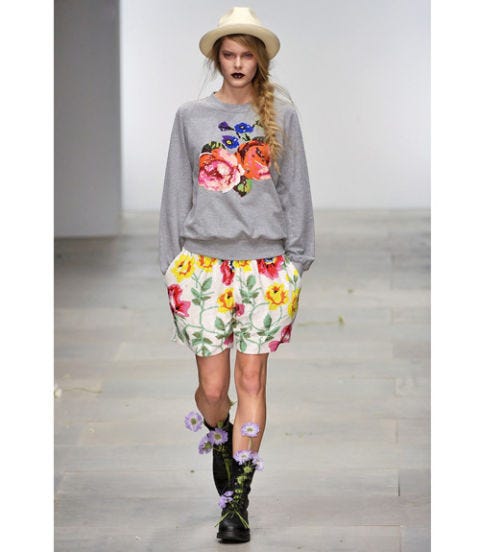 Floral
Ashish
Sure, adding literal flowers to your boot straps is one way to sport the trend, but we're just as partial to this comfy gray sweatshirt and sequined shorts floral combo.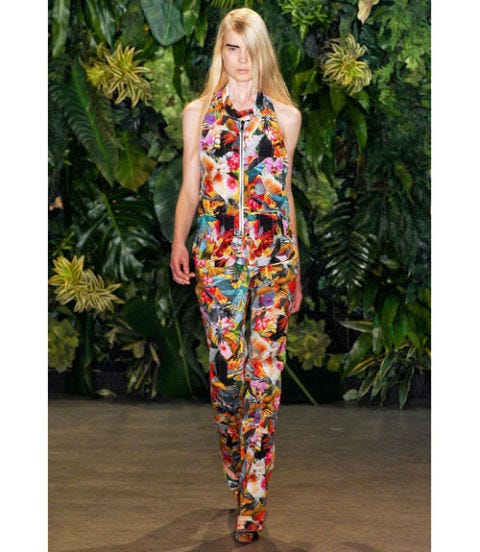 Floral
Altuzarra
Less quiet patch of tulips and more loud jungle of exotic wildlife, Joseph Altuzarra's popular print from his latest collection is a vibrant take on the trend that will make quite a summer statement.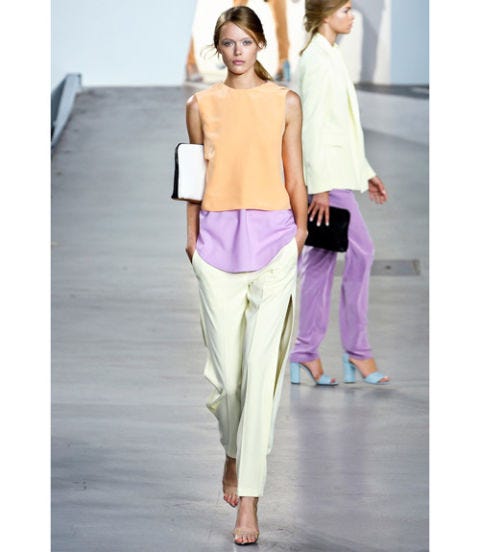 Sherbet
3.1 Phillip Lim
If mint is the color of summer, sherbet is the flavor. Phillip Lim's delectable mix of shades looks good enough to eat and light enough to combat summer's most sweltering days.
Sherbet
Tibi
Proving just how effortless this cool trend can be, Amy Smilovic's slouchy peach sorbet jacket and shorts pop against the plainest of plain white tees.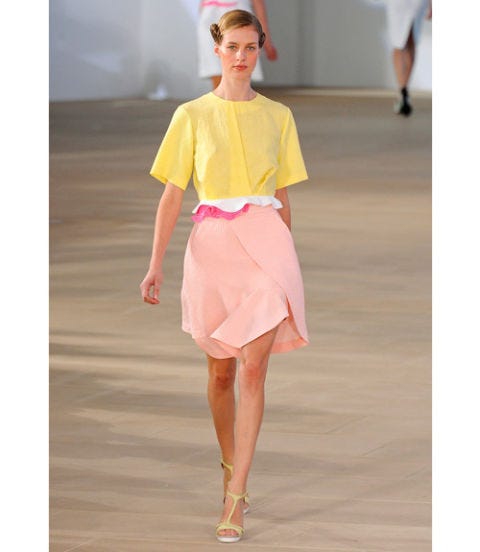 Sherbet
Preen
From lemon meringue to sugar pink, designers Justin Thornton and Thea Bregazzi prove that this summer will most definitely be sweet.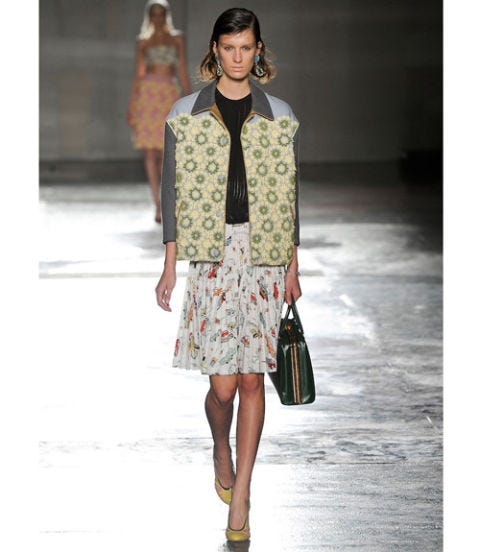 Print Party
Prada
When it comes to the latest trend in mixing and matching, no one does it quite like Miuccia Prada. From the black leather top and crocheted jacket to the pleated skirt — complete with an automotive-inspired pattern — it was a meshing masterpiece.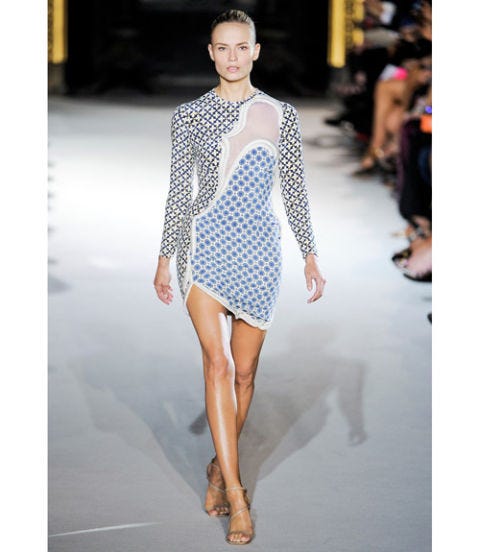 Print Party
Stella McCartney
Mixing prints can be an intimidating trend to try during the carefree days of summer, but Stella McCartney makes it easy with this ying-ying body-con dress.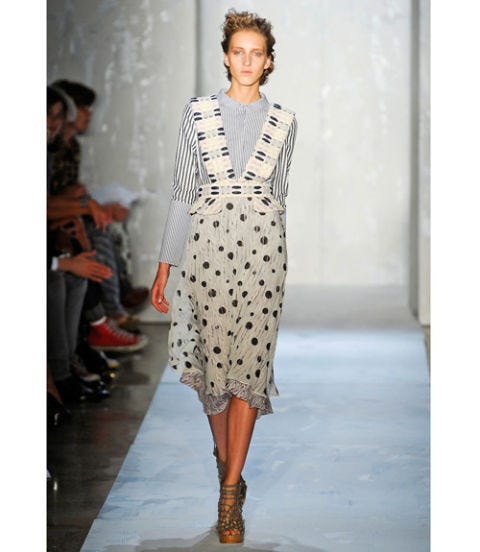 Print Party
Suno
The careful study of prints has been the forte of designers Erin Beatty and Max Osterweis since their start, and this juxtaposition of painterly polka dots and graphic plaids won't be impossible to reinvent with your own wardrobe this summer.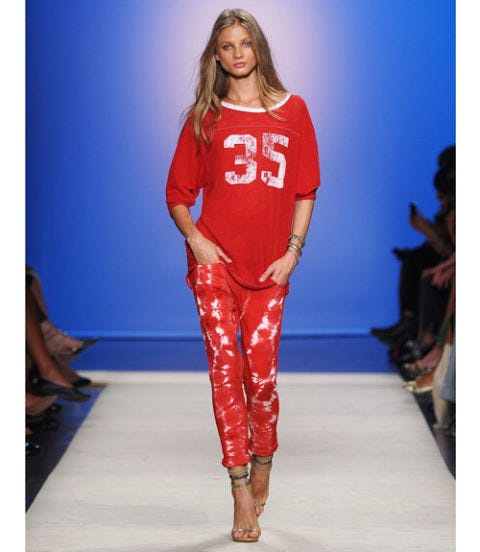 Sporty
Isabel Marant
There's a lot to love about the athletic chic look that was all over the spring runways, and Isabel Marant's jersey-inspired look is just as suitable for a lazy afternoon in front of the TV as it is for venturing in the great outdoors.
Sporty
Alexander Wang
All of Alexander Wang's collections have a strong urban inclination infused into every thread, but this electrifying look has a brightness that is the perfect refreshment on a hot day.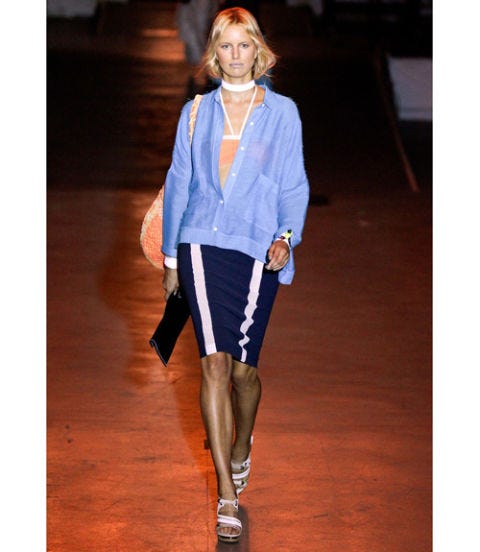 Sporty
Rag & Bone
Wish you could take the sporty trend to and from the office? David Neville and Marcus Wainwright make it clear how it's done with this buttoned-down layered look.
This content is created and maintained by a third party, and imported onto this page to help users provide their email addresses. You may be able to find more information about this and similar content at piano.io