Plus Size Fall Fashion Trends
Our Big Girl in a Skinny World superstar, Nicolette Mason, is at it again as she guides us how to best amp up your wardrobe for fall. Think which colors work best for our body, which decade to throw back to, and much, much more!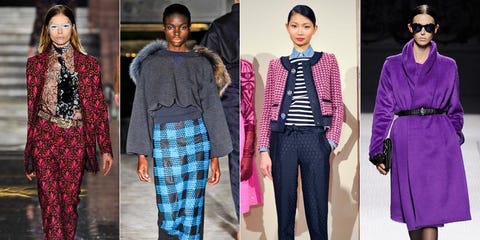 Our Big Girl in a Skinny World superstar, Nicolette Mason, is at it again as she guides us how to best amp up your wardrobe for fall. Think which colors work best for our body, which decade to throw back to, and much, much more!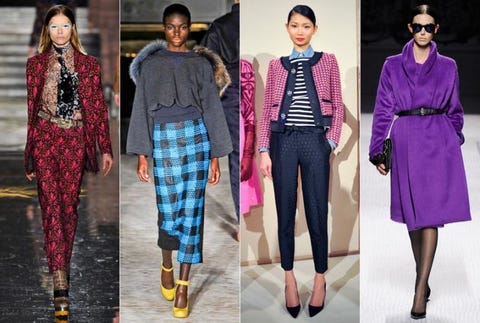 Plus Size Fall Fashion Trends
Regardless of their size, many fashion-minded women look to trends to help guide their fashion and style choices from one season to the next. But then, in the world of big girl dressing, plus-sizes trends tend to lag a bit behind the times. Fortunately, this seasons trends are not only accessible (and will be recycling some mainstays from this past spring and last year's fall,) but translate flawlessly onto all types of bodies — not just runway waifs! Click through for nine of our favorite AW12 styles.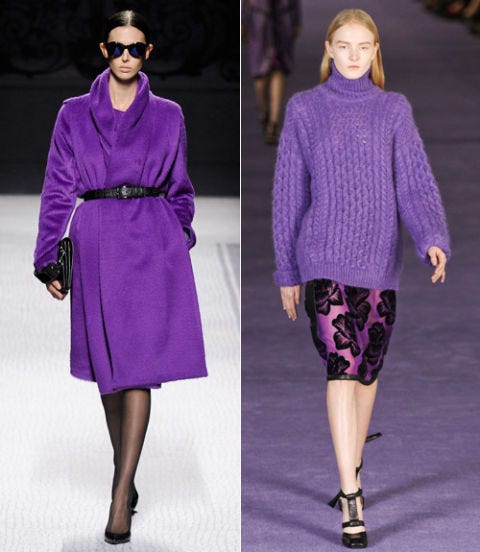 Purple Haze
Jewel tones like ruby, sapphire, and emerald can always be expected in fall and winter — especially as the holidays approach, but 2012 welcomes the addition of amethyst. Moody mauves are as essential as last seasons tangerine, and look flawless paired with cool-toned neutrals. It's easy to stick with classic silhouettes when sporting bold colors, and the old adage of all black being the most flattering can go up in smoke with head-turning purples in play!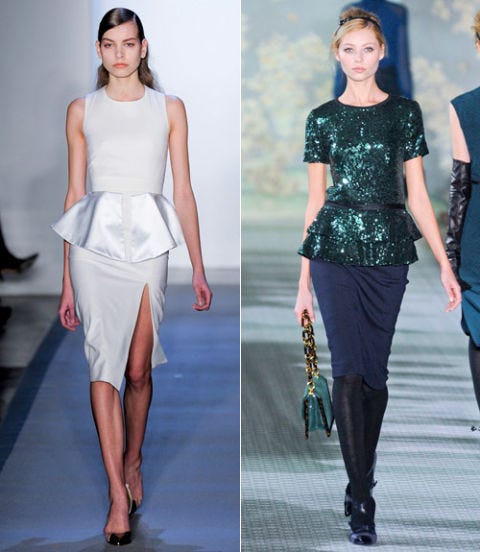 Peplum Perfection
A favorite of spring and summer, peplums — the delightful ruffle added to a garment—have been a sartorial mainstay for two seasons in a row, making this trend a thing to conquer now. Peplums tend to intimidate fashion hopefuls with the worry that they'll add volume to their silhouettes, but the truth is that a well-placed peplum creates an va-va-voom hourglass, and, well, I'm all about a shape that celebrates curves.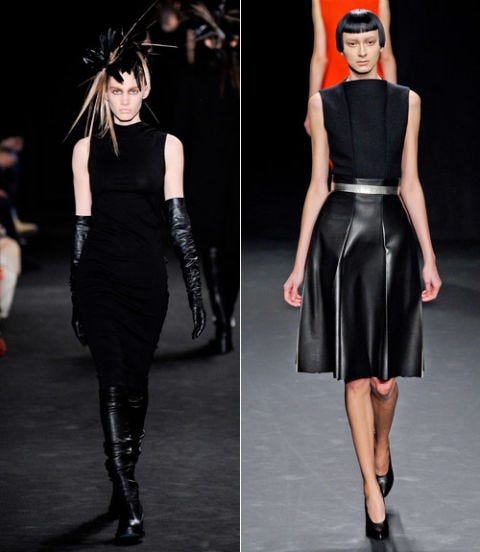 Leather
Perhaps the popularity of 50 Shades of Grey or The Girl With the Dragon Tattoo is in part responsible for leather becoming as pervasive as the pop culture phenomenons themselves, but leather looks are everywhere — from the catwalk to the mall. This seasons leather is ultra chic in monochrome; pair a leather pencil skirt with a textured sweater in a similar color, or layer a detachable leather collar over a sheer collared blouse of the same color. Other key pieces to look for are full leather skirts and leather paneled pants or leggings!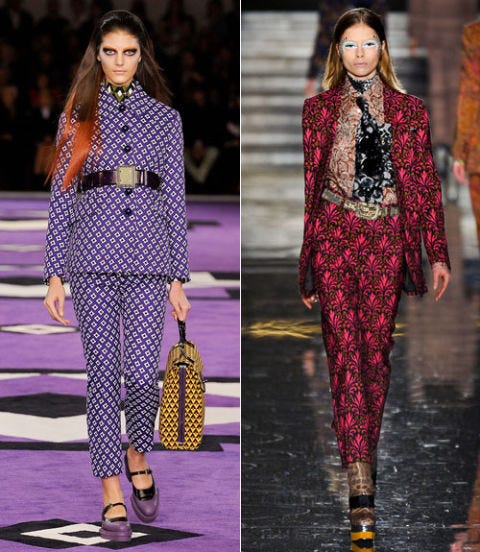 Seventies Revival
Head-to-toe prints can be daunting, especially for print-phobic curvy girls like myself, but the way to make this 1970's spin a yes is to pick a bold, patterned piece and pair with the classics. Choose an all-over printed trouser and pair with a simple white tee for a chic, statement. So many women insist that patterned pants will only attract negative attention to their bum, but in fact, a well-proportioned pattern is sure to elicit praise!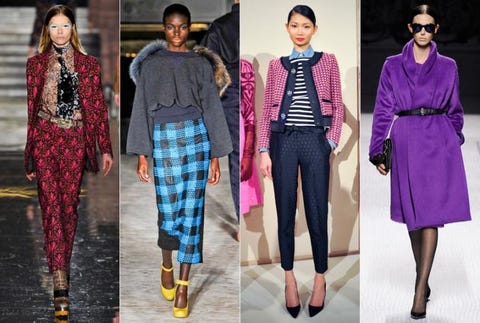 Ladylike
Ladylike is a trend that is more of a non-trend, in that it is such a classic that it seems like every reiteration of the iconic Jackie O style is always on point. Another reason it's a favorite? It looks flawlessly current on every body shape, and universality of trends is something that always has me clutching for my pearls! Tweed jackets are a definite "buy it now," and this is also a trend that is worth investing into in the accessories department; structured bags are instant classics.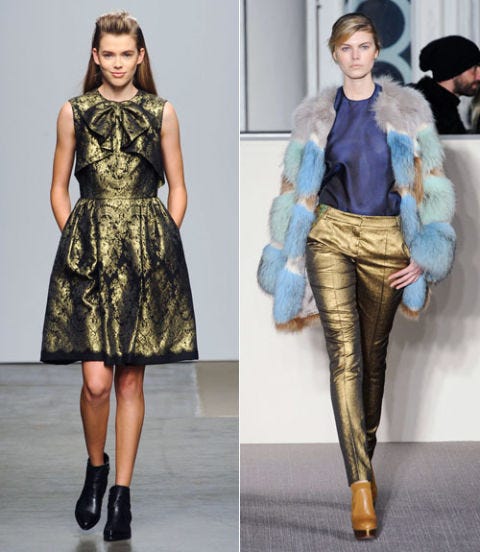 Metallic
From gold-flecked brocade styles that scream "czarina" to completely rock 'n' roll glittering trousers, metallics have taken it to the next level — and beyond the requisite metallic accents typically seen in accessories. My favorite way to wear this trend? Swap your favorite colorful skinny jeans from spring and summer out for a metallic pair. Skinny jeans are a major curvy girl staple, giving great shape — especially when paired with a flowy, tunic-length top. Once the holidays roll around, consider an all-metallic brocade dress.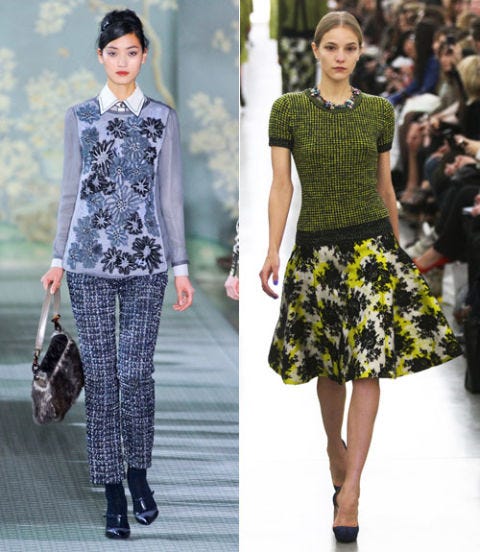 Floral
Floral motifs are usually a given for spring — but fall flora is somewhat unexpected. The darker interpretations of floral for the fall and winter, alongside bright neon versions, are equal parts feminine and edgy — with a drool-worthy color palette, to boot. Rather than wearing an all-over pattern, pops of florals (like a great floral top or full skirt) add an element of surprise — and the bright colors on offer are a great complement to autumnal neutrals. Just try to be mindful of the size of the pattern — the print should not be so large that it swallows you!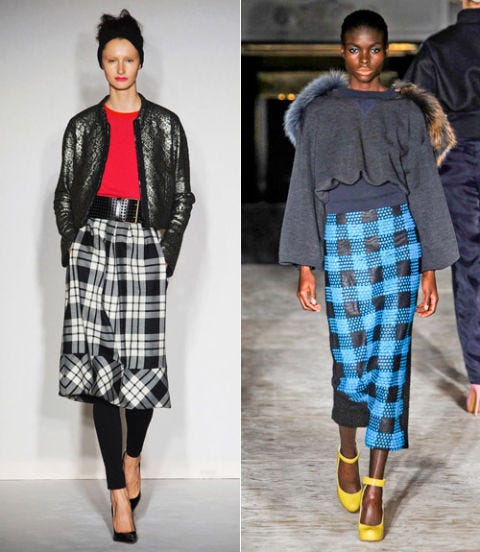 Checkmate
Nineties revival is all around us — and if fashion is any indication, Steven Meisel's famous grunge shoot that graced the pages of Vogue nearly 20 years ago are au courant once again. Plaid on plaid may scream fashion don't, but this season — it's a major fashion do. Bold check patterns are the perfect statement piece; opt for an oversized check print on a jacket or overcoat for a 2012's iteration of tartan.
This content is created and maintained by a third party, and imported onto this page to help users provide their email addresses. You may be able to find more information about this and similar content at piano.io