Editors' Picks: Favorite Looks from New York Spring 2013 Fashion Week
Our fashion team has selected the most awe-inspiring fashion statements to hit the runway this season.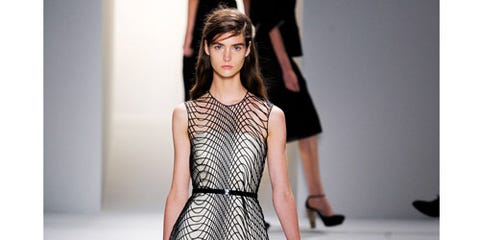 Each day of Spring 2013 Fashion Week, dozens of designers showcase dozens of models wearing dozens of amazing new looks. So how do you keep track? With the help of our fashion team, who has selected the most awe-inspiring fashion statements to hit the runway.For more fashion week coverage, visit our all-access pass to Spring 2013 Fashion Week!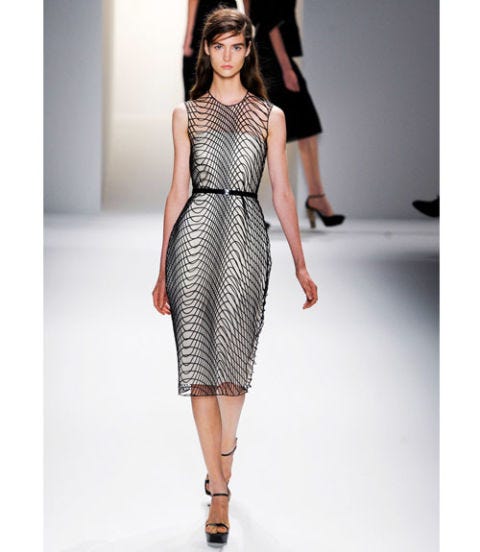 Calvin Klein
Soundwaves seem to dance across this trippy yet classy frock masterfully executed by Francisco Costa for Calvin Klein.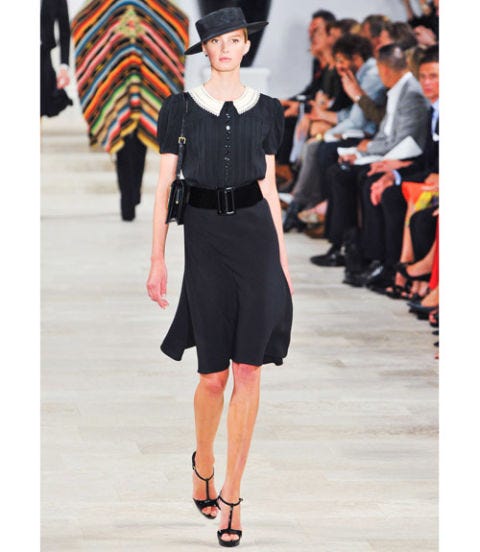 Ralph Lauren
This look is understated, classic, timeless — everything we've come to expect and adore from Ralph Lauren.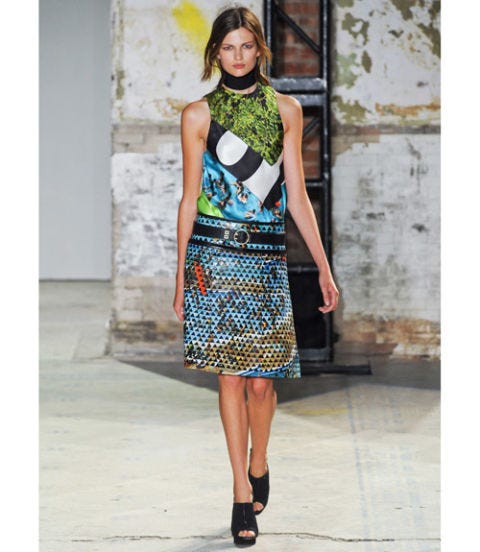 Proenza Schouler
Another pool print (see Michael Kors)! Can you imagine having your image immortalized in a Proenza Schouler dress? It would be so awesome until you realized you're in a bikini. Shudder. Nevertheless this dress makes a huge splash.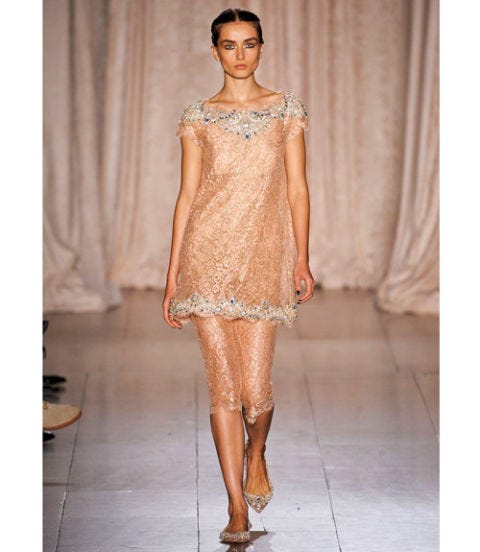 Marchesa
Pants are a rare sight on the Marchesa runway. This look is giving us Megan Draper out with her beatnik friends — edgy yet still feminine.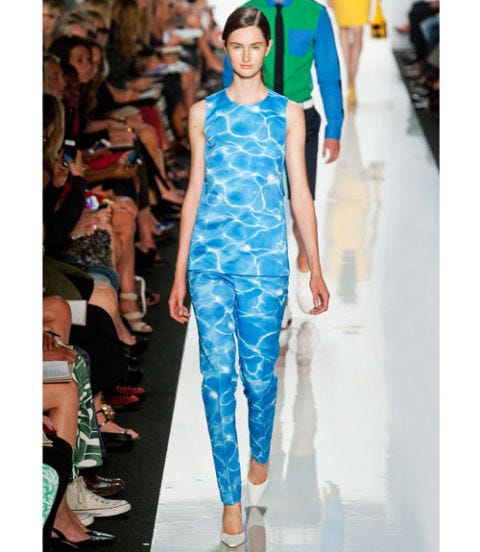 Michael Kors
Go ahead and take a dip in Michael Kors pool prints — the water is mighty fine.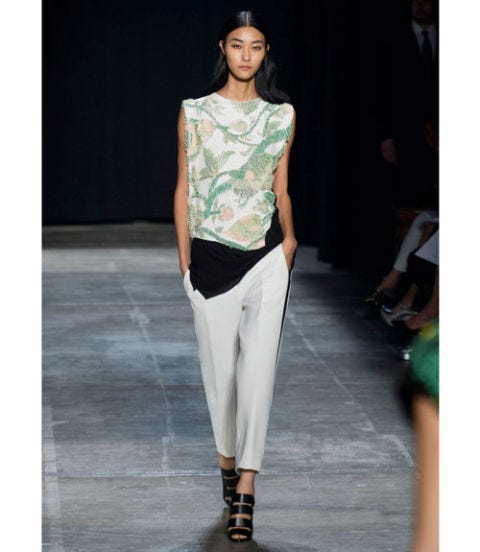 Narciso Rodriguez
In one of his strongest collections, Narciso Rodriguez tows the line between casual and fancy with this embellished top and track-suit-inspired cropped pants.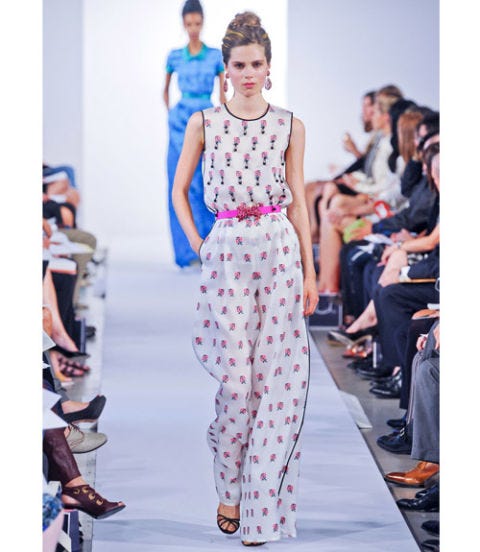 Oscar de la Renta
Oscar de la Renta sets the trend in motion: Wide-legged jumpsuits are the new gowns. Embellishment is not optional — must be all-over.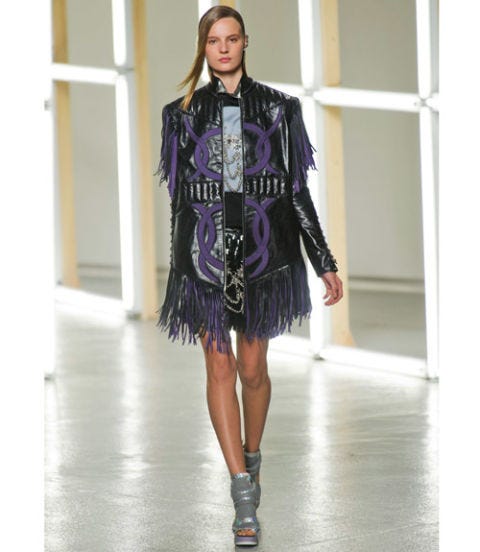 Rodarte
With Rodarte's Mulleavy sisters referencing magical medieval fantasies for spring, perhaps LARPing enthusiasts can finally catch a break. With this fringed vest, even the most avid D&D player would fit in with the cool kids.
J. Crew
London can keep its Liberty prints, we've got J. Crew bringing the floral goodness season after season. The longer length of this jacket is also a secret slimming weapon.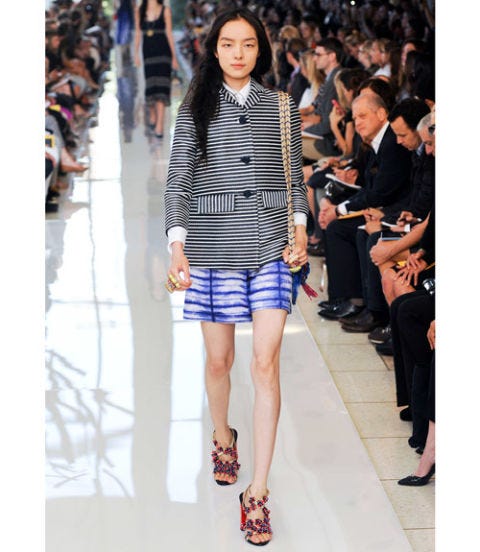 Tory Burch
Tory Burch's tie-dye shorts remind us of summer camp' which is always a good thing. Can't wait to revisit the arts-and-crafts staple as grown-ups.
Marc Jacobs
Remember the Magic Eye craze? Marc Jacobs plays tricks on us with sequin patterns that from far away read as houndstooth, but up close recall the tiles of a bathroom floor. Graphic goodness.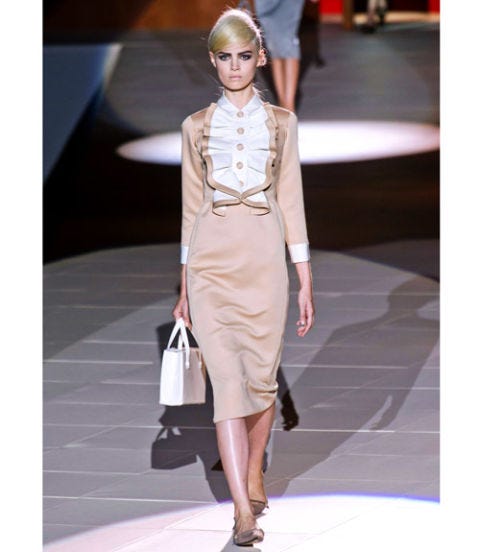 Marc Jacobs
Don't let the ruffle front fool you. This dress is all business.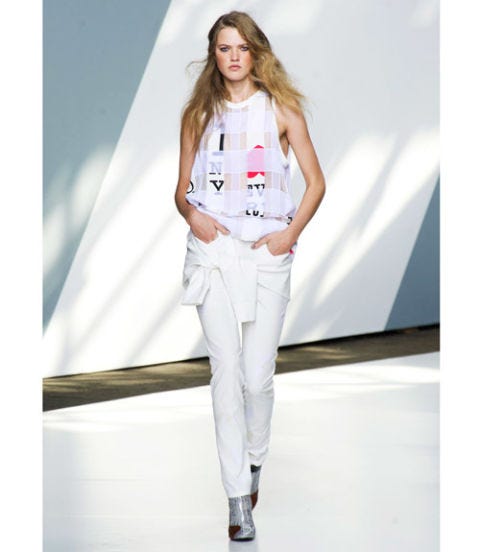 3.1 Phillip Lim
Dear Phillip Lim, please take the entirety of our T-shirt drawer and reconstruct them into artful, sheer masterpieces. Thank you.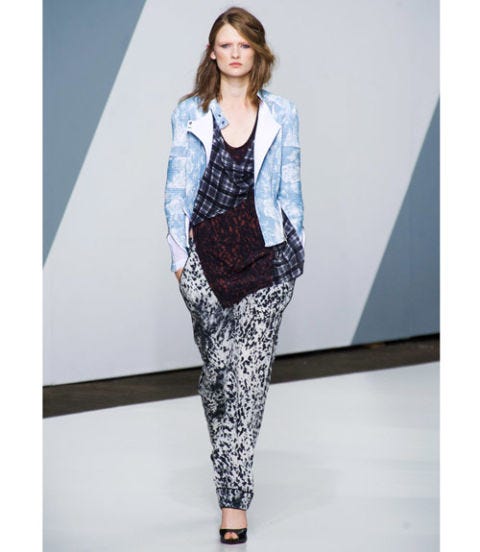 3.1 Phillip Lim
What the characters in Singles might wear now: Phillip Lim takes all the benchmarks of '90s grunge — biker jackets, plaid, baggy fits — and grounds them in the now.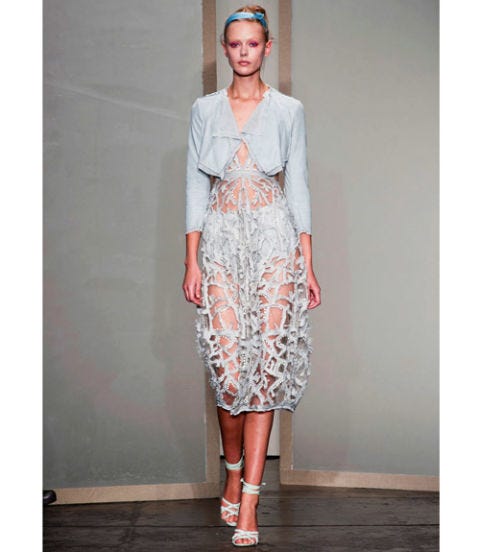 Donna Karan
This dress gives the illusion of rivers banked by pearls dancing across the body. Donna Karan maps out a muted glamour plan for spring.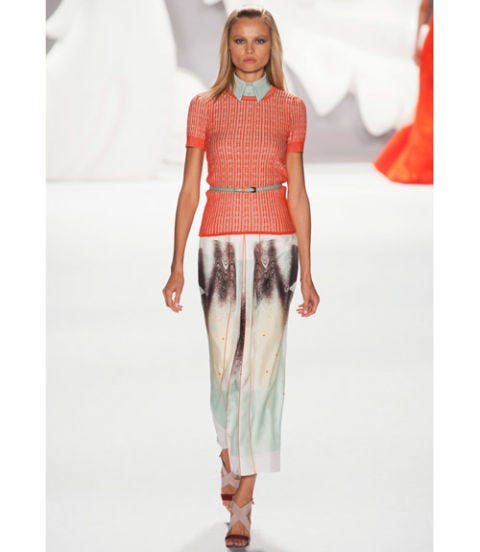 Carolina Herrera
We're seeing a lot of oxford collars on the runway — they are to spring what turtlenecks are to Fall 2012. We love how improbable these pieces might seem together when hung separately, and how they defy expectations by working so beautifully.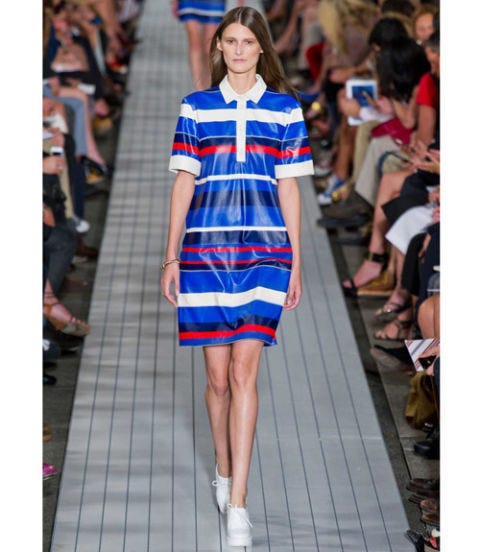 Tommy Hilfiger
If we could have it our way, everyday would be the Fourth of July. Oh yeah, and Tommy Hilfiger would be our official outfitter. The man does Americana like no other.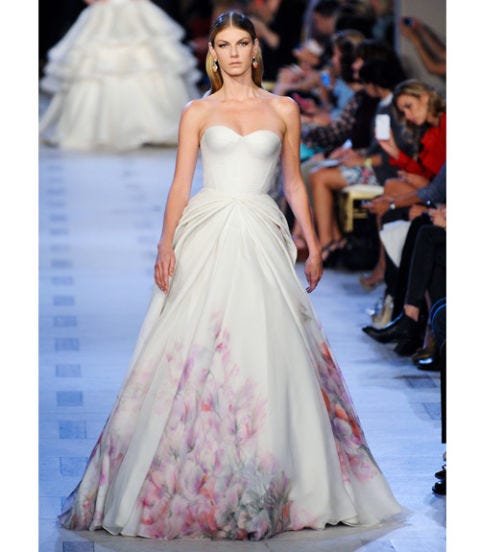 Zac Posen
It's too bad Will and Kate are already hitched because this dress belongs on nothing short of a princess bride. (No bouquet necessary — the print is floral arrangement enough.)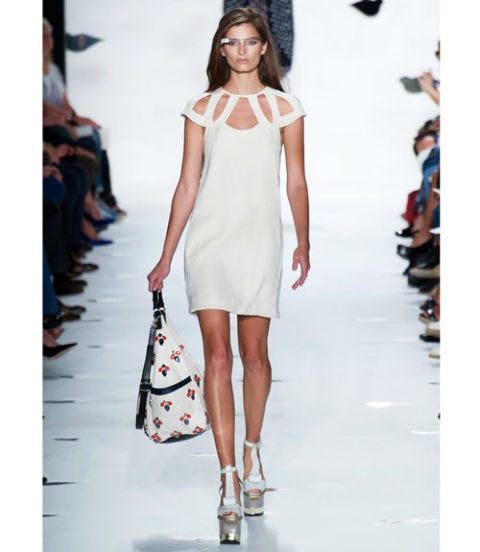 Diane von Furstenberg
According to DVF, Google glasses are the must-have accessory for fall (she even wore a pair for her finale walk). We're not so sure… This leather beetle crystal embellished hobo bag is some pretty steep competition. It makes a simple summer dress so much more fun.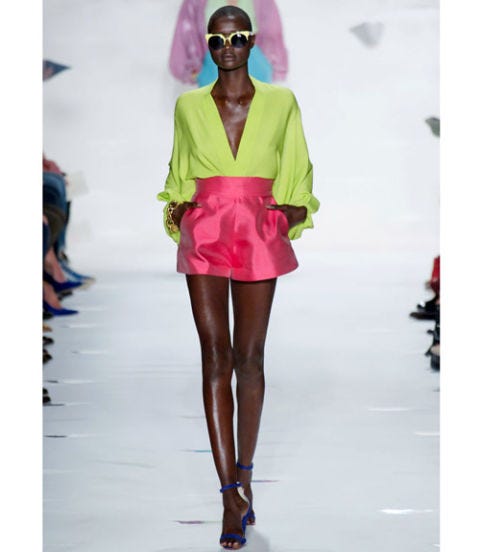 Diane von Furstenberg
We suddenly have a craving for Starburst. DVF's colors for spring are so strong you can almost taste the fruit flavor.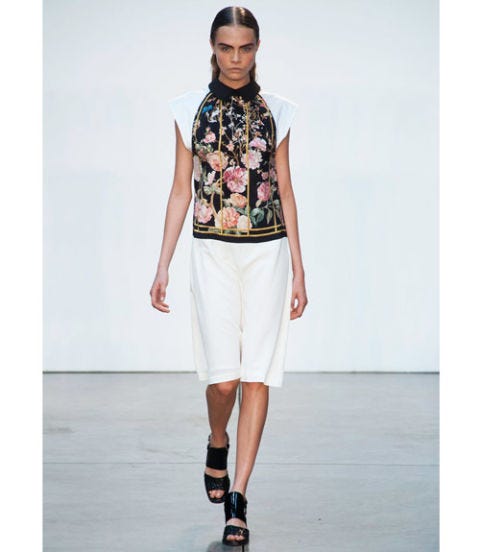 Thakoon
The only thing that would make this look better is if it came with the constant accompaniment of Arcade Fire's "My Body is a Cage." Thakoon Panichgul has the lockdown on fanciful, cool-girl attire.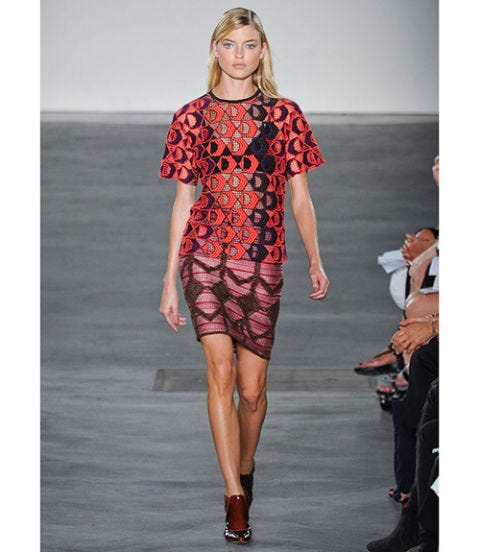 Derek Lam
We're not mad at what may or may not be a "D" logo on Derek Lam's guipure lace T-shirt. It's simply too stunning.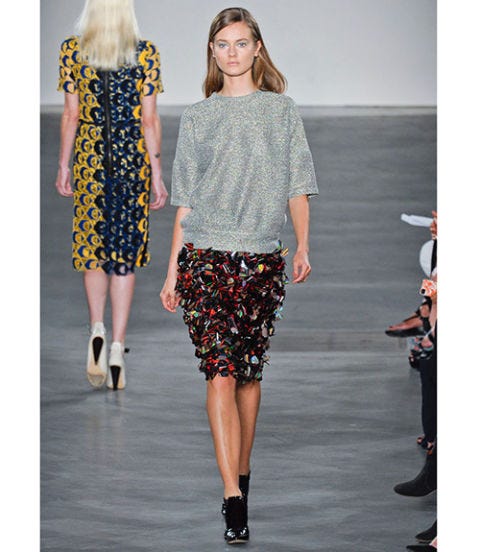 Derek Lam
Okay, so this sweater is lurex (read: sparkly) but we're suddenly seeing our old gray sweatshirts as a party skirt's new best friend.
Victoria Beckham
The wow-factor of Victoria Beckham's dresses is as good as, if not better than, spotting David Beckham and Baby Harper sitting front row. This architectural white number is giving us a Richard Prince "Nurse" vibe.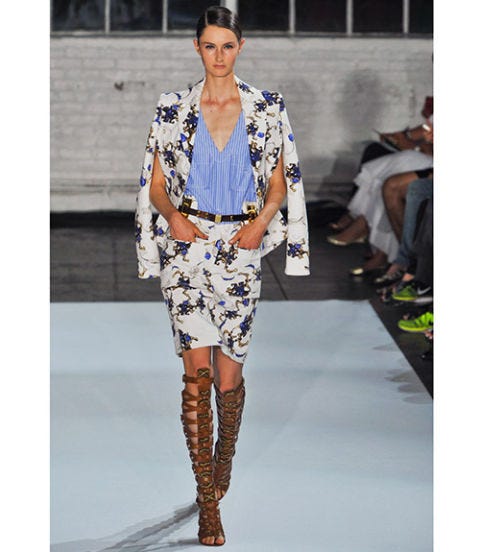 Altuzarra
Joseph Altuzarra reinvents the blazer, always a spring staple, with handy-dandy vents for your arms. Makes sense considering street style stars all rest their jackets on their shoulders anyway. Now they can get the look without the restricted movement.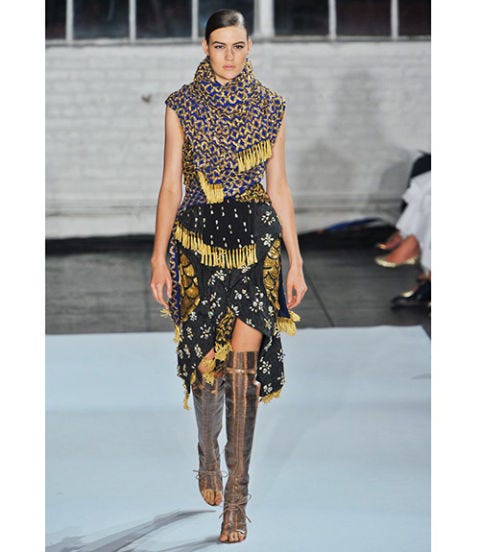 Altuzarra
Altuzarra drives women wild, yet again, with his signature gypsy spin on eveningwear. The silk scarf tassels beg for a night out dancing.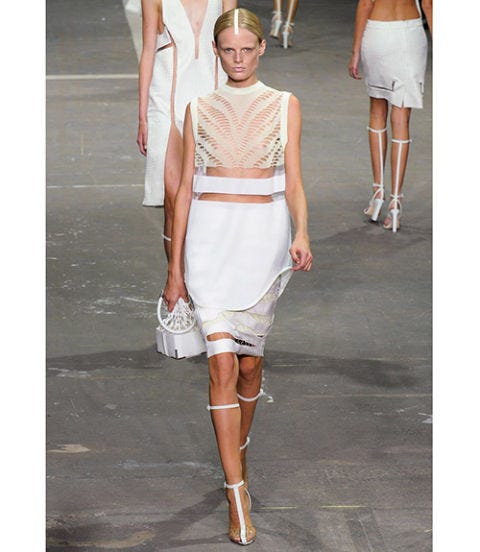 Alexander Wang
Forget embellishments and sparkles, Alexander Wang's all-white peek-a-boo separates are glow-in-the-dark! How's that for impact? Also, the knee-high, sock-guard-style strappy sandals are genius.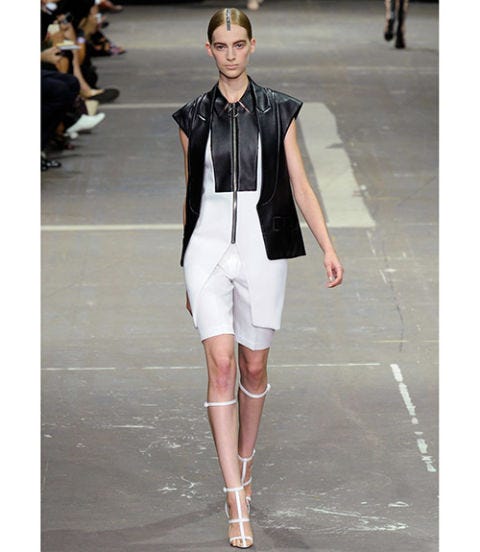 Alexander Wang
Layer me up, Scotty. Alexander Wang pushes suiting into the next dimension.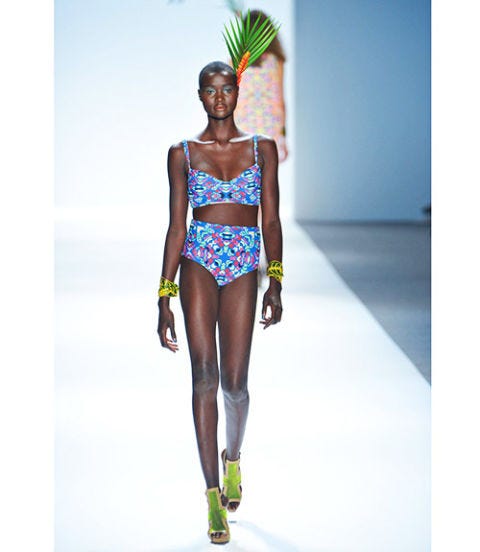 Mara Hoffman
You know that ukelele version of "Somewhere Over the Rainbow?" Of course you do. Mara Hoffman's collection was the embodiment of that song — all tropical Polynesian prints done in kaleidoscopic patterns. Note to self: Accessorize swimwear with palm fronds and waxy leaf cuffs.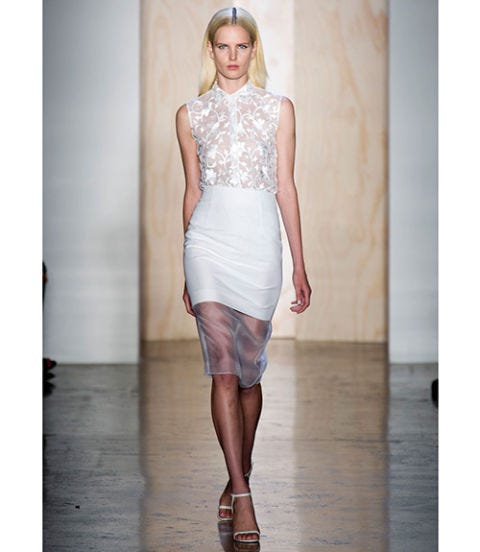 Cushnie et Ochs
This sheer silk-chiffon floral blouse over a sheer-paneled pencil skirt looked fresh, femme, and so light she just might get carried away.
This content is created and maintained by a third party, and imported onto this page to help users provide their email addresses. You may be able to find more information about this and similar content at piano.io