The 10 Best 'Barbie' Halloween Costumes to Dance The Night Away In
Because she's everything.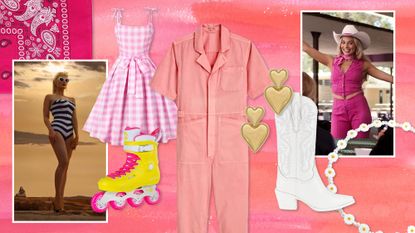 (Image credit: Future)
Greta Gerwig's Barbie movie had us all dashing to the theaters (some of us more than once) like never before, and with Barbiecore hot pink bigger than ever, it's safe to say 2023 is the year of Barbie. So when it comes to Halloween costumes, why not take inspiration from the film that has taken over the box office and our personalities? In fact, we're predicting Barbie will be one of the trendiest, if not the trendiest Halloween costume of the year.
Thankfully, we've got plenty of source material to get inspired before the holiday arrives. There's the sweet-as-can-be Stereotypical Barbie with flowing blonde hair and vintage-esque gingham dress or you can go full disco with Girl's Night Barbie. Or maybe you want to channel your Kenergy and go with Casa Mojo Dojo House Ken and, of course, how could we forget Cowgirl Barbie? Thanks to the incredible costumes of Barbie, there's plenty of options to choose from.
Whether you make it a group costume or go solo, you really can't go wrong with a Barbie-inspired look this Halloween. Ahead, we've pulled the best pieces you need to create a head-to-toe Barbie look. The best part? Most of these finds can be incorporated into your closet, no heavy lifting required.
Stereotypical Barbie
Stereotypical Barbie is everything. We first see Barbie in Barbie Land sliding down from her magical Dreamhouse in an adorable gingham dress, matching pumps, and floral jewelry. For this classic look, think vintage silhouettes, pink plaid, and white accessories you'll want to wear long after Halloween is over.
Rollerblading Barbie
When the first Barbie photos of Margot Robbie and Ryan Gosling came to light, I knew we were in for a treat. Just look at how fun these rollerblading costumes are! If you're wanting to be comfy for Halloween (or just need an excuse to buy your own rollerblades), get your bike shorts and bodysuits ready. And if walking around on wheels doesn't sound like your speed, you can always opt for neon-bright sneakers—just don't forget the knee pads.
Cowgirl Barbie
Barbie's Western look is so fun, it makes me want to ditch my city style and embrace my country roots. I'll admit the hot pink vest and pants combo might be a tad over the top outside of Halloween, especially paired with a cowboy hat and bandana. But as individual pieces, you can get plenty of wear out of this costume any other time of the year.