The 32 Most Iconic Britney Spears Moments
A star from the very beginning.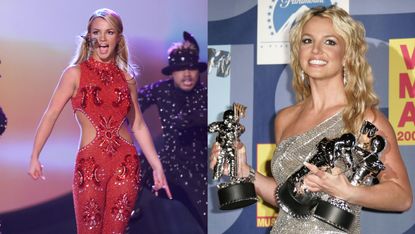 (Image credit: Getty Images)
Britney Spears is an icon, full stop. From her meteoric rise to fame to her dazzling music videos and performances to her best-selling book, she's had a prolific life and career. Much of her life between 2008 and 2023 was controlled via a conservatorship, but thanks to her 2023 memoir The Woman In Me, in which Spears detailed how her life was controlled by people she had mistakenly trusted, we finally know Spears' side of the story.
But any Spears fan—including us at Marie Claire—will tell you that the beloved superstar is much more than her struggles. From her joyful, can't-look-away performance style to her inimitable vocals to her career choices, Spears has proven time and time again to be both timeless and resilient. The fact that her career has spanned so many decades, in spite of what she privately endured, is a testament to that. Below, 32 of the most iconic Britney Spears moments of all time.
Walking the Billboard Awards Red Carpet With Two Dates, 2004
Spears' much-publicized, years-long relationship with Kevin Federline was extremely stressful for the singer, she wrote in The Woman In Me—but when Spears debuted her new relationship and carried an adorable little accessory, their dog Bit Bit, to the 2004 Billboard Music Awards, she looked extremely happy. Innumerable fans have wanted Spears' happiness over the course of her very public life, and they hoped her new relationship would bring that.
Debuting a New Relationship at the VMAs, 2000
Their relationship would go on to be tumultuous (not to mention, Justin Timberlake would use their devastating breakup to develop his personal brand and hurt hers). But there's no denying that the Britney-Justin pairing, with their public debut at the VMAs, made fans terribly excited. The two became the celebrity couple to watch, and fans (not to mention the paparazzi) watched their every move.
Hanging Out with *NSYNC at the 1999 VMAs
At the 1999 VMAs, Britney performed just before *NSYNC—"...Baby One More Time" and "Tearin' Up My Heart," respectively. Both their performances were high-energy; here, she hangs out with them backstage. (If you're curious about the timeline, Spears and Timberlake connected when she became *NSYNC's opening act for the second leg of their concert tour. The two started secretly dating in 1999—so they're either super-close or dating here.)
Double Denim With Justin, 2001
Nowhere has denim been more exciting (and more divisive) than this double on double denim moment between Spears and Timberlake—which might be where Y2K fashion hit its ultimate peak. Spears later admitted that it was her idea. Costume designer Steven Gerstein spoke to Jezebel and explained, "It was kind of like their prom. They had an idea, and we did what they wanted as opposed to the other way around...The rest is history."
The Early Performances, 1990s
In her memoir, Spears says that the early days of her professional life, performing, taking "trips with my dancers [and] acting silly with my girlfriends," were some of the happiest moments of her early life. She explains that she had less scrutiny on her and more ability to be playful and do what she loved (and this early ability to hone her craft and dance moves led to her ability to be a confident, no-holds-barred performer when she ultimately hit stardom).
The Mickey Mouse Club, 1989
Joining fellow stars-to-be including Christina Aguilera, Justin Timberlake, and Ryan Gosling, The Mickey Mouse Club "was boot camp for the entertainment industry: extensive dance rehearsals, singing lessons, acting classes, time in the recording studio, and school in between," she wrote in her memoir. She shared a dressing room with Aguilera; Timberlake kissed her during Truth or Dare. The show "was honestly a kid's dream—unbelievably fun, particularly for a kid like me. But it was also exceptionally hard work."
Making 'Crossroads', 2002
Maligned at the time but now reclaimed as somewhat of a fan favorite, Spears' feature film debut (also starring Kim Cattrall, Dan Ackroyd, and Zoe Saldana) centers around three friends who take a road trip together. If you've forgotten, it's actually a surprisingly serious film centering around teen pregnancy and consent, with Spears playing against type as the introverted Lucy. "I think I started Method acting—only I didn't know how to break out of my character," she wrote later. "I really became this other person. Some people do Method acting, but they're usually aware of the fact that they're doing it. But I didn't have any separation at all."
Making Her Own Perfume, 2000s
Technically, Spears made more than one fragrance. But back in the day, there were fewer clear signs of success than making a cute-smelling scent in an adorable pink bottle for teens to buy (I admit: I bought it and I liked it). Her first fragrance, Curious, was re-introduced to fans and sold as a bundle with her memoir, The Woman in Me, starting in October 2023, so apparently she brought back her most notable, popular scent for excited fans.
Hosting 'SNL' in 2002
The first time Saturday Night Live had Spears on as a host and musical guest in 2000, she was only 18(!). Few hosts have been younger than her—the Olsen twins at 17, Fred Savage at 13, and Drew Barrymore at 7(!!) being notable examples. 2000 was an important year for spears, with "Oops!...I Did It Again" just about to be released. She returned again in 2002 as a host and musical guest; The show played with her bombshell persona, including this skit as Barbie's sister Skipper.
'SNL' (2003)
In 2003, Spears came to Saturday Night Live as a musical guest (after hosting in 2000 and 2002). She delivered a gorgeous rendition of "Everytime," which had been rumored to be about her relationship with ex Justin Timberlake. Considering that Timberlake had also written some very public songs about their relationship, it was all the sadder.
Performing at the Grammys, 2000
A first-time nominee that year, Spears also took to the stage to deliver a riveting performance. We started with young Spears watching the Grammys as a child and envisioning herself being there one day, which then transitions to "From the Bottom of My Broken Heart" (a power ballad) and a remix of the classic "...Baby One More Time" with some amazing dance moves and a cadre of backup dancers, including...robots! It was an impressive feat for the young starlet.
Kicking Butt in Vegas
Spears' residency in Vegas was wildly popular, but—as she revealed in the court case to terminate her conservatorship and later in her memoir—she didn't want to participate. She said she found creative ways to rebel against the control over her, including dancing in such a way so as not to move her hair (which would be a sign of enthusiasm) and not giving her all to the dance moves. She also said it hurt her spirit not to give it her all. But her fans came out to support her (the show won the best of Las Vegas award in 2015 and 2017), and the show grossed nearly $140 million.
A Cameo in 'Sabrina the Teenage Witch,' 1999
My personal favorite '90s TV show, Sabrina the Teenage Witch was a huge cultural touchstone for a ton of teens. So this cameo, which Spears did in 1999 as she was becoming a household name, was an important part of raising her profile (she performed as herself, of course). Melissa Joan Hart and Spears were contemporaries and crossing paths a lot at the time—the two became friendly, and Hart would later cameo in Spear's music video "Drive Me Crazy," featured on the soundtrack for Hart's movie of the same name.
Doing a 'Glee' Cameo, 2010
In the '00s (after her reality show Chaotic), Spears appeared on some of the most popular shows of the day. Glee, which dipped into the pop star's archive more than once, was an intuitive fit for Spears. According to creator Ryan Murphy, the cast, some of whom grew up wanting to be like Spears, were absolutely awed. "It was literally like the President had come," Murphy told E!. "We all had to wear wristbands. I couldn't get into my own sets at one point, which I thought was hilarious."
Doing a 'How I Met Your Mother' Cameo, 2008
In How I Met Your Mother's third season, Spears cameoed as receptionist Abby—Ted's at a dermatologist's office to get a tattoo removed and is attracted to his doctor, but instead grabs Abby's attention. He remains oblivious, and she instead briefly gets together with Barney. Apparently Spears was a fan of the show and actually asked to be on it—obviously, the stunt casting boosted ratings for the show, and the whole cast was impressed by her comedic chops.
Doing a 'Will and Grace' Cameo, 2006
Often considered one of Spears' funniest TV cameos, the red dress, bandana-wearing, conservative Amber-Louise takes over Jack's talk show with lines like, "If you question our president, then you're a dirty traitor" but is secretly Peg, a "hardcore lesbian": "Whatever you got, I'll eat it, snort it, or ride it, baby!" she tells Jack. Playing so deliciously against type is one of the secrets to her success—the bigger the role, the harder she leans in.
Winning Awards at the VMAs, 2008
In 2007, Spears had performed "Gimme More" at the VMAs. It was supposed to be a comeback, but the visibly nervous singer was shaky. She admitted later that she was dealing with postpartum struggles and was pressured by her team to perform. In 2008, when she got onstage at that same awards ceremony to accept her first Moonman award, she looked healthier and happier. Fans were hopeful that she was doing better than she had been.
Don't Call It a Comeback, 2008
At the 2003 VMAs, Spears won Video of the Year, Best Female Video, and Best Pop Video (all for the song "Piece of Me")—marking a return to the spotlight for the singer. Spears' personal life would continue to be tumultuous during this time (as she noted in her memoir, she was dealing with postpartum depression and unsupportive people in her life) but she remained just as beloved for her work. People were clearly rooting for her, and continued to root for her.
Iconic Magazine Covers
Over the years, Spears graced the covers of a multitude of magazines. There are many iconic ones, but this cover for W Magazine was an important one. Breaking her silence after her breakup with Timberlake, Spears got candid about being intimate with her boyfriend (there was a lot of talk about Spears' romantic life and history in the '00s, unfortunately) and called the breakup the most painful thing she'd ever been through. It was an important part of reclaiming her narrative.
'Rolling Stone' Covers
For a singer, there was no more impressive feat than getting on the cover of Rolling Stone—and Britney Spears had eight (seven were solo, one was with other iconic female singers). The first, dubbed her "Lolita" cover, was in 1999 when she was 17 and was controversial even for the time. Her last was in 2008, announcing her comeback. Throughout, Spears tried to be as candid and genuine as possible in her interviews.
Filming THAT Pepsi Commercial, 2003
Also known as the "'We Will Rock You' commercial," Spears, Pink, and Beyoncé play gladiators who, instead of fighting each other, sing "We Will Rock You" and drink Pepsi (lol). Spears and Bey had been spokespeople for the brand previous to this, but the commercial instantly became one of the most iconic the Super Bowl has ever seen. Pink later said of the experience, "I'm very protective of [Britney], and she's the sweetest person in the world."
Performing Onstage at the Super Bowl, 2001
The "Kings of Rock and Pop," Aerosmith and *NSYNC, were onstage performing together for the Super Bowl Halftime Performance. And then. Spears, Mary J. Blige, and Nelly all took to the stage so they could all sing "Walk This Way." Spears and Timberlake (who were dating at the time) even walked together a few steps, giving us a look at their performance chemistry. At the time, the show made a name for bringing in surprises, but this was probably the biggest surprise of them all.
Kissing Madonna at the 2003 VMAs
Three icons performing onstage together was enough to excite a lot of fans—and then Madonna kissed both Spears and Aguilera live on stage, which broke just about everyone's brains. Unfortunately, a lot of backlash (much of it aimed at Spears) resulted from the incident—including frustration from Aguilera, whose kiss with Madonna was mostly ignored so the producers could cut away to Spears' then-boyfriend Timberlake's upset reaction. Calling it a "cheap shot," Aguilera said in a 2018 Radio Andy interview, "I definitely saw the newspaper the next day. It was like, 'Oh, well, I guess I got left out of that one.'"
Hosting With Xtina at the 2000 MTV Video Music Awards
The media made a lot of the fact that Christina Aguilera and Spears were both stars who came out of The All-New Mickey Mouse Club, and the two were often pitted against each other in troubling ways. So this obviously engineered appearance, in which they bantered and introduced Whitney Houston together at the VMAs, made fans intensely excited. (The two singers would go on to have a fairly public feud in the '00s, but would later reconcile and express love for each other.)
Performing at the 2000 MTV Video Music Awards
One of the most well-remembered VMA performances of all time, Spears (performing in a suit that she ripped off to reveal a sheer bodysuit) sang live and did some unbelievably intense choreography. Beginning with her sitting astride a chair, then descending the stairs doing a live version of the song "Satisfaction," then launching into a killer remixed version of "Oops!...I Did It Again," it was an instantly icon-making performance.
Many, Many Iconic Music Videos
This is a still from one of Spears' early singles, "Sometimes" (gotta love the very '90s, all-white matching fashion!). But one of Spears' most impressive career moves was to create music videos that shocked, delighted, and wowed audiences just as much as the songs. Most notably, her "Toxic" music video (in which she plays a spy who scales a building, poisons a guy, and pretends to be a sexy flight attendant), and her "Oops!...I Did It Again" music video (in which she dons red latex and plays a Martian and flirts with an astronaut) were instant fan-faves.
The 'Snake Moment' at the 2001 MTV Music Awards
At the time, Spears performing with an honest-to-goodness, real, live snake at the VMAs was wild enough (and instantly made her known as a fearless performer). But in her memoir The Woman in Me, she admitted that the moment was terrifying. "All I knew was to look down, because I felt if I looked up and caught its eye, it would kill me...In my head I was saying, Just perform, just use your legs and perform. But what nobody knows is that as I was singing, the snake brought its head right around to my face, right up to me, and started hissing."
Performing '...Baby One More Time' in 1999
One of Spears' talents is her ability to go 100 percent on her dance moves (until she would go on to have knee injuries later in her career). After her first song came out and instantly became a success, people flocked to see her perform—and were not disappointed. Spears would go on to be known for her energetic performances and shows, but even in the beginning she had a unique look and a high-energy style that begged you to dance along.
'...Baby One More Time' Comes Out
Released in 1998, Spears' first single was instantly iconic. And the brilliant part was that a lot of the music video was her idea: From dancing around as teenagers, to dressing in a schoolgirl uniform, to the hot boys and just a bunch of dancing—she spearheaded all of it, the video's director, Nigel Dick, told MTV News. "Every piece of wardrobe in the video came from Kmart, and I was told at the time not one piece of clothing in the video cost more than $17...That probably, in retrospect, is a part of its charm."
Starting a New Life, 2021
Even though Spears would get married to Sam Asghari in 2022 and then file for divorce in 2023, fans cheered when they saw the singer get into a new relationship that seemed to bring her a deep sense of joy. The two met in 2016 on the set of her "Slumber Party" music video, and Spears refers to him in her memoir as a "gift from God," saying that she was "instantly smitten." Even after the divorce, in a 2023 TMZ video, Asghari is seen saying, "I hope she takes over the world."
Being Supported by Fans, '20s
The "Free Britney" movement started not long after Spears was placed into conservatorship in 2008 with her father at the helm. As noted by Harper's Bazaar, the website FreeBritney.net (which launched in 2009 and appears to no longer be active) indicated concern over the fact that due to the extreme control of the conservatorship, "she has repeatedly toured the world, released multiple albums, and worked on a variety of television shows. Her conservators decide whether or not she works, as she cannot enter into contracts for herself because she is legally not her own person." The New York Times documentary Framing Britney Spears helped to popularize fans' advocacy for her—and shone a spotlight on her powerlessness. In 2021, following a court case, Spears' conservatorship was terminated.
Getting to Tell Her Story, 2023
In an exceedingly well-written 2023 memoir, Spears spoke with unparalleled candor about the tragedies in her life, from the way she was hounded by the paparazzi throughout her rise to fame, used and hurt by her significant others, demonized by misogyny, and—of course—the conservatorship that kept her working without her consent, controlled every moment of every day, and left her unable to advocate for herself. It became one of the fastest-selling nonfiction books of all time, according to Forbes, and with good reason. Fans everywhere rejoiced that she was finally able to share.
Marie Claire email subscribers get intel on fashion and beauty trends, hot-off-the-press celebrity news, and more. Sign up here.