Best in Class
They're just getting started, but these young designers at NYC's Fashion Institute of Technology prove that being green is a good thing.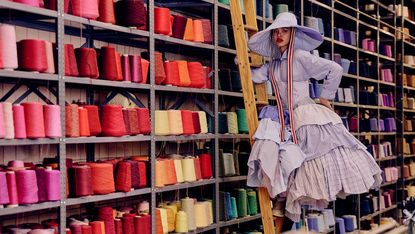 (Image credit: Tyler Joe)
Marie Claire Newsletter
Celebrity news, beauty, fashion advice, and fascinating features, delivered straight to your inbox!
Thank you for signing up to Marie Claire. You will receive a verification email shortly.
There was a problem. Please refresh the page and try again.
Maybe you're skeptical. You're not buying the whole idea that sustainable fashion is a priority for designers—or worse, even a possibility. Which, fair. There are only a few established players who are really moving the needle forward in a landscape where greenwashing is prevalent, fundamental change has been slow, and landfills are burdened with billions of discarded garments each year.
Enter: Seven fashion design students focusing on sustainability at New York City's Fashion Institute of Technology. The academic institution is helping change the industry by offering sustainable fashion programs and advanced learning opportunities that align with circular values.

Earlier this year, Marie Claire and Kering convened for the "Fashion Our Future" conference in downtown New York, where they showcased their innovative designs and hope for a new era of fashion. One where the use of gentle dyes and natural materials, upcycling—and even some computer programming—are proving that responsibility and creativity can go hand-in-hand. Here, they show you what sustainable fashion can look like.
---
"The original intention of the material selection was to reuse the mesh left over from previous designs. I found that this fabric undergoes self-adhesive properties when exposed to heat, so I used 3D shaping to create a new texture. I also restored second-hand clothing and combined recycled shirts with innovative fabrics [like mesh and polymers] to create new garments."
Degree: MFA, Fashion Design
Focus: Upcycling
---
"For this design, I used 100-percent cotton and natural dyes alongside pink hibiscus—often used to make agua de jamaica, a hibiscus iced team from Mexico, where I'm from. I used birch leaves for the green."
Degree: BFA, Fashion Design
Focus: Natural Materials
---
"I strived to use sustainable materials and practices in every aspect of this design. The fabrics I selected—cotton, silk, and linen—were carefully chosen for their natural fibers and have a lower environmental impact than synthetic materials. I incorporated eco-dyeing as an integral part of the collection's DNA, experimenting with different mordants like rust water and alum [a pickling spice] to achieve a range of colors and patterns."
Degree: MFA, Fashion Design
Focus: Natural Materials
---
"3D printing could open doors to a new world of sustainable materials that we may not have considered before. I've always enjoyed coding, programming, and science. I have a background in architecture. My goal is to merge technology and fashion using unconventional materials and software."
Degree: MFA, Fashion Design
Focus: 3D Printing
---
"I believe that we can reshape fashion into a more conscious and compassionate industry through sustainable practices. To create my design, I implemented a zero-waste pattern-cutting technique. All my patterns are rectangular pieces to ensure minimal fabric waste. The goal of my design was to open up people's eyes to the potential for technological advancements to drive innovation and positive change in the industry."
Degree: MFA, Fashion Design
Focus: Zero Waste
---
"My entire garment is created using my dad's old shirts. I only purchased the thread and some cotton webbing ribbon for the hat as I wanted to minimize using new materials. My aim is to highlight the potential for transforming discarded items into something new."
Degree: MFA, Fashion Design
Focus: Upcycling
---
"This project entailed applying an adhesive structure to multi-axis stretch materials to create a buoyant interpretation of ancient drapery. Parametrically coded curves are the source for—not only the decoration—but the construction and fit of the silhouettes. I had seen a similar construction technique by a designer at the MIT Media Lab about a decade ago and wanted to see how the concept could apply to clothing. I used computer software to modify design components in ways that were fast and nearly cost-free."
Degree: MFA, Fashion Design
Focus: Natural Materials
Shot on location at the Fashion Institute of Technology New York City Campus.
---
The Fashion Changemakers Issue
Celebrity news, beauty, fashion advice, and fascinating features, delivered straight to your inbox!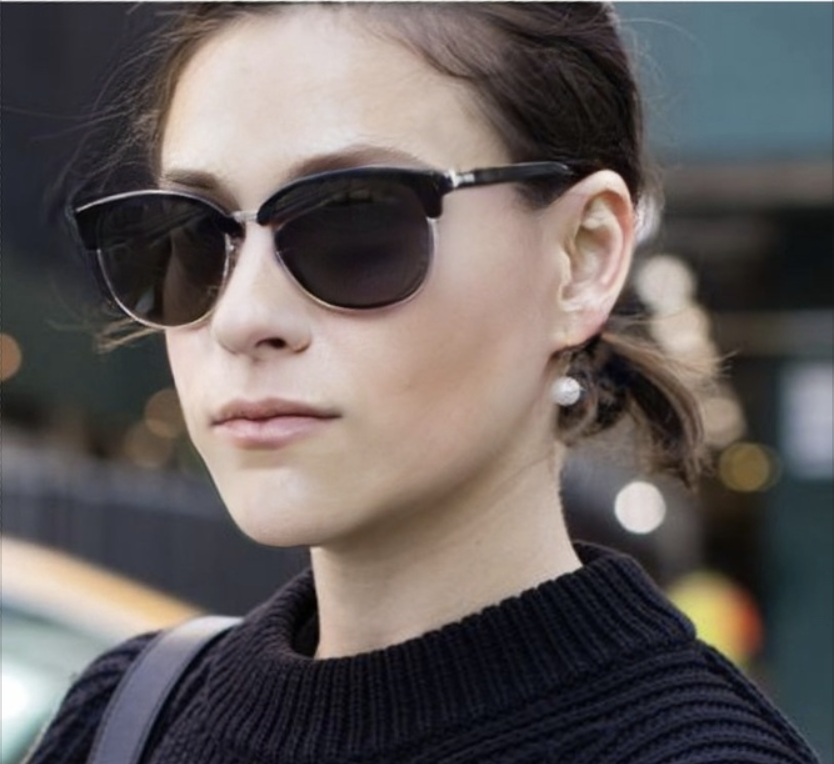 Sara Holzman is the Style Director at Marie Claire, covering runway trends and tracking down the latest finds to buy and wear. When she's not writing about fashion, she pens about the best places to jet-off to. Over her six years with Marie Claire, Sara has reported on the ever-evolving world of fashion— covering both established and emerging designers within the industry. Sara has held fashion positions at Lucky and SELF Magazine and was a regular contributor to Equinox's Furthermore website, where she wrote across their style, wellness, and travel verticals. She holds a degree in Journalism from the University of Missouri, Columbia, and currently resides in Manhattan. Follow her along at @sarajonewyork.