51 White Elephant Gifts You'll Want to Steal for Yourself
Nobody will go home disappointed.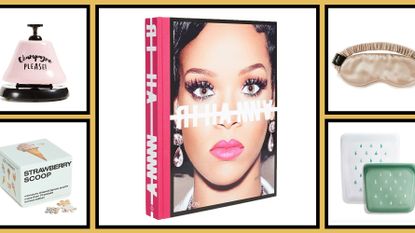 (Image credit: Design by Susanna Hayward )
Marie Claire Newsletter
Celebrity news, beauty, fashion advice, and fascinating features, delivered straight to your inbox!
Thank you for signing up to Marie Claire. You will receive a verification email shortly.
There was a problem. Please refresh the page and try again.
The holidays might look a little different this year, but no matter what—if you're gathering with friends or family and doing a white elephant gift exchange, you'll need to come prepared with a gift. White elephant gift exchanges are fun in theory, when you're not stressing about what to bring and if you don't end up with a heinous gag gift that has no practical use. (Meanwhile, your cousin Ashley unwrapped her cool new Polaroid Instant Camera.) To make the exchanges fair and satisfying this season, plus get rid of any unnecessary stress you might have about bringing said gift, here are 51 ideas you (and everyone else) will actually want. Trust me, no one will go home disappointed this season. Don't be surprised if you end up picking up a little something-something for yourself too. The gift curation is that good, if I don't say so myself.
1/51
Fujifilm Instax Mini 11 Instant Camera
Mini Polaroid Cameras
Whoever ends up with this gift will want to start using it the moment its unwrapped. This mini Polaroid has an automatic exposure to get you that perfect shot—and it has a selfie mode!
2/51
Spikeball Game Set (3 Ball Kit)
A Spikeball Set
If you've never played roundnet (a.k.a Spikeball), you're missing out. This volleyball-like game is as intense as you or your opponents make it, though you can keep the game low-key and casual. Play it at the beach, backyard, or basement.
3/51
Brookstone Color Changing Salt Lamp
A Salt Lamp
Both a night light and decor piece, this Himalayan rock salt lamp can display up to eight different colors. This kind of lamp is said to purify the air around you.
4/51
ModCloth Season's Sippings Gingerbread Paper Straws
Paper Straws
Spike eggnog tastes better when you don't have to worry about polluting the environment with plastic. These gingerbread man-decorated paper straws are festive and fun.
5/51
MoMA Self-Watering Pot
Self-Watering Pot
This self-watering pot comes in three different sizes (prices will differ accordingly) and will make anyone seem like they have a green thumb. This is a gift that will be easily stolen by people in the group.
6/51
Oral-B Smart 1500 Power Rechargeable Electric Tooth-Brush
An Electric Toothbrush
You might just want to steal this gift back for yourself. An electric toothbrush might not be the most exciting gift, but the practical individuals in the group will definitely want this.
7/51
AmazerBath Bamboo Squatting Toilet Stool Collapsible
A Squatty Potty
This gift will definitely draw some laughs and/or confused looks (for those not familiar with a squatty potty). It's slightly novel yet functional, making it the perfect white elephant gift.
8/51
9GreenBox Zen Reflections Juniper Bonsai
A Bonsai Tree
This miniature tree brings serenity and calmness to whoever is looking at it. The perfect gift to spruce up a work desk or shelf.
9/51
Magic Bullet Small Silver 11-Piece Set
A Personal Blender
Small but mighty. This personal size 11-piece blender can chop, mix, blend, whip, grind, and more. Think of all the smoothies, salsa, and soups one can make.
10/51
West Bend 82505 Stir Crazy Electric Hot Oil Popcorn Popper Machine
A Popcorn Machine
No at-home movie theater setup is complete until you have popcorn. This machine is compatible with all kinds of kernels and has a built in bowl, so just pop and sit back to enjoy your favorite films.
11/51
Bubbly Belle Christmas Tree
A Bath Bomb
After all the festivities are over, treat yourself to a soothing bath with this bath bomb that releases scents such as peppermint, orange, lavender, evergreen, and pine. Close your eyes, sink deeper into the warm water, and relax.
12/51
THRO Penelope Plaid Loft Fleece Decorative Throw
A Holiday-Themed Blanket
Movie reruns and snow days will feel ten times better when spent under this soft and comfy throw blanket. The red deer print gives it the perfect holiday feel, so you'll look forward to using it every year.
13/51
Abrams Tokyo Street Style Paperback Book
A Street Style Book
Your group of friends are all into fashion, so this white elephant gift exchange will be easy peasy. This Tokyo street style book will make for a beautiful coffee table and inspire the person who gets it to up her own fashion game.
14/51
Stasher Reusable Silicone Bag Holiday Print
Pack of Reusable Silicone Bags
We're all for whacky and LOL-worthy white elephant gifts, but if your group prefers practical items then bring a set of Stasher bags. This two-pack is budget-friendly and comes in a cute holiday print for the season.
15/51
Slant Collections Champagne Please! Bar Top Bell in Pink and Black
A Kitchy Bell
Cue the scene where Meredith from The Parent Trap takes out a bell and rings it to call the housekeeper, Chessy, over. Meredith would probably love this 2020 version. As for us, the bell is perfect for displaying on a kitchen countertop or bookshelf.
16/51
Shopbop Home Original Duckhead Compact Umbrella
A Bright and Colorful Umbrella
A Bright and Colorful Umbrella
Bat away any rainy day blues with this feel-good, sunshine-yellow umbrella. The duck handle gives this rain shield a playful vibe too.
17/51
Maison Noir Wines 2018 "Bottoms Up"
A Bottle of Wine
No one will be disappointed with bringing home a bottle of wine from a white elephant exchange. Disguise the shape of your item by sticking it in a box and then wrapping it.
18/51
Bee's Wrap Assorted 3-Pack Reusable Food Wraps
A Pack of Reusable Food Wraps
For a gift anyone can use, bring these reusable food wraps. They're a good alternative to plastic wrap and any gift that helps reduce waste and pollution in the ocean will be much appreciated by all.
19/51
Golde Superfood Latte Sampler
A Superfood Variety Pack
Now more than ever, it's important to take care of your own health and the wellbeing of others. Therefore, bring this pack of superfood sampler (it contains turmeric, matcha, and cacao packets) so that whoever snags it at the exchange can start off the new year on a healthy note.
20/51
Goodee Bottle (Black)
A Water Bottle
This insulated and leak-free water bottle looks sleek and cool while keeping your drink cold for 24 hours or hot for 12 hours. Cheers to a gift that reduces plastic consumption!
21/51
Katie and Dustin Watts Bubble Tea Kit
A DIY Bubble Tea Set
Whoever gets this gift will likely find themselves wanting to test it out right away and share their drink creation with the group. Heck, you might end up buying a kit for yourself—this looks fun, not to mention tasty.
22/51
Phaidon Rihanna Book
A Celebrity Coffee Table Book
If someone in your group isn't a fan of Rihanna then...well, they're not your friend. This book of the pop star will make a statement whether on the coffee table or displayed on a bookshelf.
23/51
Peter Thomas Roth Acne-Clear Invisible Dots
Pimple Patches
The holidays are all about carb-loading and drinking, which is our favorite time of the year, but this can wreck havoc on your skin. Your friends will appreciate you looking out for them with these acne-fighting dots.
24/51
Pipcorn Truffle Popcorn
A Variety Popcorn Set
The person in your group who gets this snack will likely have to fend off everyone else who wants to get a taste asap. If they're happy to share, then everyone can enjoy this heavenly truffle flavored popcorn.
25/51
Max Playful Sports Mug
A Whimsical Bowl
If you're doing a white elephant exchange with your family and there are children involved, then consider bringing this basketball-hoop mug. All the young ones will be begging for this.
26/51
Worlds Smallest Get Wild UNO Card Game
A Card Game
Just when you thought this classic card game couldn't get any more interesting, it comes in a mini size. Everyone will be super focused on the game as to not miss the tiny cards, so get ready for some serious card-throwing action.
27/51
Lillie's of Charleston 3 ct. Mild Variety Gift Box
A Hot Sauce Variety Pack
Lillie's of Charleston is a family-founded sauce and spice company specializing in barbecue sauce, hot sauce, and spice rubs. This variety pack of goodies will add that mouth-watering taste to your dishes.
28/51
Anker 2 Portable Bluetooth Speaker
A Portable Speaker
Instead of putting your iPhone into a cup to amplify the sound (desperate times calls for desperate measures), use this portable speaker. Now you can blast your favorite hits whether you're chilling in an Airbnb rental or at the beach.
29/51
Blueland x Reformation Routine Clean Kit
A Cleaning Set
You know you're an adult when you consider bringing a cleaning set to a white elephant gift exchange. This eco-friendly collab between two popular brands, Blueland x Reformation, makes cleaning more fun.
30/51
SLIP Pure Silk Sleep Mask
An Eye Mask
Give your harried coworkers the gift of sleeping in. With this silky eye mask, that Saturday morning sunshine creeping through their curtains will be no bother. Gold should suit everyone just fine.
31/51
Innisfree Clear Pores Ahead Set With Volcanic Cluster
A Pore-Clearing Beauty Set
For under $30, you can get this pore-clearing set from K-beauty cult brand Innisfree. The volcanic clay mask is one of their top-sellers and best products for sensitive skin. Whoever gets this in your group will have amazing skin going into 2021!
32/51
Smoko Toasty Heatable Plushie
A Heating Pad
Not only is this plushy adorable, but it's a heating pad too. Just take out the microwavable pouch inside (it's filled with flax seed and lavender) and heat it up when you need a warm hug.
33/51
HortikiPlants Organic Kitchen Herb Gardening Kit
A Herb Growing Kit
Craving fresh herbs in the middle of winter? Grow them indoors by a window that gets plenty of sunlight. This kit will help you get started.
34/51
VanLeewan Strawberry Cone
A Mini Puzzle Set
Once you complete this puzzle set, you'll want the rest in the collection. Before you break the puzzle apart, consider framing your work and displaying it on your walls as art.
35/51
Elite Gourmet EGC-007 Easy Electric Poacher
An Egg Cooker
Cut down on the time it takes to make eggs with this easy-to-use cooker. Simply pop in a few eggs, press the button, and walk away to brush your teeth and freshen up for work. Once the alarm rings, you'll come back to perfectly cooked hardboiled eggs for your avo toast. This contraption also makes omelettes and poached eggs.
36/51
Spa Sciences MIO Microdermabrasion Skin Resurfacing System
A Microdermabrasion Device
The person to scoop this up will get to experience an at-home facial. The two-step microdermabrasion device will exfoliate your skin and then extract congested areas of your skin to deliver cleaned pores.
37/51
Dash Mini Waffle Maker
A Mini Waffle Maker
Congrats to the lucky duck who snags this gift from the bag. This tiny waffle maker comes in a few adorable shades and makes a single-serving size waffle for when you want to grab and go.
38/51
Silver Buffalo Friends Central Perk Cookie Jar
A Cookie Jar
Some of your favorite memories involve binge-watching Friends with your family. Bring this Central Perk logo cookie jar as your secret offering because it'll be especially useful when holiday sweets are abundant and need a storage place.
39/51
Josie Maran Cosmetics Bestsellers Argan Travel Trio
A Hydrating Argan Oil Set
This argan oil set will hydrate anyone's skin who is suffering from that dreaded winter dryness. The products come in a cute little pouch too, so if you don't feel like wrapping it, just stuff it in a bag and throw some tissue paper over it.
40/51
Nest Fragrance Petite Votive Set
A Set of Candles
The person will have a hard time choosing which candle to burn from this Nest Fragrance set. The candles can be grouped together or spread out all over the house for a hint of fragrance everywhere.
41/51
ILIA Beauty At Last
A Multipurpose Stick
This lips and cheek stick comes in a universally-flattering dusty rose color, so anyone who picks this out of the bag will be able to use it. The product comes from a clean-beauty brand too, so they can feel good about putting the makeup on their face.
42/51
Uncommon Goods Beer Preserver
A Wacky Beer Holder
Everyone in the group will get a laugh once they see these beer holders that resemble life jackets. Aside from the wacky factor, the preservers are equipped with two thermal insulation layers to keep your beer cold and prevent condensation. Nifty.
43/51
Ban.dō Feel Better Destress Ball
A Way to Destress at Work
No matter how hard you squeeze this ball (balloon), it'll revert back to its original shape. The stress reliever is perfect to have on your desk when you're feeling a little tense. And at $8 a pop, you can afford to splurge on a few more for these for the white elephant event. Because honestly, everyone in the office needs one.
44/51
Malin + Goetz Rum Body Duo
A Travel-Friendly Shower Duo
Malin + Goetz products are cult favorites in the beauty industry, so anyone will be stoked to receive a sampler of their products. This travel-friendly body wash and body lotion set has the scent of rum but don't worry, it's not overpowering.
45/51
Neiman Marcus Wine Condoms
A Way to Save Leftover Wine
First, LOL at the name wine condoms. Second, these rubber coverings are actually genius and highly practical for those of us who drink wine on the weekdays. When you can't finish that bottle (it's a Tuesday night, after all), cover it with one of these wine condoms and save for the next night.
46/51
Corkcicle Stemless Insulated Wine Glass
A Vehicle for Drinks on the Go
The perfect disguise for drinking wine at work (kidding!!). This insulated wine glass will keep any drink chill, or warm, which makes it perfect for those cold mornings when you're craving a hot cup of coffee or tea.
47/51
Tea Forte Tea Tasting Assortment Presentation Box
A Tea Sampler Set
Once all the presents are unwrapped, everyone will wish they'd picked this gift. The tea set, while packaged nicely, isn't just about looks, it tastes pretty damn good too. (Spoiler alert: I already have two boxes at home.)
48/51
Paladone Trivial Pursuit Trivial Coaster Set
A Brainy Coaster Set
Try plowing through these trivia questions as you sip your coffee in the mornings. At night, when you have guests over, divide into teams and see who can answer the most cards correctly. Losers take shots. (Okay fine, one shot.)
49/51
Czech Games Codenames
A Board-Game Alternative
Cards Against Humanity is a modern classic, but your friend group will quickly abandon it for this winner. The game is all about mastery of the English language as spymasters offer one-word clues that could indicate several potential words on the table, which you'll then have to ID. Luck or skill? This game is both.
50/51
Robert Simonson 3-Ingredient Cocktails Book
An Easy Cocktail-Making Book
Impress your guests with your seemingly vast knowledge of cocktails this holiday season. This drinking guide featuring libations that require just three ingredients is your best-kept secret to crafting delectable drinks with minimal effort.
51/51
Two's Company Stumbling Blocks 4 Shot Glasses and 60 Pieces
Jenga, but Better
Every block is printed with a challenge and, should you lose, you'll have to take a shot. Stay in on a Saturday night to play with friends or get a quick game in before you head to your favorite bar. I'm already obsessed with this.